By Atsuko Hattori and Yoshitaka Okada | Board Representative and Board Member
One year and eight months have passed since the Kumamoto Earthquake. But redevelopment in Mashiki-town is still at the stage of repairing infrastructures. Since many damaged roads are still in the process of repairs, the rebuilding of residential houses needs to wait for one or two years. Consequently, people are moving out to Kumamoto City located about half-an-hour drive. Population in Mashiki-town is declining. Besides, at present only a few roads from Mashiki-cho to Kumamoto City are available. The aggravated traffic jam in the morning is becoming not only a serious concern for commuters to the city, but also another reason for moving out of the community.
Disaster-stricken shop-owners established a volunteer organization, called "Revival Mashiki (RM)" represented by a young entrepreneur in Yasunage Area in Mashiki-town. The area has an active fault line below their residences. People there, especially children, still suffer from the trauma of earthquake and have lost their smiles. The goals of RM are to bring back smiles to children's faces and prevent the disintegration of the community by preventing disaster-stricken people from leaving the community. In Fall 2016, six months after the disaster, RM borrowed a small piece of private land, cleared debris, and organized the first "Mashiki Yasunaga Wai Wai Square (MYWW Square)," a starting point of organizing community activities. They had such events four times in 2016 in cooperation with Kamaishi Kichen Car members. On December 17, 2017, they organized a Christmas event in MYWW Square from 11:00 to 16:00 (Picture 1: Waiting for Opening of the Event).
Many people of diverse generations from Mashiki-town participated to the event as volunteers. They are children from the town, disaster-stricken shop owners, people from neighborhood temporary shops, township officials, wives of fire station workers. The total number of participants is estimated to be about 220.
Some children were busy preparing for shops and some calling for donations to repair a local shrine (Pictures 2 and 3). The Head of the local community proposed to have children experience mochi-pounding, one of typical year-end activities in Japan, and rented his mochi-pounding stone. The mochi-pounding became the opening event at 11:00. The Head was actively cooperating with MR, even to solicit the participation of town people. But it is also true that after four past MR events, people came to recognize its activities.
As a Christmas event, established was a Marche where local vegetables and food were sold. Several participants came from all over Kyushu, performing dances, playing music, and singing Christmas Carroll. Two groups of 30 children, one elementary school children and the other pre-school children from the community, performed dances, attracting attentions of many participants, especially parents and community residents watching them dance with heart-filling smiles on their faces. Children who participated to dancing with Christmas costumes were also given special sweet treats. Three amateur bands played as volunteers, and four group belonging to Christian Churches Association performed Christmas Carroll and Gospels.
In Mashiki-cho, there has never been any community-based event, such as mochi pounding or bon dance festival. MR also produced fliers, created banners, and sent announcements through SNS. They even made two public announcements of this event through the public emergency radio system, which enabled to reach many senior people. This type of announcement is extremely unusual. It is simply because, for the first time, people came to recognize the importance of building community activities, and the earning of this event will be donated to rebuilding the local shrine. Naturally, local newspaper was reporting this event by interviewing participants.
Many people attending the Christmas Event came to enjoy, especially the first two hours. For the first time, all shops were organized by local people without any Kamaishi Kitchen Car team, while the representative from the team participated as advisors to many aspects of organizing such a big event.
One suggestion made by the Kamaishi Kitchen Car team was to create banners, so that the festival location can be easily identified. Most of cars going by the Festival slowed down, wondering what kind of events were taking place. The more information people have, the more people come to attend. However, the location where the Festival was held was not big enough to accommodate a large size of people. There is no alternative space. Besides, the two-lane road which this location faces is now planned to be expanded into a four-lane road, which makes it dangerous to organize an event due to a large number of cars on the road. This is a serious problem, since RM plans to expand activities by involving a larger number of community people and participants. Shops along the road will not be able to rebuild until the four-lane road is completed, delaying the process of shop redevelopment to a much later time. The idea of RM is very nice, while the reality is much tougher than what they originally thought.
The Kamaishi Kitchen Car team this time committed simply to advise young entrepreneurs of RM, since it is about time for them to carry their own ideas forward by themselves. Providing free food and support is not difficult, but the real difficulty is when to shift responsibilities to the local and to charge money to people instead of free food. This transition is not easy, requiring the right understanding of people's willingness to contribute to community activities, entrepreneurs' motivations to take initiatives, and watching other young entrepreneurs' movements who have not joined RM.
The key of the present movements is whether young local entrepreneurs think about their own community, take initiative, and lead the movement. In a disaster-stricken area, community leaders, in many cases, come from formerly non-active members. People from RM should lead such movement, though supports from Kamaishi Kitchen Car team and Mashiki-Kamaishi cooperation undeniably remains as supporting elements.
One male in Picture 4 was to have his shop opened on the very day the earthquake took place, and the newly built shop was destroyed completely. Now, he is operating a kitchen car, whose idea was given by the Kamaishi Kitchen Car team. He was actively participating in organizing the event, dreaming of a day when he can establish his own shop.
In Kumamoto, there is a word pronounced, "Dekusshiko." It means that you do things you can or you do start things from what you can do. It seems that everybody is actively participating by doing what they think they can do for the development of the local community, despite many problems they personally have. The next event is scheduled to be help on February 11 (Sun.), 2018, at MYWW Square.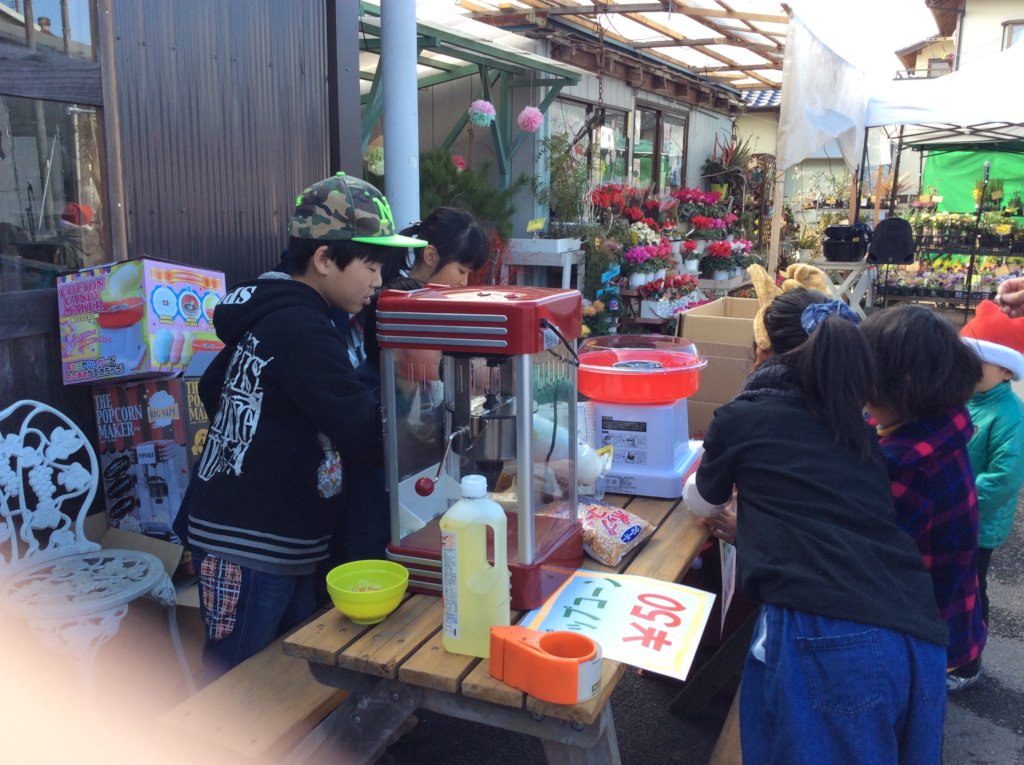 Links: