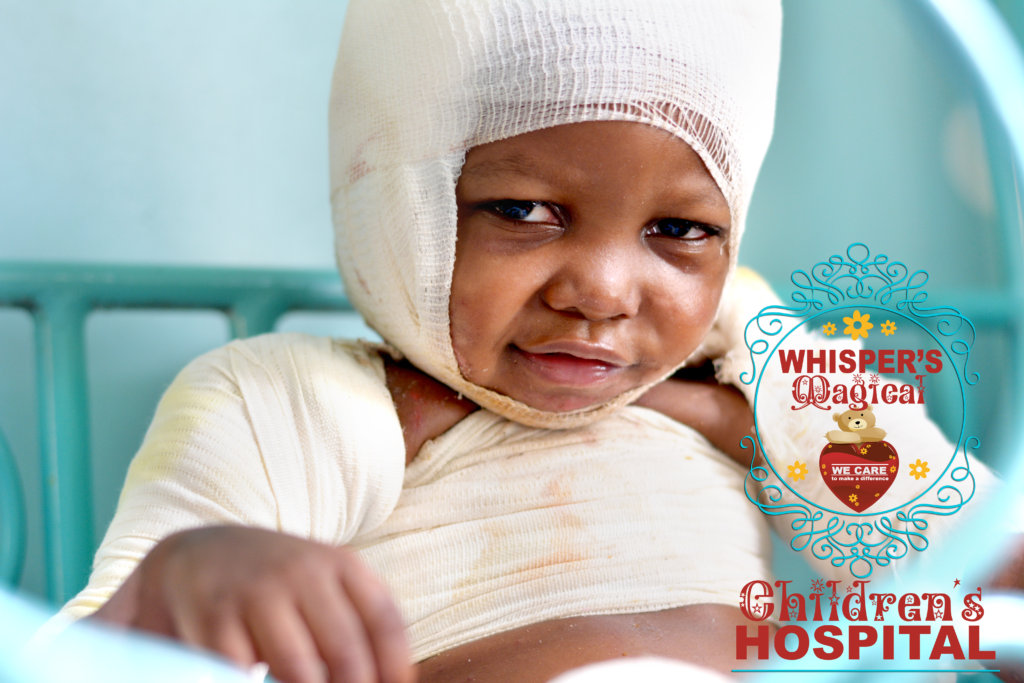 What a successful month for our little patient Swaib and that is all thanks to the people who love what Whisper does and financially support the tiresome work of our medical and non medical teams.
Swaib just turned 4 years in July and at his young age he is already proving to be a little soldier, facing lots of pain for several weeks on regular basis, but always ready to give us all a big smile.
Swaib was admitted on the 4th of July 2017 to our burn unit.
He suffered severe burns of 30% of the TBA (total body surface area) over his head, shoulders, hands and half of his back, when he felt into a boiling cooking oil. (His mother's earns her living by frying cassava and pancakes on the locally made charcoal stove).
The mother rushed him to the government hospital, however was advised by one of the visitors to reach Whisper's hospital.
For the first three days following the admission at Whisper it was noticed that Swaib had a dead tissue that was covering lots of puss beneath it, so the dead tissue was removed from the burn wounds to expose the fresh tissue during a minor surgery procedure. Proper re-dressing and cleaning of the wounds was done for over 90 days every two days ever since.
Healing of the wounds was very slow, because of anaemia and the mother didn't want the child to undergo blood transfusion at first because she was worried that whenever her child falls sick he will need the transfusion again
Fortunately our staff, after daily counselling, managed to come to an agreement with her, and Swaib received one unit of blood.
It was during the time when two Irish nursers came to volunteer at our children's hospital, when they met Swaib and helped to re-dress the wounds. We informed them that we need to seek an advise from the plastic surgeon, because his wounds were not healing well and we were worried that without a plastic surgery, he won't be able to improve.
One of the nursers who absolutely fell in love with the brave little man and assured us that she will be able to help us raise money for the skin grafting.
As miracles came together on the Whisper's path, within 7 days Whisper received a donation of 6,500,000 UGX (£1,400) and we immediately contacted the plastic surgeon.
Our doctor Fahad drove the mother and Swaib to see the surgeon on a Monday morning to his clinic in Kampala. Doctor said Swaib needed an urgent skin grafting, and booked his surgery for Thursday the same week. The consultation with the doctor cost 50,000 UGX (£12).
Swaib and his mother (together with his younger brother) was again driven by Whisper to Kampala on a Wednesday afternoon, where Swaib was admitted from awaiting his plastic surgery the following day.
(The hospital where Swaib was staying charges 200,000 UGX (£45) accommodation per night just FYI). The hospital does not provide feeding, so Whisper also gave £12 to the mother as her upkeep).
The surgery was paid for, hospital fees were paid for, and our doctor Fahad went to see them on Thursday afternoon finding out that the surgery was successful.
It was on a Sunday afternoon when Swaib was finally brought back to our hospital for the aftercare.
Swaib is doing well, he is on strong painkiller and he is still smiling. Today the dressing was taken off and changed for the first time. It seems the wounds will be able to heal well, although it will still take at least another 2 months of admission at Whisper.
As many may realise, without a charity like Whisper, this boy would not have it easy at all, and he would probably pass away.
Whisper has been taking care of Swaib together with his mother and younger brother for now over 3 months. We are taking care of their feeding and daily needs. There would be no way that the mother could ever afford anything like this elsewhere and she is incredibly grateful for the help she received. She thank us with tears in her eyes.
The charity work of Whisper is so important for the children in Uganda, saving their lives and their future.
Don't forget that we are only able to do this because we are receiving financial donations from people like you.
Again, I will request you to continue supporting us by sharing our stories and providing donations to our projects.
Thank you very much!