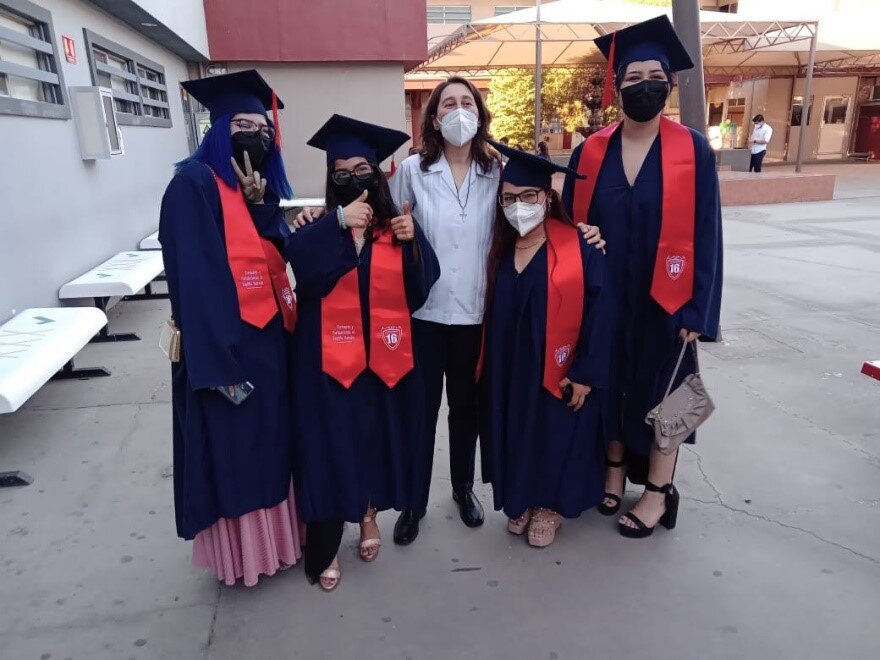 BACK TO SCHOOL
We are very excited with "back to school" after the pandemic!
As of today, we have: 2 girls in grammar school, 11 girls studding high school (in house), 5 of which graduated this term. 1 is attending an outside high school, 13 of our girls besides their regular academic grade are also studying to be an Administration assistant, 2 are preparing to take their college admissions exam for the Baja California University.
Al dia de hoy tenemos 2 niñas en primaria, 11 en Secundaria y Preparatoria, 5 de las cuales se han graduado en Enero de Preparatoria, 13 de nuestras niñas ademas de cursar sus estudios regulares estan siendo capacitadas como asistentes administrativos y 2 de nuestras jovenes se estan preparando para tomar el examen de admision de la UABC.
AROUND THE WORLD IN TWO WHEELS
Alex Gonzalez author of "the world in two wheels", from Mexicali who went around the world in a bicycle, was in our school and gave a motivational conference to the girls.
Alex Gonzalez, originario de Mexicali, quien recorrio el mundo en bicicleta, y es autor de "el mundo en dos ruedas", vino a nuestra escuela a dar a las niñas una platica motivacional.
POOL REPAIR
Our pool had a leak and we had to repair it. This is one of our girls' favorite recreational activities considering that Mexicali is one of the hottest places in the world.
La alberca de la escuela tenia una fuga de agua y se reparo. Esta es una de las actividades recreativas favoritas de las niñas tomando en cuenta que Mexicali es uno de los lugares mas calientes del mundo.
NEW MATTRESSES
The mattresses in our home were in very poor condition, so we decided to use some of the money raised in the campaign to replace the old mattresses and make sure the girls get a good night's rest.
Los colchones de la casa hogar estaban ya en muy malas condiciones por lo que decidimos utilizar parte del dinero de la campaña para reemplazarlos y asi asegurarnos de que las niñas tengan un buen descanso.
BEACH TRIP
The girls were invited to spend a day at the beach by one of our benefactors, thank you very much Claudia!!!! They had so much fun!
Una de nuestras benefactoras invito a las niñas a pasar un dia en la playa, muchas gracias Claudia!!! Se divirtieron muchismo!
DOCTOR'S VISIT
Once again, Dr. Hernandez came to Mexicali from Los Angeles with an enthusiastic group of collegues to follow up with our girl's preventive routine.
Una vez mas la Dra. Hernandez vino a Mexicali con un grupo de entusiastas colegas para dar seguimiento a las rutinas de prevencion que estan enseñando a las niñas.
Thanks to your support we have been doing great things since the campaign started!!!
Gracias por su apoyo hemos podido lograr grandes cosas desde el inicio de la campaña!!!