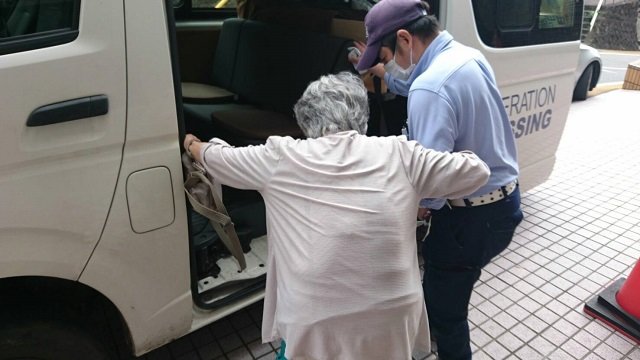 Since the landslide our staff helped the survivors with basic needs, and provided transportation support, as the local bus service was terminated due to the landslide. We also provided psychosocial support through exercise programs for the elderly and children's program with fun and craft activities. Staff also were busy visiting elderly residents still in their homes near the disaster site, delivering food and water, in steep hilly community.
In appreciation for the daily hard work of our staff during the 3 months since the disaster of early July, the local community leaders held a farewell get-to-gether and presented Operation Blessing with a Certificate of Appreciation.
We are entering a new phase of support, and will be continuing support events for the elderly and children twice a month.
Staff member report:
When I took a woman in her 80s to a beauty salon, she was very pleased with her haircut for the first time in two months. She said, "I'm very happy to be able to get my hair cut.cut my hair. Thank you for taking me."
A couple in their 90s went to the city center to pay utility bills and do some shopping.
"It's safe because someone who you know drives you. It's always helpful."
These may seem to be trivial things, but the steps to regain normal everyday life one by one helps strengthen local resilience.
Even to go a short distance, there are road closures across the debris flow site, making it difficult to move in the current disaster area.
We provided support while paying attention to changes in the health status of residents who have accumulated fatigue and stress.
Children who have not yet been able to attend the usual elementary school and are going to and from the temporary elementary school by bus.
There is no usual park in the area, and large dump trucks and construction vehicles are passing by for restoration work, so children need a safe play area.
While continuing to hold the Kids Club, we opened up the Nakamichi Public Hall to create a place for children to play after school, even when there was no club.
We donated a stand for disinfection (first used by the chairman of the neighborhood, who nodded and laughed with satisfaction!) We implemented measures against COVID-19, and created a picture book shelf with the donation of picture books by our supporters.
We started playing with the children and adults also joined in. It became a place not only for children, but now as a place of healing for local residents.
We praying that this place and everyone will be protected and healed. We will be making regular visits for the next year to run the Kids Club, and events for the elderly.