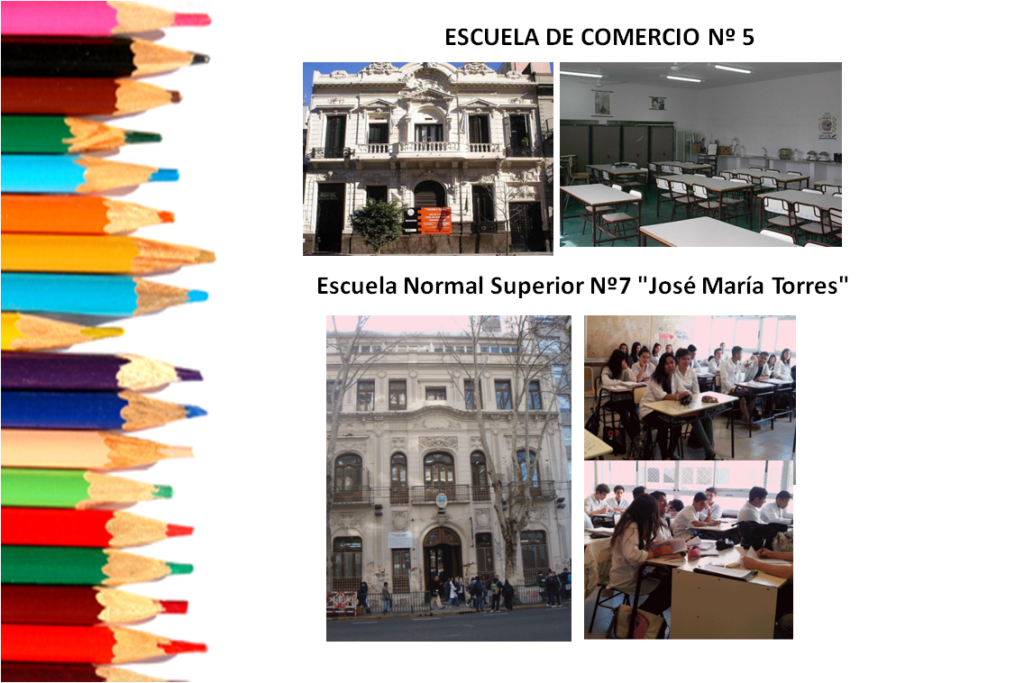 We would like to share with you the scope and results of the work we have been doing in 2016.
We have finished with the last 2 programs of the 8 that we had planned for this year. Each program consisted in 3 days with each group.
More than 250 young students have attended to a total of 8 Programs. Each program was given by our professionals in the schools during class time. We have provided more than 85 hours of training.
The last 2 workshops were developed in the "Escuela de Comercio nº 5 José de San Martín", located in the district of Balvanera, pertaining to the City of Buenos Aires.
In this opportunity you would find a very short summary of one of the chronicles written by one of our colleagues in the 3 days workshop provided in the "Escuela Normal No. 07 JOSE MARIA TORRES", located in the neighborhood of Almagro.
Chronicle – Day 1
Our first activity was to work these slogans: How do you think "youth"? And, what is work for you?
Their answers were:
- YOUTH: they highlights the assumption of new responsibilities, as well as being an instance of decision making that will mark them for the future.
They said: "you no longer have mom and dad behind", and clarify that many of them no longer depend on their parents for many things; "You have to organize yourself", exemplifying what they themselves must do next year to support their studies, as well as the difficulty to do so because "Finishing high school does not indicate that we have matured enough".
- WORK: in general, makes independence possible but also causes fatigue and stress.
Also, they indicated that it is not only about stress and fatigue, but also that it is a space of socialization. The importance of motivation arises, which relates both to the pleasure of the activity performed, as well as to the group and working conditions.
I inquired what tends to circulate in their fields of belonging on these subjects. They talked mainly about work, and the complaints they usually hear about it: tiredness, the money that is not enough to cover the expenses of the month, many hours, etc.
Several of them mentioned that their families motivate them to study, because is a way to access better working conditions so they do not will end up like them.
For the next activity they worked in groups to represent a complex work situation: two groups represented a job interview and the third group a bad situation in a clothing shop.
After the role playing, they talked about work situations they had found difficult to cope with. On these, they hightlighted the importance of maintaining a climate of respect arises and the importance of separating a situation that was generated by one's own mistake or something that has to do with the other, since this allowed handling what was happening.One of the students comments that she works selling cell phone accessories and once a man came very angry because something did not work, she listened to him, tried to help him and the customer was grateful.
Chronicle – Day 2
We worked in how to prepare a CV (personal data, training, work experience) and the cover letter. We talked about the differences between this letter and the CV, as well as the aspects that should emphasize.
Several of them had had difficulties in locating their own characteristics to be located in the workplace. So we worked with the SWOT tool. I told them what SWOT analysis was about and I invited them to complete one.
As a last activity, they worked in 4 groups to create a work profile that included CV, Cover Letter and SWOT analysis, for four different jobs (one per group): secretary in a health center, a call center operator, a clothing salesman and a fast-food employee.
The entire group commented what they thought about it. The highlights were around the letter of presentation: it was very informal, it seems that you were asking for a favor, if you shown like that, you are not going to be hired, etc.
Chronicle 3rd workshop – Day 3
We worked the topic of the day: "Job interview", by recalling that in our first meeting, several of them had commented that they were working. Some students shared how they had accessed those jobs and what happened during the selection process. In some cases, as it was a family business, they did not have to do anything. Others considered that they had not done so because they were recommended in a known area.
We talked about the different ways that the interviews can be: face-to-face, by telephone, Skype and even Whatsapp, but that these means do not detract from the fact that there is an opportunity to take advantage of.
Only three students told that they went through a face-to-face selection process: at Burger King, at a Call Center and at McDonalds.
They told of their experiences with the interviews: "horrible", "very nervous", "tense" and "stressful".
Some of the interviews were individual, and they were asked about their work experience, studies, work objectives, expectations, etc. While others were taken in groups with exercises they did not understand.
Also, those who had never worked but plan to do it next year shared how they imagine this process. All agreed on the traits of tension and nerves that the situation generates.
For the last activity they had to work on the creation of 5 different job profiles and the interviews that should be represented later. They were divided into five groups. Each group showed the corresponding role playing and the entire group gave the opinion about what they saw there: what attitudes they consider pertinent, which ones do not, what would improve, what would change, what they would leave, etc. They emphasized the importance of attitude as one of the skills that would contribute to a young person to be hired in a job even if he had no previous experience.
Links: