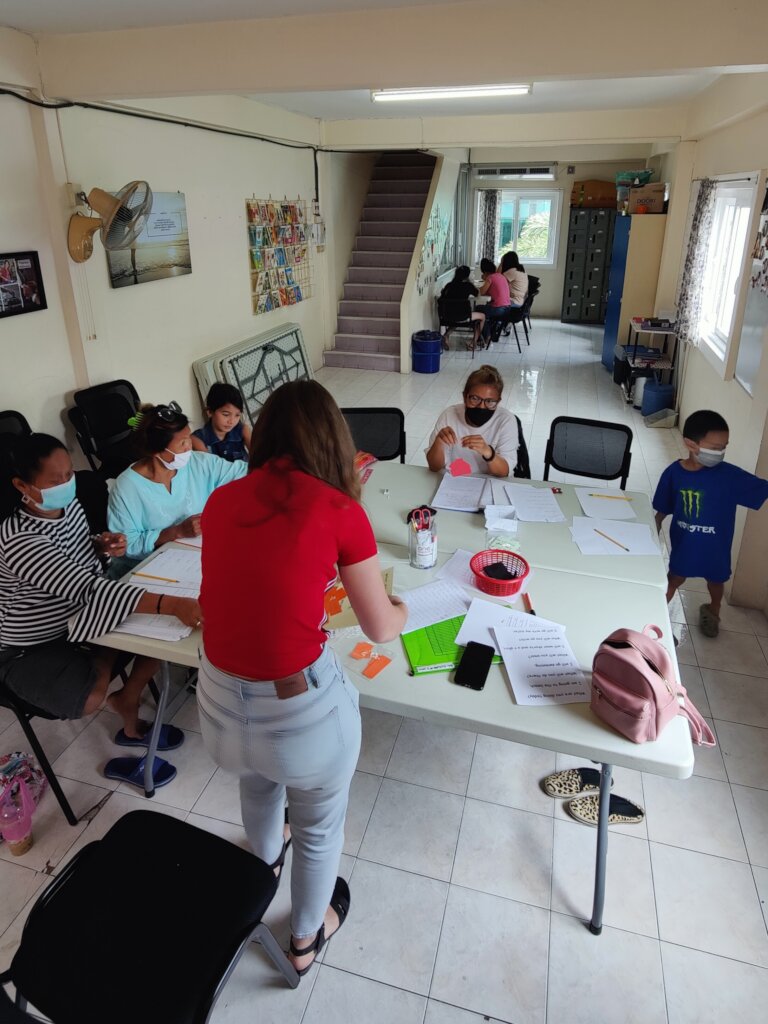 Hello everyone!
We are happy to share some recent updates with you. In the last months, many good things happened, and we are glad that we can report them to you. The biggest thing that happened was that all covid restrictions in Thailand were lifted on the 1st of July – which means that there is no quarantine anymore, people can travel, everything – sadly also the bars – is open again and most important schools are back to in person learning. It makes life a lot easier that things are going back to normal. Sadly, Covid is not gone, and the new variants are spreading especially through the schools. Thankfully all the cases that we had at Tamar were mild and people recovered fast.
Our Hair Salon in Soi 6 and our daily free English Classes are fully open again and many women make use of the opportunities. We have a very nice group of Volunteers with us and more coming in the next weeks as well, that make the classes attractive to the women. Now that the Bars have opened again, we notice that many of the women are new and have just arrived from the villages. They are coming to Pattaya due to pressure from their families. Many families are struggling financially during this time, and they see it as the only opportunity to send their daughters to Pattaya to make the needed money in the bars and brothels. It is very sad. Some of the really young women that we meet are shocked by the city, do not like their jobs in the bars but see no other way to earn money. During our Outreaches we try to build as many relationships as possible with the women, we tell them about our vocational training and invite them to our Center. Last month two women that joined our English Classes left the bars and moved in with us. They were a bit shy in the beginning but now are enjoying their work in the cardroom and are happy to be part of our community Yesterday and today we had more requests from women that also want to come and join us. We will interview them and hopefully they will be ready to step out of the bar life.
Our new building is making huge progress as well: all electric and internet cables are installed, ceilings are in, 50% of the windows are installed, tiles in the bathrooms are done and about half of the floor and stair tiles as well. As you can see in the pictures, it almost looks ready to move in. Currently the lights are getting installed, and the tiles are laid on the floors and wall painting will start shortly. Our contractor still plans to finish his work by the end of August, and we hope to have a soft opening around late October. A lot will depend on when the ordered furniture and other parts will arrive. It seems that due to the worldwide situation delivery times are longer than planned and some things are not available at all. We must stay flexible, change some things and hope that everything arrives on time. A big thank you again to everyone that helped make our new building a reality. We are so thankful for your support and can happily report that we are still within our planned budget!
On the 12th of August is Mother's Day in Thailand – birthday of the Queen. For the first time we are planning a big outreach for this day and want to distribute more than three hundred gift bags with vouchers for our Hair Salon, cookies, gift items, beauty articles and more to Mothers that are currently separated from their children and working in the bars. Mother's Day is very difficult for them as they are missing their families and we hope to bring them some joy and an invitation to join our vocational training where they can bring their children to stay with them.
If you are interested, you can follow us on Facebook and Instagram where we post almost daily more updates and pictures for you. Thank you for your continued support! We could not do our work without your help!
For the Tamar Family