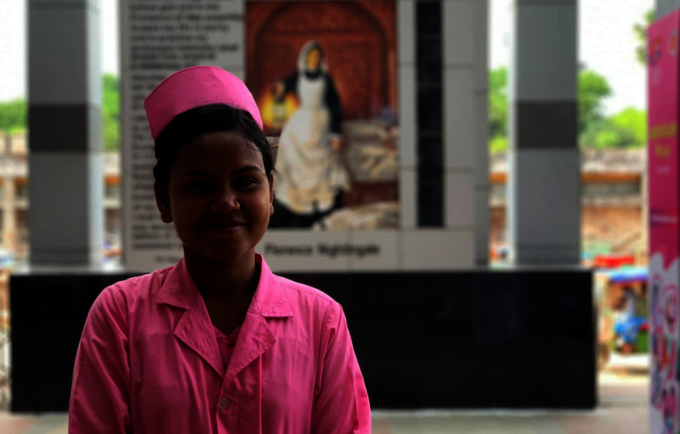 Minoti (25) is a midwife belonging to the Santal (indigenous) community from a marginalized district in Bangladesh. Her community didn't think it was necessary to educate girls. Despite prevailing social norms against female education, Minoti completed her primary education and was awarded a scholarship to undertake a midwifery diploma, which she did whilst working in farming to support herself and her education.
Minoti said, "In my neighborhood, the usual age of marriage for a girl is ten to twelve. There are a lot of adolescent pregnancies for this reason. Even a few years ago, childbirth was ridden with antiquated rituals which forbade women from giving birth inside their homes or in the presence of loved ones; instead, labouring mothers were sent outside their houses and made to lay in uncomfortable makeshift straw beds to give birth with the assistance of a local birth attendant. The mother and newborn baby were prohibited from entering the house for seven days after birth".
Norms like this inspired Minoti to build her capacity to support women, especially pregnant and labouring mothers. Midwifery education seemed like the perfect opportunity to achieve her dream. But this was not an easy road to take for her. "Even getting admitted to the midwifery programme seemed impossible, my family was extremely poor and we were unable to pay the admission fees. It was at that bleak moment that I was informed about being selected as one of the four female students of the Santal community who had been awarded a scholarship to undertake midwifery education. That day, my older brother and I wept in delight," Minoti said.
Minoti worked hard, passed all the examinations, and now works at the Sapmara Union Health and Family Welfare Center in Gobindaganj Upazila of Gaibandha district. Her education and employment were under the "Santal Health Project," a 'UK Government funded project. UNFPA provided technical support with the support of one of the implementation partners Lutheran Aid to Medicine in Bangladesh (LAMB). From July 2020 to October 2022, Sapmara Union Health and Family Welfare Center supported 245 normal vaginal deliveries with antenatal and postnatal care, of which Minoti performed 78.
"I see women coming from my community, being surprised and inspired to see and talk to me. They express their satisfaction in coming here. I immediately ask them to tell their friends and family to come to the health facility for delivering babies and to receive antenatal and postnatal checkups. Women are becoming more aware of their rights for sexual and reproductive health", said Minoti.
Like Minoti, many midwives in Bangladesh work 24/7 to make women's lives better, safer, and healthier, including in difficult situations like the Rohingya refugee centers. Thank you for your support of women, girls, and the staff who make delivering lifesaving sexual and reproductive health care possible.