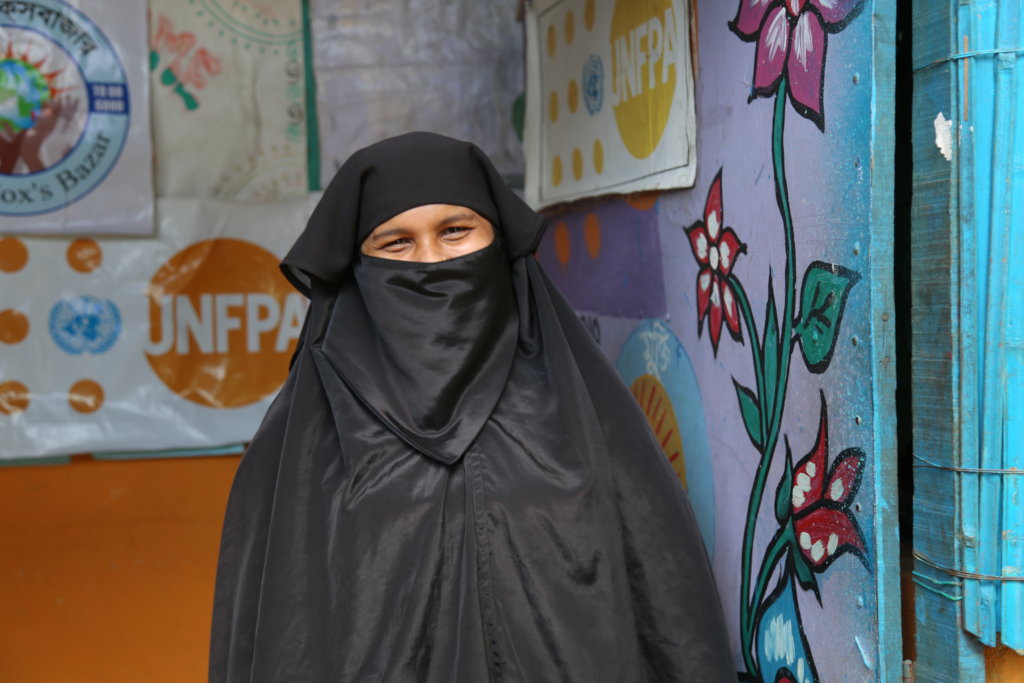 It has been four years since the Rohingya ethnic group have fled persecution in Myanmar for safety in Bangladesh. Today, more than 800,000 Rohingya refugees call the camps in Cox's Bazar, Bangladesh home.
With your support, UNFPA has been providing care in the camps to Rohingya women and girls who face challenges like high rates of child marriage, a lack of menstrual products, and limited safe spaces for women. One way that UNFPA has addressed these challenges was by building 28 women-friendly safe spaces.
$100 funds a community midwife in a clinic or safe space for one week.
These safe spaces are critical because many Rohingya women and girls have experienced gender-based violence, including rape and child marriage. The safe spaces are a place for them to receive mental health care, build community, and process their trauma. At the safe spaces, women and girls can also receive sexual and reproductive health care like prenatal checkups and family planning.
Hamida was 27 when she found safety in Bangladesh's refugee camps. That was also when she began attending a safe space and learned about issues like safe motherhood, healthy relationships, and human trafficking.
You can provide three women with all the supplies they need to give birth safely during a crisis for $15.
Now, Hamida is a community educator and mentor at the safe spaces. She says, "Through my efforts to help other women and girls in the camps, I have gained the respect of my community, family members, and husband. At first, no one listened to me. However gradually, they started to embrace me as they understood that information gives them choices and opportunities,"
Because of your support for Hamida's work and the work of others at UNFPA safe spaces, Rohingya women and girls now have access to the lifesaving care they need.
Thank you for your ongoing support of Rohingya refugees. Your gift of $150 provides one clinic with the supplies, medications, and equipment necessary to safely manage obstetric emergencies.