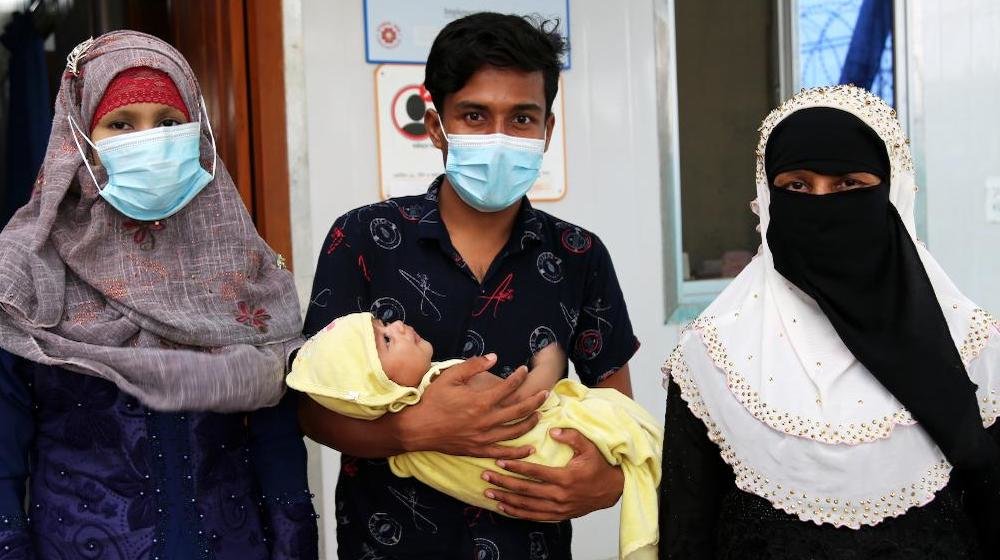 It was love at first sight for Mohammed and Kawser, two Rohingya refugees. At first, though, Mohammed was nervous. He thought, "She was too pretty for me, and I was not sure if I could handle her beauty." But now, the two are married.
They live with Mohammed's family and have recently had their first child together. Luckily, Kawser's pregnancy went well, despite the sometimes unideal conditions of the refugee camp where she lives.
Just $15 provides three women like Kawser with an emergency birth kit, which provides them with the tools they need to safely give birth, even if a doctor is not available.
UNFPA has championed a program for young mothers like Kawser, where they learn the warning signs of dangerous pregnancy and childbirth complications. The mothers also receive prenatal care and learn how to navigate new motherhood, advocate for themselves in their in-laws' households, and how to access family planning.
For $25 you can provide a woman with the supplies she needs to care for herself and her baby for six months after birth.
Kawser's mother-in-law has seen a massive difference between her experience with motherhood and her daughter-in-law's. She said, "She delivered in a health facility, and I am helping her in cooking and fetching water. In Myanmar, I delivered at home and bore the birth of four children without anyone close to me. I am confident that families have power. We are all together in this."
UNFPA's work creating strong support networks in Rohingya refugee camps is critical for reaching women and girls with lifesaving sexual and reproductive health care. Over half of all births in Bangladesh, including Kawser's, take place in a health facility. This makes childbirth dramatically safer for both mom and baby.
Today, Kawser and Mohammed are busy raising their newborn. They are using family planning and have decided to wait 3 years before having their next child.
With your help, Kawser was able to survive pregnancy and begin raising her baby safely. . Your $100 gift to UNFPA supports one midwife in a community like Kawser's for an entire month.