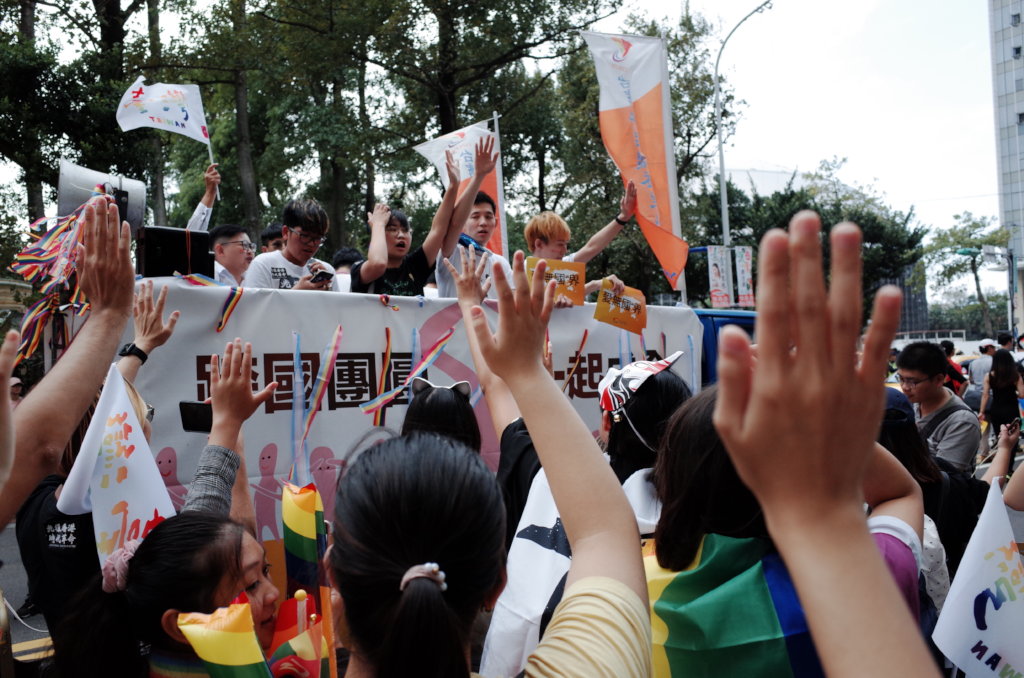 During the time of Taiwan LGBT Pride in October, we cooperated with media on the topic of transnational same-sex couples and generated 5 coverage:

1. Given the special political relations between Taiwan and China, Taiwanese and Chinese same-sex couples are in special legal status in terms of marriage registration.
2. A transnational same-sex couple that raises a child together cannot register their marriage in Taiwan. Their child is forced to only have a single parent legally.
3. There are many migrant workers in Taiwan, however, most of them have been placed in a lower social status and difficult conditions. The border control of sending countries of migrant workers has been especially tightened in Taiwan. Therefore, same-sex couples whose nationality is/are of the regulated sending countries have faced an even tougher situation.
4. At the main stage of Taiwan LGBT Pride in Taiwan, we demanded the government to give back marriage rights to transnational same-sex couples.
5. TAPCPR filed an administrative appeal against the Taipei City Government after a transnational same-sex couple's attempt to register their marriage was rejected.
1. Produced flyers about issues of transnational same-sex couples and distributed in the below activities to raise awareness among the public
2019/9/7Rainbow picnic in Taoyuan
2019/9/21Rainbow Cultural Festival in Hsinchu
2019/9/28Rainbow carnival in Hualien
2019/9/29Rainbow carnival in Taitung
2019/10/26Taiwan LGBT Pride in Taipei
2019/11/23 LGBT pride in Kaohsiung
2. Social promotion and education
Transnational same-sex couples shared their life stories and legal appeals:
Tao-Yuan Residence (LGBTQ health center): Same-sex couples from Malaysia and Hong Kong shared their stories and legal struggle in same-sex marriage registration in Taiwan.
TAPCPR volunteer group: shared three major obstacles in transnational same-sex marriages, which are "Act Governing the Choice of Law in Civil Matters Involving Foreign Elements," "domestic face-to-face interview" and "overseas face-to-face interview." The TAPCPR volunteers also created a "transnational same-sex board game" to help raise awareness.
We've addressed the legal status and difficulties to overcome in the issue of transnational same-sex couples in below speeches:
2019/8/25
Amnesty International Taiwan Chapter
2019/9/2
New Taipei City Government
2019/9/20
Taipei Bar Association
2019/10/18
Citi
2019/10/29
National Taiwan Sport University
2019/11/21
Tzu Chi Senior High School Affiliated with Tzu Chi University
From October 2019, the attorneys of TAPCPR have filed administrative appeals to government agencies for two transnational same-sex couples who weren't able to register their marriage in Taiwan.
In addition, two other similar cases are also in progress and will be filed by the attorneys of TAPCPR. The two cases are expected to be filed for succeeding judicial relief procedures in December.