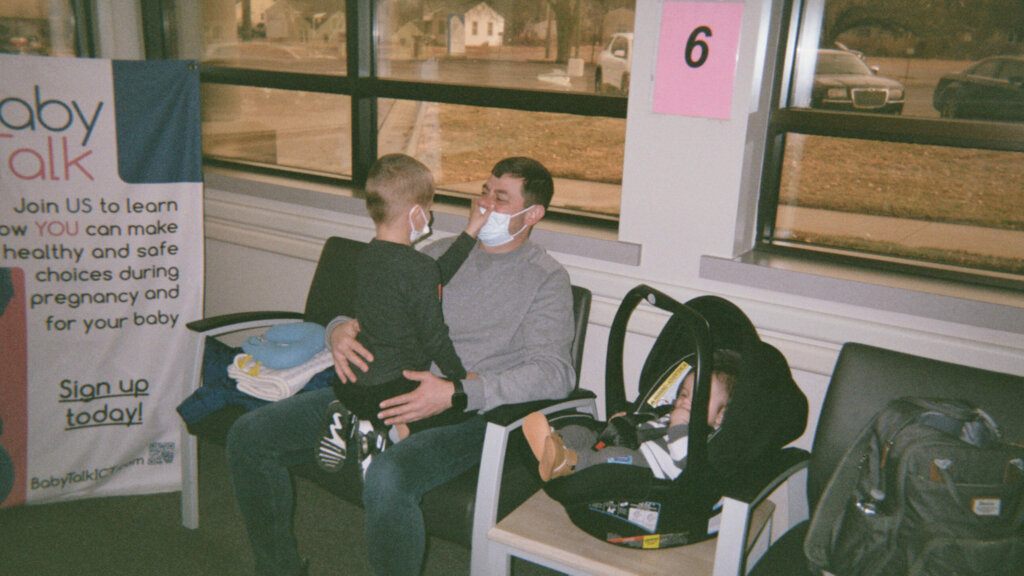 Olexandra Lukashov, 26, was pregnant with her second son when she fled Ukraine with her husband. The family relocated to the United States in June 2022 and have been supported by the International Rescue Committee as they resettle and integrate into their new community.
A year after the escalation of the conflict, we asked the Lukashov family to document life in their new home and the day-to-day experiences of integrating in a new city. Here is their story, told through their own eyes, with all photos taken by Olexandra on a film camera.
When Crisis Struck in Ukraine
"We had wonderful days, wonderful years, together in Ukraine," says Olexandra, who lived in the city of Mariupol with her husband Levgen and her son Oleksii. "Mariupol was a really nice and beautiful city."
When the full scale war began on 24 February 2022, everything changed for the family. "On the first day of the war, our friends called us and said that you should leave Mariupol immediately. We left Mariupol after a few days.
"We didn't understand that we had left our house forever." The family thought they would only be away from home for a week or two. "I took only comfortable clothes because I didn't know where we would stay," Olexandra explains.
"At the last minute when we went to the car, our dog looked into our eyes, and we cried a lot with my husband when we remember it now."
The family was forced to leave their pets behind with neighbors and family. "Now we have a good life, we are relieved. But these memories, we will never forget."
Together, they first travelled to Zaporizhzhia, a city 3 hours from Mariupol, where they stayed with friends for a few weeks, before going to Poland and then Germany—searching for somewhere they could settle more permanently.In April 2022, their home back in Ukraine was destroyed.
Resettlement in the U.S.
Finally, in June, Olexandra and her family received news they'd been accepted on a resettlement program in Wichita, Kansas. "We found sponsors who invited our family, and we are thankful for this family and for the USA for this chance to start a new life because we haven't a home to come back to in Ukraine."
"I never dreamed about the USA because I thought I could never be here. When we had this chance, I was really happy and excited about it. For a new start."
"It's a wonderful country, there are lots of jobs. I like the education and school, but it was hard to understand that I will not see my mum for a long time."
The IRC has been helping Olexandra and her family for the last few months. "The IRC helps us to pay for our apartment and also with some spending money for six months. If we have any questions, we can call IRC and say we need help."
Looking Ahead
Olexandra has dreams for both her children and herself. "I started baking in the USA after my baby was born. I cook my special 'bento cake'—it's small cakes for 2-3 people, they're so cute and beautiful. I cook large cakes too."
"I hope that my children will go to university. I want to study baking, and I want to learn English more."
When asked what message she would share with her past self, Olexandra says: "I can't say 'enjoy the moment' because I always enjoyed moments in my life. Maybe, I can say: don't be afraid to start something new, to start a new life."
How else does the IRC help refugees in the US?
Thanks to your generous support, we provide essential services including housing, health care, education, employment, and legal assistance to provide a solid foundation, helping newcomers integrate and thrive in their new communities.
You can continue your support by encouraging your peers to accept refugees as new and valuable members of American society. You can also help refugees by volunteering at a local resettlement agency, becoming an English tutor, a tour guide, a mentor to a family, donating furniture and household items, teaching other people about the valuable contributions of refugees, urging your elected officials to support refugee resettlement, and employing or encouraging local businesses to employ refugees.