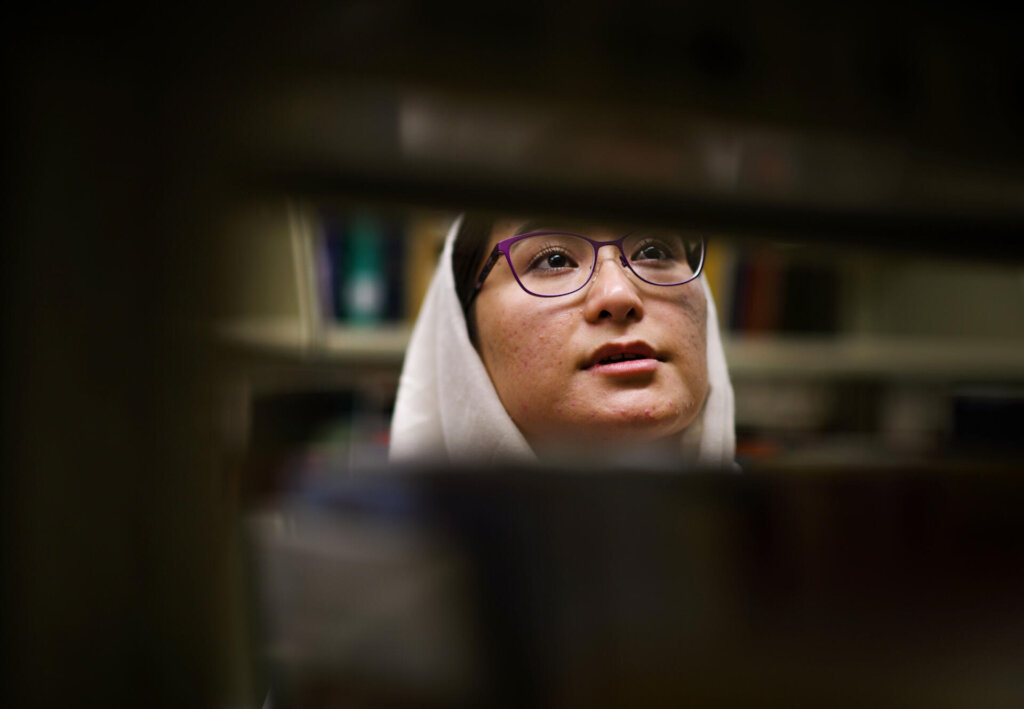 The IRC is supporting displaced families from around the world acclimate to their new lives, including Afghans in the United States. Here's a glimpse into three Afghan friends' stories and how the IRC is helping these newcomers settle into a new way of life.
Three Afghan Women Forge a New Start in Arizona
In August of 2021, ArifaSanjar, 18, Zahra Mosavi, 19, and HadisaRezayee, 18, found themselves stranded outside Kabul airport with a group of 170 students. The Taliban had just taken control of the country and they were among the thousands hoping to evacuate—even if it meant leaving their families behind. The situation was tense and dangerous.
"We saw gunfire," Zahra says. "On the second day, a bomb exploded right near us, in an area we'd left just five minutes before. It was really close."The friends had to wait three days before they could get inside the airport, let alone board a plane for their ultimate destination: the United States.
A little over a year later, Zahra, Arifa and Hadisa are now full-time students at Arizona State University (ASU), their days packed with activities and studying. While most refugees resettle in homes and residential communities, these women are rebuilding their lives on campus, as part of a co-sponsorship program between the International Rescue Committee (IRC) in Arizona and ASU.Here, Arifa, Zahra, and Hadisa share their experiences fleeing Afghanistan, starting over in the U.S., and planning for their futures.
Leaving Afghanistan
Arifa, Zahra, and Hadisa met when all three attended the Asian University for Women (AUW) in Bangladesh, which provides scholarships for Afghan students. When the COVID-19 pandemic hit, the girls returned home to Kabul to attend school remotely. They feared for their futures when the government changed hands. It was AUW that eventually helped the girls to leave the country, assisting 170 Afghan students seeking safety in the U.S. The three friends were among 67 who came to Arizona.
Arriving in the U.S.
Upon arrival, the IRC helped Arifa, Zahra, and Hadisa acclimate to their new surroundings and access basic necessities.
"It was very difficult," Zahra says. "We left our homeland and our families."
"We weren't allowed to bring anything," recalls Arifa. "We didn't even have clothes to wear. So they brought in clothes for us, food, everything. It meant a lot to us."
The IRC also connected the women with an Afghan case worker who spoke their language.Through the co-sponsorship program with the IRC, ASU provided housing, meals, scholarships, and additional support, enabling the women to continue their education.Once the women settled in Arizona, they began to get used to their new home.Despite such readjustments, all three young women are optimistic about their futures in the U.S.
"Here, there's lots of opportunity for women," Zahra says. "As a woman, you can achieve all your dreams here."
Goals for the Future
Arifa, Hadisa and Zahra are currently taking English classes as part of ASU's Global Launch program. They will join regular ASU classes in the spring of 2023. Zahra plans to study law to support her family and to help women and girls in Afghanistan.Arifa looks forward to studying cybersecurity, also with the goal of supporting her family, and helping her country. She hopes to continue practicing martial arts, which she has been studying for six years. She has earned her black belt in taekwondo and has competed in several competitions, including the Asian Olympic Games in Turkmenistan.Hadisa plans to study software engineering and find ways to help those still struggling in Afghanistan.Hadisa, too, wants to help her family back in Afghanistan, especially as they supported her journey to the U.S.
How else does the IRC help refugees in the US?
Thanks to your generous support, we provide essential services including housing, health care, education, employment, and legal assistance to provide a solid foundation, helping newcomers integrate and thrive in their new communities.
You can continue your support by encouraging your peers to accept refugees as new and valuable members of American society. You can also help refugees by volunteering at a local resettlement agency, becoming an English tutor, a tour guide, a mentor to a family, donating furniture and household items, teaching other people about the valuable contributions of refugees, urging your elected officials to support refugee resettlement, and employing or encouraging local businesses to employ refugees.