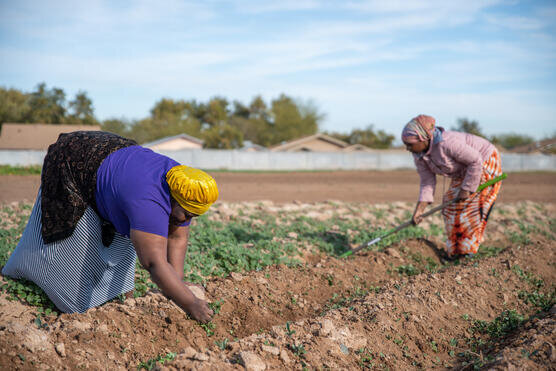 With your help, the IRC supports resettled refugees through the 'New Roots' program
The IRC has 25 offices across the United States that support newly arrived refugees by providing immediate aid, including food, housing and medical attention. Each resettlement office serves as a free, one-stop center for refugees' needs during their pivotal first months in the U.S. Through a network of staff members and volunteers, the IRC helps refugees learn about life and customs in America, secure jobs, learn English, and become citizens. We provide most of the basic things they need to restart their lives here and we help them overcome cultural barriers so that their adjustment is as easy as possible. Through community gardening, nutrition education and small-business farming, the IRC's New Roots program gives hundreds of refugee farmers the tools and training they need to grow healthy and affordable food and become self-sufficient.
New Roots focuses on food security, food access and agriculture in the refugee community. New Roots is a national program and is located in 12 different cities. Through nutrition education and urban scale farming and market programs, the IRC's New Roots program is giving hundreds of resettled refugees the tools and training to grow healthy produce, provide affordable food to their neighbors, build their business skills, and support community wellness.
Because of your donation to support the IRC's refugee clients in the U.S., New Roots enables refugees to reconnect with agrarian backgrounds and facilitate the application of their unique skills to improving their lives and livelihoods in their new home. The program has grown from just a few offices to many of the Resettlement, Asylum, and Integration network, spurred primarily by strong interest and support from refugees and other local community members. This programming creates safe and welcoming opportunities for new immigrant populations to meet and work with their new neighbors, creating tighter-knit, safer and more economically and culturally vibrant communities.
How else does the IRC help refugees in the US?
Thanks to your generous support, we provide essential services including housing, health care, education, employment, and legal assistance to provide a solid foundation, helping newcomers integrate and thrive in their new communities.
You can continue your support by encouraging your peers to accept refugees as new and valuable members of American society. You can also help refugees by volunteering at a local resettlement agency; becoming an English tutor; a tour guide; a mentor to a family; donating furniture and household items; teaching other people about the valuable contributions of refugees; urging your elected officials to support refugee resettlement; and employing or encouraging local businesses to employ refugees.