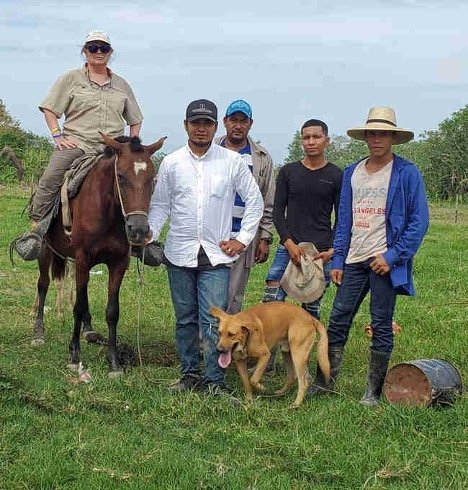 In July 2021, One Earth Conservation teamed up with its partners, Cuerpo de Conservación in Honduras and CONAP in Guatemala, to conduct the first bi-national parrot population count in this Atlantic coast region. It involved over 25 people! Our target species is the endangered yellow-headed amazon parrot, but we counted all the parrot species, because illegal trapping for the pet trade is high and all parrot populations in this area are under threat. We do this even knowing that counting parrots is notoriously imprecise. With training and repeated counts, we can improve precision and grow our ability to analyze possible trends over the years, which would let us know if we are having success or not. This means painstakingly using the same methodology between people and between years, and crunching the data long after the data is collected.
One Earth Conservation also supported the government in Guatemala to conduct bimonthly patrols of nesting areas for 4.5 months between February and June 2021. During this time a total of 16 additional people from Honduras and Guatemala were hired to protect nests. We emphasize parrot monitoring to grow the chances for success, to see if we are having success, and to see if we need to change our activities to decrease harm and increase benefit.
In Cuyamel, Honduras, it's possible that all three nests of yellow-headed amazon were poached. Even if they did fledge, this is a devastatingly low number of active nests. The nesting season ended in May. In Punta Manabique, Guatemala, only one nest of 14 was poached. This is an incredible result given the weekly presence of poachers. The nesting season ended in June.
Here's a story of a heroic young woman who saved some parrots from poachers in May 2021, as told by LoraKim Joyner:
"The young parrot protector, Evelyn, heard some voices coming towards her, and so she hid. She was by herself protecting a yellow-headed parrot nest a long way from home. The five men looked like poachers to her and indeed they halted in the muddy water at the base of the nest tree. She backed away and took off running to warn other rangers who were guarding a more distant nest. With reinforcements she returned to the nest and confronted the men who lied that they weren't there to poach the nest of this highly endangered bird in Guatemala. Not believing them, the parrot rangers escorted the men out of the community lands. Later that same day they had to repeat this process with two more presumed poachers. They were on super high alert and had caught these men, because just two weeks before poachers had come while the rangers had taken a lunch break back in the village and the poachers took advantage of this and robbed one of the nests.
A few days after Evelyn's heroic action, I went with the team of rangers, skirting the muddy pool, looking up at the nest tree while Evelyn told me her story. While she was talking one of the other rangers discovered a discarded bag that the poachers had hidden near the tree. The contents consisted of a saw, a rope, a flashlight, a towel, a water bottle, a plastic container with moldy food, and an empty beer can. Poachers travel light and move fast, so I congratulated this committed team in being able to ward off the poachers who, without their actions, surely would have taken the rest of their nests."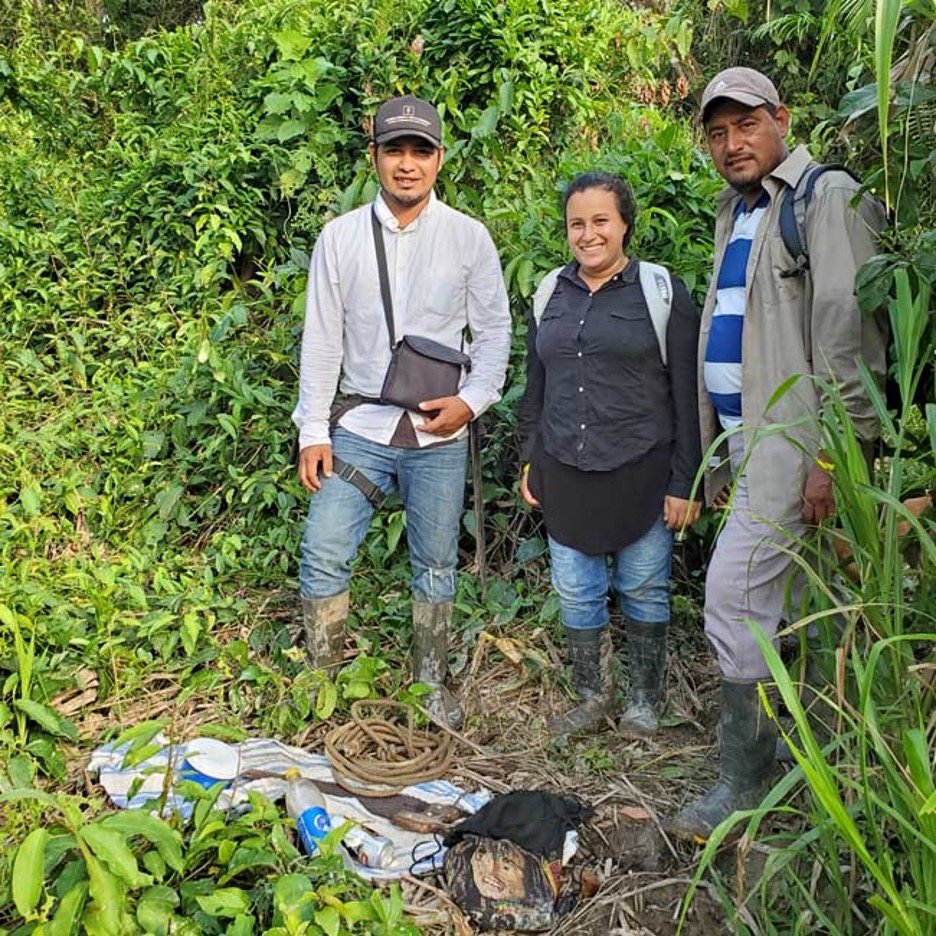 Links: