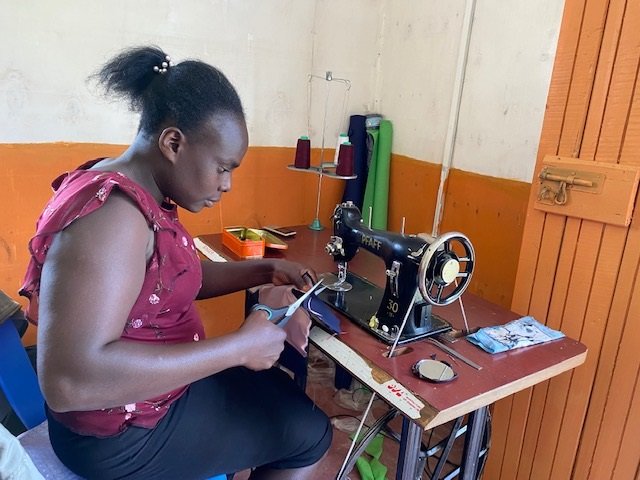 October is here, what an interesting year! Despite what the world is going through, we are still pressing on to the end. We are glad that we have not had lockdowns for the last two months, and that means we are going on with our campaign, Restoring Girls' Dignity. Breaking menstrual silence is not easy, in the villages it's taboo but we have stood firm in this campaign. To many, it's not an issue, but menstruation is killing our girls silently.
Significant barriers to high-quality menstrual hygiene management (MHM) persist across Kenya and remain a particular challenge for low-income women and girls. Formative research shows that girls face monthly challenges, with 65% of girls in Kenya unable to afford sanitary pads.
1. Only 50% of girls say that they openly discuss menstruation at home. Just 10% of rural schools have a private place for girls to change their menstrual products.
2. And only 12% of girls in Kenya would be comfortable receiving the information from their mother.
3. There are also more jarring statistics signaling that menstruation is tied to more fundamental risks and issues of gender inequity, with studies showing 2 out of 3 of pad users in rural Kenya receiving them from sexual partners
4. 1 in 4 girls do not associate menstruation with pregnancy. Kakamega County being the highest rural populous county in Kenya, the situation is worse which leads to school absenteeism, thus impeding their academic performance.
Running a children's rescue centre and home has been an opened our eyes in a way that we have seen poverty is not only lack of food and school fees, it is also lack of sanitary towels and information. For the last one year, we have received more than 12 abandoned babies, some born out of incest and others with an unknown history. Investigation reports have shown that the babies' mothers are between 12-15 years and are either orphaned or from poor families. These girls give themselves for sanitary towels. It is hard for these girls to talk about menstruation with their mothers. Since our campaign, many girls have come to us to seek advice and help.
Our campaign is on and so far we have raised $1092 on this platform. We have raised $800 locally and our goal is more than $10,000 to be able to reach more than 3000 needy girls in Day Secondary Schools based in Malava.
One reusable kit costs $15 and will serve a girl for 3-4 years of school. Help us meet this goal. As you prepare for this giving season consider our cause as you have always done.
Kindly do not hesitate to share the good work you are doing with friends/families and on your social media.
Thank you