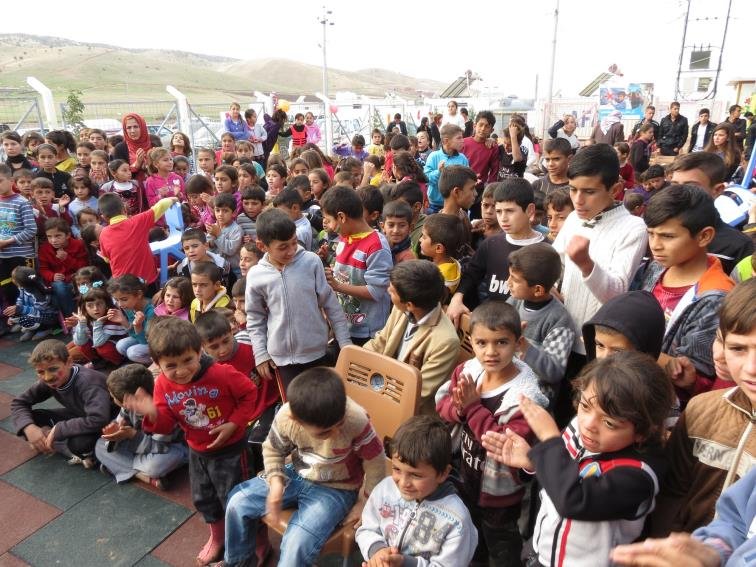 As an alliance of 13 German relief organizations, Aktion Deutschland Hilft focuses on humanitarian aid as well as desaster risk reduction programmes. With our members of international families (such as CARE, World Vision, Handicap International) as well as huge German welfare organizations with an international branch for humanitarian aid and development aid, we have shown for 15 years by now, that we are able to reach people in need. Independend of the background of organizations (be it christian, jewish, islamic or secular) all our organizations adhere to the Sphere Project Standards of humanitarian aid as well as to standards of transparency and good governance.
Eleven of our members are working with the people in need which are staying inside of Syria or with Syrian refugees in the neighboring countries. According to the focus of every organization, our coalition is offering for example medical supply, hospital facilities, trauma and resilience programmes, shelter, non-food items, hygiene products, cash, education programmes according to the different necessities in the given circumstances to the people in need.
We are very grateful that you support the work of our coalition!
The project of our biggest member organization, World Vision Germany, is called "let us learn". It aims to educate and protect internally displaced children at Bersive I and II camp in Zakho district, Dohuk Governorate, Northiraq.
With regards to the long term objective of the project, it aims at support refugee children and youth which are not able to go to school. They shall get the opportunity to access educational opportunities. At the same time, their resilience shall be strengthened, but also the local capacities for child protection at Bersive I and II camps shall be strengthend in Zakho district, Duhok governorate, Northiraq.
The activites for achieving the long term objective derive from two major sub-results:
As a first result children affected by displacement are supposed to have equitable access to quality basic education and psychosocial support in a protective learning environment.
In order to achive the first result, safe and protective learning envrironment are established and functional through increased infrastructure in learning spaces and facilities. Furthermore the capacity of the project team, Child Friendly Spaces personnel, Community Education Councils and other community members is enhanced to enable quality education. Additionally, children and youth affected by displacement benefit from non-formal education and recreational activities. Finally, child protection activities for children and youth are in place.
The second expected result is as strengthening of the caregivers' and community involvement and capacity to promote education and child protection. Therefore, parents, communities, and other stakeholders are involved in the education of their children. Furthermore, child protection mechanism and referral systems are identified and strengthened. Finally, quality service delivery are promoted.
Please understand that this project report is only an example to show you how we work and how your grant is being used to help Syrian refugees at all ages. We are more than grateful about your contribution, it enabled us to increase our support to refugees. As the war in Syria is still going on, humanitarian aid is the only possibilty to support the people suffering in Syria and the neighboring countries.