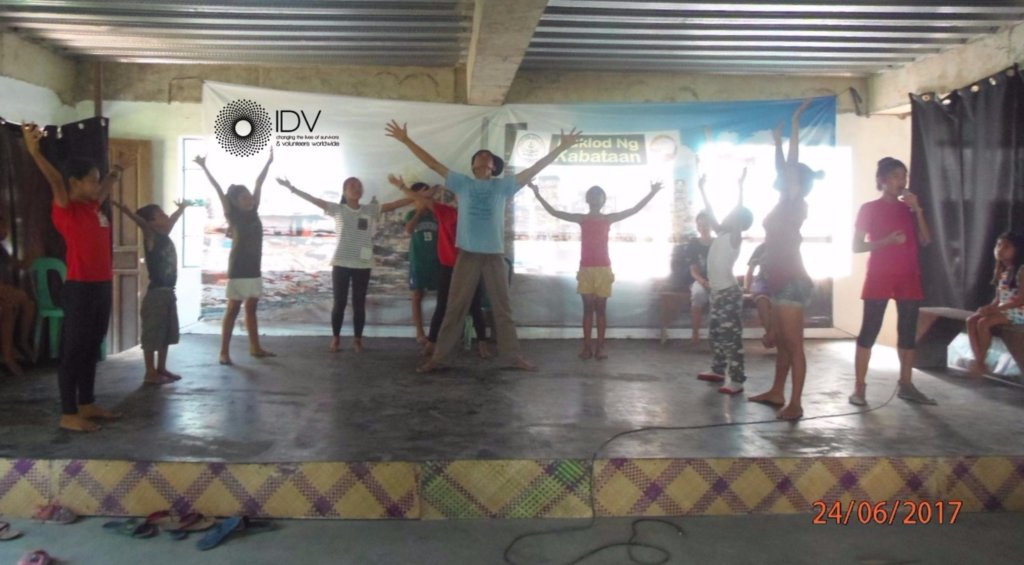 Thanks to your incredible support the Banaba Livelihood and Evacuation Center, just outside Manila, has been a hive of community activity over the last few months.
In our last project report we explained how we'd just disbursed funds to support further improvements to the building; including tiling, bathroom maintenance and even the construction of a small stage.
Well, in this update we're delighted to report that work in all these areas, and more, has progressed very well.
Tiling has been completed in the busiest areas of the ground floor, helping to protect the previously laid concrete and also making it much easier to clean. This will be especially important when the building is being used as an evacuation centre during typhoons.
To further help maintain the sanitary conditions your donations have also been used to make repairs to the bathrooms, such as the replacement of taps and fittings. This may seem pretty minor, but clean water is a precious resource, particularly during times of disaster, so it's vital that none is lost through leaky joints and faucets.
And happily, because of similar prudence with your kind donations, our last disbursement went even further than originally planned. There was some money left over after our other work, and so we decided to purchase and install some electric ceiling fans to help keep the temperature more bearable during the hot Filipino weather. Again, this will work will benefit the community generally, but especially during evacuations.
Finally, and as also mentioned above, your donations have also now been used to build a stage within the building. Such stages are ceremonially important in the Philippines, and the community needed one to use during their regular "study visits" from local universities and partner NGOs.
The community's youth group, who are especially busy over the summer holidays, also needed a stage for their music and dance sessions, so we were delighted to be able to help with the work.
As always it was great to see photos of the work in progress, but we were even more delighted to see the stage in full use during a recent public performance from the youth group. A few photos from this, and from the work in general, are included in this report.
None of this work would have been possible without your generous donations, and on behalf of the community of Banaba we want say a big THANK YOU for your amazing support.
We'll be sure to keep you posted as our work on the centre continues, and if you ever have any questions, please don't hesitate to email Andy@IDVolunteers.org. I would be delighted to hear from you.