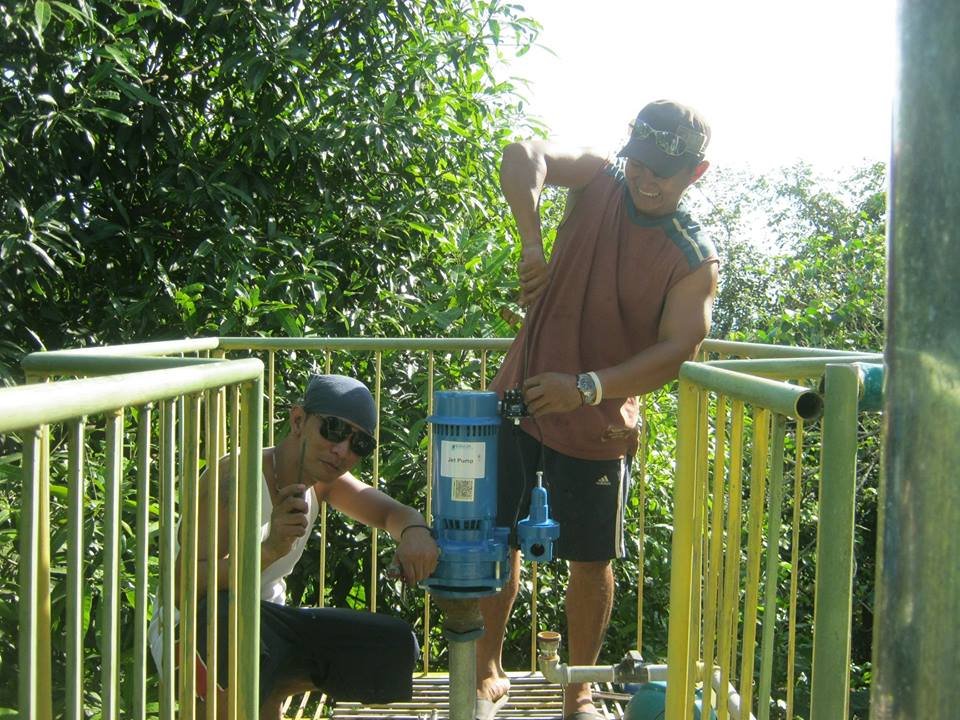 Thanks to your amazing generosity our work to improve the Banaba Livelihood and Evacuation Center, just outside of Manila, has made even more progress since our last report.
In that last report, we announced that the center had finally been made watertight, years after construction had first started. Sadly, the original donor ran out of funds before the building was finished, and this left hundreds of Banaba's residents without a safe refuge during typhoons and floods.
So, last December we stepped up to finish the job, and we reached the watertight milestone this April. But more remained to be done, and so we've continued this vital work over the last few months.
For example, several sides of the building were still unrendered, and this meant that brick walls - several of them newly built thanks to you - were left unprotected from the torrential rains that arrive every typhoon season.
This would have left the building vulnerable to damage, and with all our recent hard work, this was a situation we clearly wanted to avoid.
Happily, thanks to your further support, we were recently able to purchase enough sand and cement, and also hire a local tradesman, to complete rendering on two more side of the building. This is another fantastic result, thank you so much!
There's now just one external side of the building left to render, and we'd hoped to finish this in the latest round of work. However, like any building the Evacuation Center also needs ongoing maintenance as well.
For example, while planning the recent rendering work we received this message from Ka Noli, the President of our local partner Buklod Tao:
"Just recently i commented in my email message to you that the Center has not been fully finished and yet, maintenance requirements are [also] getting strenuous.
In May 2012, Buklod Tao was able to purchase a second hand 1 horse power water pump for around $200. It has provided water for the center for the past four years. And it conked out last Thursday, 19th May.
I am saddened this morning today with the diagnosis of Gerry, our expert plumber, and member of Buklod Tao Board of Trustees, relative to the status of the water pump. It is already beyond repair, and needs replacement.
So, no water for the entire center!
The water crunch is [already] being felt, and in June 2016 we are expecting sixty youth to spend time here. Having no water provision for the sixty guys would be a big, big headache for us.
We need an A-1 status water pump to last a longer time. May I appeal for the purchase [of a new pump] to be defrayed from the earmarked rendering amount?
Having no water at an Evacuation Center, which is also used for general community projects, was obviously a problem that needed solving. So, although we were a little disappointed not to be able to finish the rendering, we didn't hesitate to approve Ka Noli's request.
And so, thanks to you, the building now also has a brand new, high quality pump to provide water in the years to come.
We still want to complete the remaining rendering of course, And once the building work is done, we'd still like to provide bunk beds and other facilities for the evacuees who will shelter inside the center.
So, we'll keep fundraising here on GlobalGiving, and of course keep you updated along the way. Once last time, thank you so much for helping the Filipino community of Banaba to prepare for disaster.
As always, if you ever have any questions, please don't hesitate to email Andy@IDVolunteers.org. I would be delighted to hear from you.
For more updates about our work please like us on Facebook or follow IDVExec on Twitter. You can also email Andy is you would like to be added to our direct mailing list.