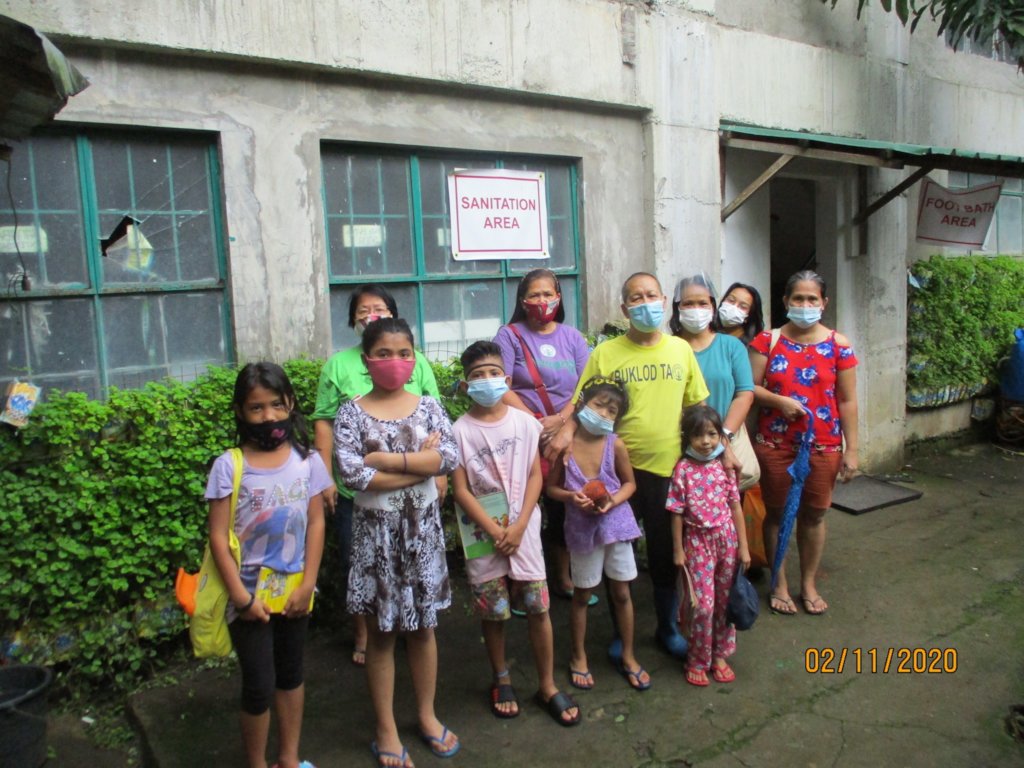 It's been a disastrous few days in the Philippines after the country was struck by typhoon Goni, known locally as super typhoon Rolly, in the early hours of last Sunday morning. As the category five cyclone approached hundreds of thousands were forced to evacuate, a task complicated by the ongoing impacts of Covid-19 in the country.
Happily, thanks to your incredible support, the community of Banaba just outside of Manila was well prepared for the incoming storm. Ka Noli, President of our amazing local partner Buklod Tao, described their community's preparations:
"Rolly was due to batter Metro Manila and our province of Rizal in the wee hours of November 1, 2020. The weather bulletins and text messages we received from the NDRRMC (National Disaster Risk Reduction Management Council) provided advisories for all to get prepared since they say Rolly would side sweep Metro Manila and Rizal after passing through [neighbouring] Aurora Province.
So, the Buklod Tao Board of Trustees had a meeting revisiting our preparations on Saturday morning, October 31. We checked our stockpile of food and water, and happily the solar powered 4-stage rainwater disinfection that IDV donors provided to Buklod Tao was also in working order.
Unlike before Covid-19, we were unable to purchase coffee, sugar, biscuits and medicines for distribution to our [community volunteer] teams because the pandemic quarantine restrictions still limit our movements.
We next revisited our multi-hazard contingency plan for welcoming nearby residents to our evacuation centre. Everything was in place - thermal scanner, wash area, sanitation area, foot bath, separation area (in case there would be a walk-in evacuee who has fever), signage for registration and contact Tracing and signage too for direction to the 2nd floor of the centre where the family cubicles for evacuees are located".
With preparations made all that was left was to wait for Rolly to make landfall. Ka Noli, continued his account:
"As early as 5:10am in the morning of November 1, 2020, Buklod Tao evacuation center received walk-in evacuees from the nearby riverside. The first evacuees included one adolescent girl, one baby infant girl and three female adults. They carried bags and even a thermos bottle for the baby's milk preparations.
Thermal scanning was done inside not outside because there was no light at the back side entrance. Sanitation also was done inside the evacuation centre because it was already raining. After registration and contact tracing, I directed the evacuees to first utilize the beds proximate to Francia's office at the ground floor because they have an infant baby girl.
Space was limited because of distancing requirements, but in all there were sixteen evacuees inside Buklod Tao evacuation center until 7:30 am on November 2. All evacuees were provided with mats, pillows, blankets, again provided thanks to IDV donors.
I sent text messages to our members Delia, Francia, Pablo and Louis (our newly recruited driver of the IDV-donated Suzuki multicab) with instructions to come to the evacuation center to activate Buklod Tao community kitchen.
Snack was served in the morning of November 1, then lunch in the afternoon; no snacks in the afternoon; dinner in the evening and then breakfast in the morning of November 2.
The children were provided some reading and coloring books to make themselves busy during their stay. The mothers joined community kitchen chores. There was no problem with ventilation since all the ceiling fans were working (thanks again to IDV donors for the purchase of these ceiling fans). They provided comfort to all the evacuees.
In the end, we did have rains but not so strong. There was no electric power interruption, despite the intermittent strong winds. We also did not run out of food and water. We managed. We survived! It all reminds me of a Buklod Tao song about our fight:
In times of affliction,
God and Preparedness
Are our Protection".
Salamat po, IDV Donors, for helping us these past ten years!"
We echo Ka Noli's thanks to you. While we're saddened by the major impacts Rolly has brought to other parts of the Philippines, we're also incredibly grateful that the community of Banaba was prepared for disaster thanks to you.
We'll keep you posted as our work in Banaba continues, and if you have any questions please don't hesitate to email Andy@IDVolunteers.org. I'd be delighted to hear from you as always.