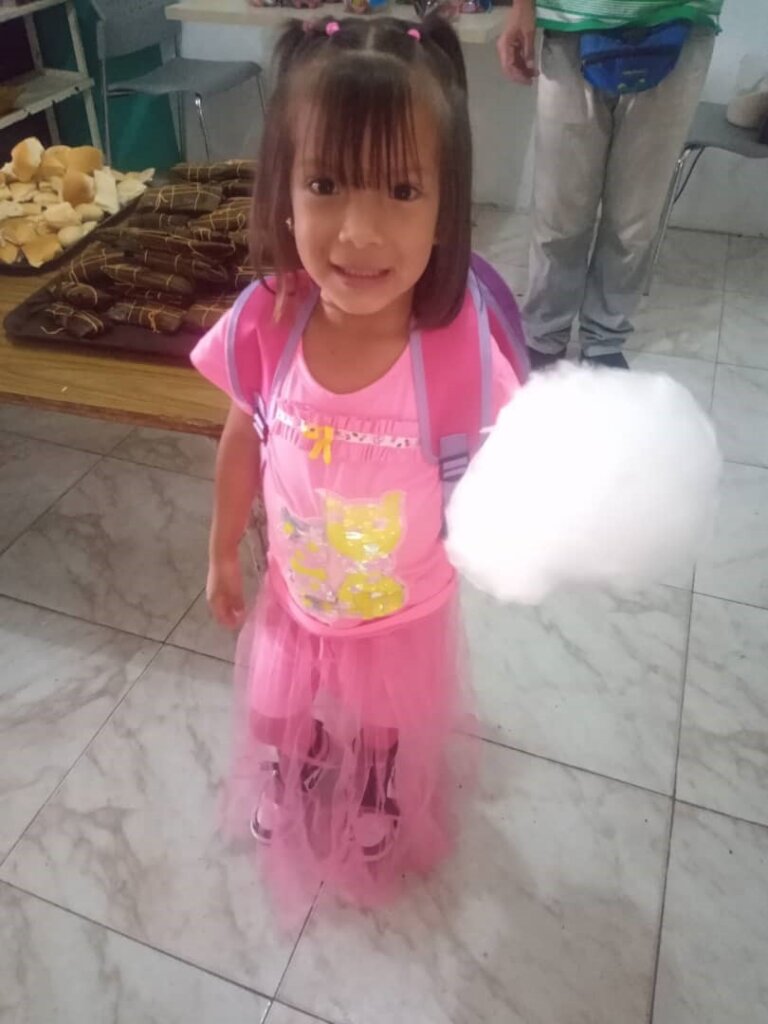 Spanish Translation at the bottom
2022 marks five years for the "Una Arepa para mi Pais" program. It will already be five years in which we consecutively nurture vulnerable children in the upper part of La Vega in Caracas every day of school activity, including times of pandemic.
And this is a great achievement knowing that 2021 was a very complicated year due to the humanitarian crisis that the country has been experiencing for several years now, with very serious repercussions such as fuel shortages and all that this entails, in the midst of the highest inflation in the world and in the absence of official mechanisms that regulate the rate at which currencies are traded daily in a society that has been informally "dollarized".
However, we were able to successfully close 2021 with Christmas activities for the children that the Pabellón Con Arepa Foundation provides to the children who are beneficiaries of the program each year.
And you cannot imagine how gratifying it is to be able to provide these children with moments and spaces for recreation that most of them would not be able to enjoy on their own. An inflatable mattress, cotton candy, a Christmas meal is unattainable for many of them. And our program was able to bring them to you once again.
The price of a Hallaca (traditional Venezuelan Christmas food made up of corn dough stuffed with a stew made up of pork, chicken, olives, raisins and capers, all wrapped in banana leaves and parboiled) is around $ 3, the equivalent of a Venezuelan official minimum wage. A ham bread (also traditional in Venezuela in the Christmas season) costs from $ 6 to $ 12 depending on the size and quality of the ingredients, approximately two to four official minimum wages. That is why for many it is impossible to enjoy Christmas as in other years, not to mention gifts, new clothes and fireworks that for many became an unattainable luxury.
Reaching the fifth year in which we can continue to provide food, recreation and love to children who otherwise could never enjoy a Christmas dish, let alone an inflatable mattress to jump on and have fun or a Christmas gift fills us with immense satisfaction. Not only because of the fact of being able to provide them with a plate of food or a moment of recreation, but also because with this we avoid that these children stop attending their educational centers due to lack of food, thus reversing the high levels of school dropouts, at least in the educational centers where the nutritional-school program operates.
For this and much more at this time we want to especially thank our benefactors, for each and every one of their contributions that allow us to change the reality of these children. And wish you a better 2022, full of peace, prosperity, abundance and health. On behalf of all those little ones we say Thank you for so much. May God bless you always.
Spanish Tranlation
Llegamos a 2022 y con él al quinto año del programa "Una Arepa Para Mi País". Ya serán cinco años en que de manera consecutiva nutrimos en su escuela niños vulnerables de la parte alta de La Vega en Caracas todos los días de actividad escolar, incluído los tiempos de pandemia.
Y esto es un gran logro sabiendo que 2021 fue un año muy complicado debido a la crisis humanitaria que se vive en el país desde hace ya varios años, con repercusiones muy graves como la escasez de combustible y todo lo que ello acarrea, en medio de la inflación más alta del mundo y en carencia de mecanismos oficiales que regulen la tasa a la que se transan diariamente las divisas en una sociedad que se ha "dolarizado" de manera informal.
No obstante, pudimos cerrar exitosamente el año 2021 con las respectivas actividades navideñas que la Fundación Pabellón Con Arepa brinda a los niños beneficiarios del programa cada año.
Y no se imaginan lo gratificante que es poder brindar a estos niños momemtos y espacios de recreación que para la mayoría de ellos serían imposible disfrutar por cuenta propia. Un colchón inflable, un algodón de azúcar, una comida navideña es inalcanzable para muchos de ellos. Y nuestro programa pudo brindárselos una vez más.
El precio de una hallaca (comida tradicional navideña venezolana compuesta por masa de maíz rellena de un guiso compuesto a base de cochino, pollo, aceitunas, pasas y alcaparras, todo envuelto en hojas de plátano y sancochado) ronda los $3, el equivalente a un salario mínimo oficial venezolano. Un pan de jamón (también tradicional en Venezuela en la época decembrina) cuestan de $6 a $12 dependiendo del tamaño y la calidad de los ingredientes, aproximadamente de dos a cuatro salarios mínimos oficiales. Es por eso que para muchos resulta imposible disfrutar de la navidad como en otros años, ni hablar de regalos, ropa nueva y fuegos artificosles que para muchos se convirtieron en un lujo inalcanzable.
Llegar al quinto año en que podremos seguir brindando alimentación, recreación y amor a niños que de otra forma nunca podrían disfrutar de un plato navideño, ni hablar de un colchón inflable para saltar y divertirse o un regalo de navidad nos llena de una inmensa satisfacción. No solo por el hecho en sí de poder brindarles un plato de comida o un momento de recreación, sino porque además con ello evitamos que estos pequeños dejen de asistir a sus centros educativos por falta de comida, revirtiendo así los altos niveles de deserción escolar, al menos en los centros educativos donde funciona el programa nutritivo-escolar.
Por esto y mucho más en este momento queremos agradecer especialmente a nuestros benefactores, por todos y cada uno de sus aportes que nos permiten cambiar la realidad de estos niños. Y desearles que tengan un mejor 2022, lleno de paz, properidad, abundancia y salud. En nombre de todos esos pequeñines les decimos Gracias por tanto. Que que Dios les bendiga siempre.