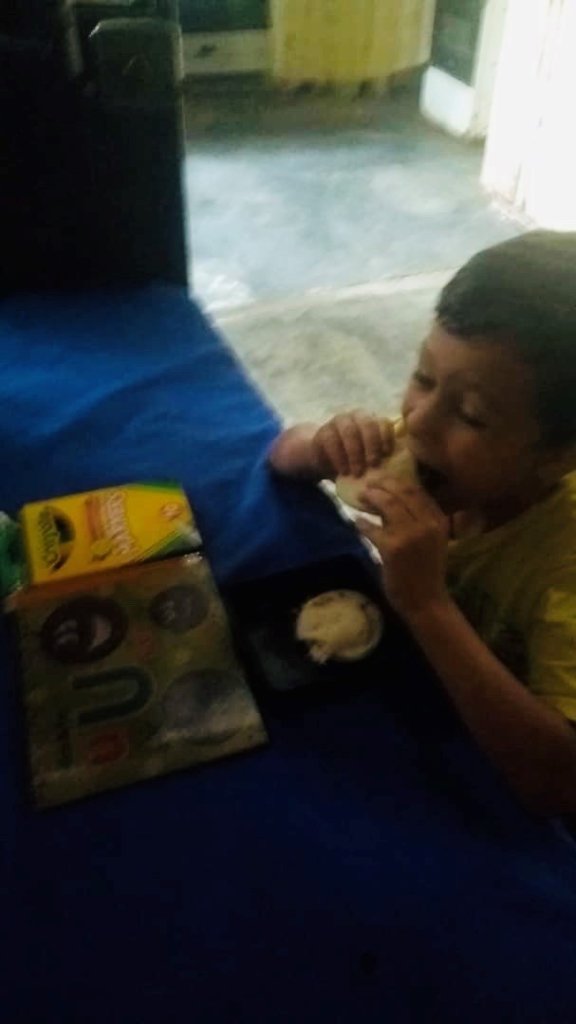 Scroll down for Spanish Translation
Four years ago, when we made the commitment to provide food to the neediest children in our environment so that they would not stop attending their schools due to lack of food, we did so with the hope that everything would improve, if not soon, at least in a near, reasonable period of time.
Unfortunately, the tiemframe has lengthened and, far from improving the situation, each year it has become more difficult, with new obstacles to feed and educate.
In 2017, there was a severe food shortage, which in turn had a huge impact on prices. Going through the grocery stores in search of the best prices was a true odyssey and preparing balanced menus without knowing what could be found was a challenge of ingenuity and creativity. This is how novel inventions appeared in Venezuelan food, many of which were implemented in the menus of our program: beet, carrot, spinach, chard, arepas made out of chayote, cakes with similar ingredients, lentil tortillas, among others.
This phenomenon of scarcity and all the other problems generated by the Venezuelan political-economic crisis has not been left alone at any time by hyper-inflation. For several years now, Venezuela has had the highest inflation in the world. It has become customary for us Venezuelans to have to consult at least twice a day the cost of the dollar and with it the changing prices in the marking of products and services. To get an idea of what this implies: on the same day the cost of a bag of rice may be more expensive in the afternoon than it was in the morning. It has happened to us on several occasions.
As if this were not enough, we do not have cash to buy. For those who live in any normal country it must be difficult to understand that Venezuelans do not have enough currency bills. If we go to the bank after a long queue, we are given a limited amount of bills because "there is no cash". And believe us, the amount of cash received is barely enough to pay for public transport.
A couple of years ago, another headache was added to the life of Venezuelans: the lack of fuel. This sounds illogical for a the country with the largest oil reserves in the world. Recently, the government established two prices: the international one ($ 0.50 / liter) and the subsidized one (Bs. 5,000 / liter, to date equivalent to $ 0.02 / liter), of the which each person can consume 120 liters per month. This is why it is now normal to see endless queues of cars in the vicinity of subsidized service stations despite the rationing plan that restricts each vehicle (depending on the last digit of the license plate number, a vehicle can get subsidized gasoline every five days, as long as you have not exhausted your monthly quota, of course).
Beyond the reasons that originate this, the fact is that it greatly complicates the logistics to buy and transport food to the served areas that are somewhat distant from the city. And when the quota to buy subsidized fuel runs out, we have to buy it at international prices, not at all accessible for a country whose minimum wage is around $ 3.
The Pandemic.
We all know that the appearance of COVID-19 has collapsed the lifestyles of all humanity and had a huge impact on the economy of all nations. Now imagine then how much damage it has caused in countries already hit hard by political-economic crises like Venezuela. Not in vain, more than 5 million Venezuelans have left the country looking for a better life in new horizons.
There are many children in our program whose parents emigrated in search of better destinations in the hope of being able to reunite later. However, the pandemics left them trapped without being able to get a job, and without being able to return to be with them again.
But our program has managed to adapt and endure as long as it has been necessary. Thanks to everyone's support, we have managed to overcome adversity and continue to nurture and teach the most vulnerable children in Caracas.
On behalf of the children of our program "Thank you very much".
------------
Spanish Translation
Hace 4 años, cuando iniciamos el compromiso de recabar fondos para brindar alimentos a los niños más necesitados de nuestro entorno con la finalidad de que no dejaran de asistir a sus escuelas por falta de comida, lo hicimos con la esperanza de que todo mejoraría, sino pronto, al menos, en un lapso de tiempo cercano, razonable.
Lamentablemente la espera se ha alargado y, lejos de mejorar la situación, cada año se ha tornado más difícil, sumándose siempre nuevos obstáculos al compromiso de alimentar y educar.
En aquellos tiempos de 2017, reinaba una fuerte escasez de alimentos, lo cual a su vez repercutía enormemente en los precios. Quienes los tenían los vendían al precio que mejor le parecía. Recorrer los mercados y abastos en busca de los mejores precios era una verdadera odisea y elaborar los menús balanceados sin saber que se podría encontrar era más que un reto al ingenio y la creatividad. Es así como aparecieron inventos novedosos en la comida venezolana, de los cuales muchos fueron implementados en los menús de nuestro programa: arepas de remolacha, zanahoria, espinaca, acelga o chayota; tortas de similares ingredientes, tortillas de lentejas, entre otros.
A este fenómeno de la escasez y a todos los demás problemas generados por la crisis politico-economica venezolana no lo ha dejado solo en ningún momento la hiper-inflación. Siendo Venezuela desde hace varios años el país líder con la inflación más alta del mundo, se ha vuelto costumbre para nosotros los venezolanos tener que consultar al menos dos veces al día el costo del dólar y con ello los cambiantes precios en el marcado de los productos y servicios. Para tener una idea de lo que esto implica: a la una de la tarde el costo de un kilo de arroz puede ser más caro de lo que costaba a las once la mañana. Nos ha pasado en varias ocasiones.
Por si esto fuera poco no disponemos de efectivo para comprar. Para quienes vivan en cualquier país normal debe ser dificil entender que los venezolanos no tenemos billetes. Si vamos al banco después de una larga cola se nos da una cantidad limitada de billetes porque "efectivo no hay" y créannos que la cantidad apenas alcanza para pagar el pasaje en el transporte público.
Hace un par de años aproximadamente se sumó otro dolor de cabeza a la vida del venezolano: no hay combustible. Sí, aunque suene ilógico es así: el país con las mayores reservas petroleras del mundo tiene una fuerte e inexplicable escasez de combustible. Para el poco que se vende en las estaciones de servicio, el gobierno estableció dos precios: el internacional ($0,50/litro) y el subsidiado (Bs. 5.000/litro, a la fecha equivalente a $0,02/litro), del cual cada persona puede consumir 120 litros al mes. Es por esto que ahora es normal ver colas interminables de carros en las adyacencias de las estaciones de servicios a pesar del plan de racionamiento que restringe a que cada vehículo, según el terminal del número de su placa, puede ser surtido con gasolina subsidiada cada cinco días, mientras no haya agotado su cupo mensual, claro.
Más allá de las razones que origina esto, el hecho es que complica enormemente más las peripecias que hay que hacer para recorrer, comprar y trasladar alimentos a las zonas atendidas que están algo distantes de la ciudad. Y cuando el cupo para comprar combustible subsidiado se nos agota, toca comprarlo a precios internacionales, nada accesibles para un país cuyo salario mínimo ronda los $3.
La Pandemia.
Todos sabemos que la aparición del COVID-19 ha derrumbado los estilos de vida de toda la humanidad y repercutido enormemente en la economía de todas las naciones, imagínense entonces cuánto daño ha causado en países ya bastante golpeados por crisis politico-economicas como la nuestra, con todas las repercusiones que dicha crisis han generado en la vida de los venezolanos, de las cuales solo mencionamos unas cuantas en los párrafos anteriores. No en vano ya más de 5 millones de venezolanos han salido del país buscando mejor vida en nuevos horizontes.
Hay muchos niños en nuestro programa cuyos padres tuvieron que emigrar en busca de mejores destinos con la esperanza de poder llevarlos después y que, las pandemia, los dejó atrapados sin poder conseguir un trabajo, y sin poder regresar para estar con ellos de nuevo.
Pero el programa "Una Arepa Para Mi País" ha logrado adaptarse y perdurar mientras ha sido necesario. Asi, hemos logrado sortear las adversidades y seguir nutriendo y enseñando a los niños más vulnerables de Caracas. En nombre de los niños de nuestro programa "Muchas gracias".