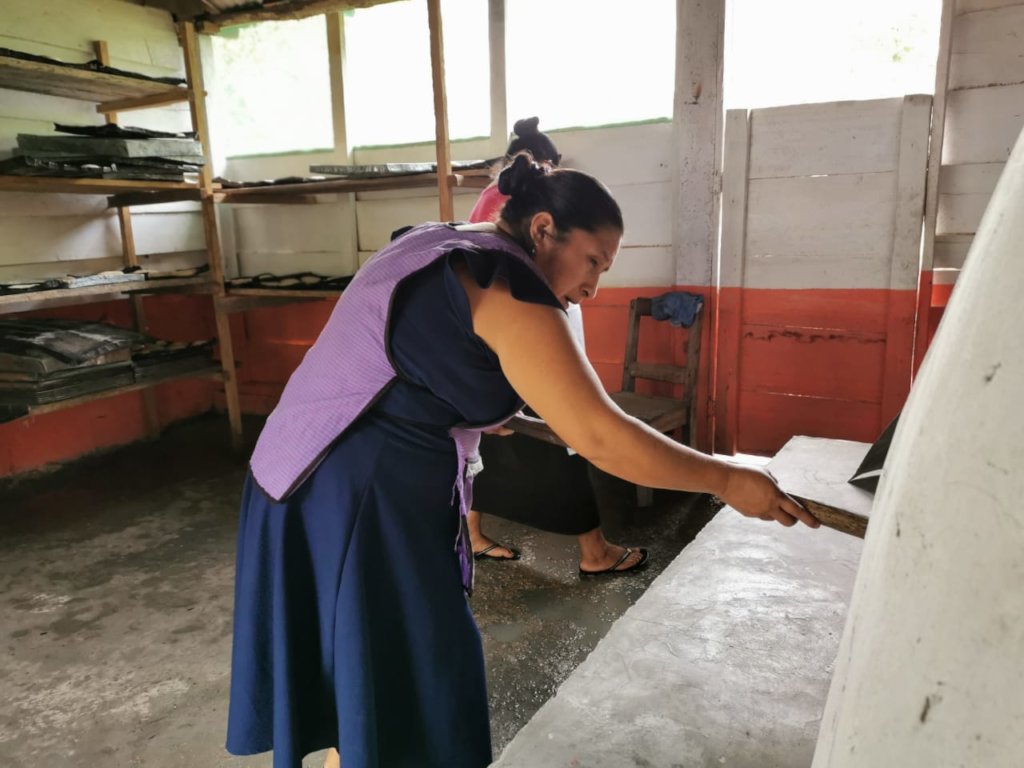 Durante 2019 , IXIM, inicio una nueva etapa adaptando su modelo de acompañamiento a las circunstancias y realidades actuales que viven las comunidades indígenas de la Zona Selva de Chiapas.
During 2019, IXIM began adjusting its invervention model to the current circumstances and realities that our indigenous communities live in Chiapas (jungle zone)
Por otra parte, nos planteamos como uno de los objetivos primordiales, la sustentabilidad de los proyectos ligados a la autogestión y al impulso de una economía local y regional a través del desarrollo de capacidades comunitarias que fortalecen la organización y cohesión social.
On the other hand, one of our primary objectives is to link our sustainability projects to self-management, local and regional economy promotion, through community capacities development, that strengthen social organization and cohesion.
De esta manera, la falta de oportunidades, indispensables para la vida digna y el bienestar familiar y colectivo, ha sido el reto que nos lleva a transitar en la Economía Social y Solidaria a partir atender las necesidades del Hogar Tseltal de manera saludable.
In this way, the lack of opportunities, crucial for family life dignification and collective well-being, has been the challenge, to meet the needs of the Tseltal Homes in a healthy way.
Para el pueblo tseltal, el concepto de armonía tiene un significado muy importante para la vida comunitaria y ésta se logra cuando existen simultaneamente el bienestar físico, social y ambiental, es ahí cuando afirman que hay" buhts'an qu'inal" es decir, que en el entorno se puede Saborear la Vida. Por otra parte, hemos agregado el bienestar económico que permite a las familias administrar los recursos disponibles para mejorar y potenciar sus condiciones de vida.
For the Tseltal people, harmony has a very important community life meaning which is only achieved when simultaneously occur physical, social and environmental well-being " buhts'an qu ' inal" meaning that all the environment is tasty. On the other hand, we added, the economic well-being that allows families to manage the available resources to improve and enhance their living conditions.
Bienestar Social
Social Well Being
A inicios del año, ampliamos nuestra zona de influencia a 2 regiones más, logrando con ello, atender a 6 grupos ocolectivos en 6 comunidades de 3 regiones: Región Ocosingo: El Capulín y la Fortuna con un total de 22 familias, Región Guaquitepec: Pinabetal y Guaquitepec con 33 familias y Región T'ulilha': San Jerónimo Tulija y San Pedro Tuliljá con 52 familias, haciendo un total de 107 familias y una población de 523 beneficiarios directos.
Ixim expanded his work and added to 2 more regions. Thereby these are our regions of influence: Ocosingo Region: El Capulin and La Fortuna with a total of 22 families.
Guaquitepec Region: Pinabetal and Guaquitepec with 33 families. T'ulilha 'Region: San Jeronimo Tulija and San Pedro Tulilja with 52 families. Total population 107 families, 523 direct beneficiaries.
Cada grupo o colectivo, por su parte, eligio a 3 animadoras que tienen como función principal la de motivar, acompañar y coordinar a cada una de las familias que participan con IXIM. y se de seguimiento a los compromisos que cada grupo asume. En total son 14 mujeres elegidas para este servicio colectivo.
Each collective group, chose 3 female leaderswhose main function is to motivate,
accompany, coordinate and commitment follow ups of all the families involved with IXIM's work. We have 14 women chosen for this collective service.
La casa, es el primer lugar en donde comienza la conciencia de lo comunitario, del servicio y la armonía, para poder desarrollar proyectos de impulso colectivo, debemos atender las necesidades primarias de la familia; este es el punto de partida para generar lazos de confianza, para cimentar procesos y visibilizar impactos que generan beneficios de manera casi inmediata.
The house is the first place where community awareness, service and harmony begins, because, in order to develop the impulse of collective projects, we must meet at first, the family primary needs; This is the starting point of trust, to cement processes and make visible impacts that generate benefits almost immediately.
Bienestar Físico
Physical well being
Con la Alianza establecida desde hace poco más de 3 años con Nutre a un Niño A.C. llevamos a cabo 2 jornadas de detección y atención de casos de desnutrición y anemia, atendiendo un total de 227 niños y niñas.
Los resultados obtenidos del Programa de Orientación Alimentaria, nos han reafirmado que la metodologíaa y modelo de acompañamiento que hemos desarrollado en IXIM, incide de manera positiva para dar respuesta a este problema; ya que, para el caso de anemia, pasamos de una prevalencia de 53.4% a 37% y en desnutrición del 50.7% a 36.6% del total de los niños que asistieron a las 3 jornadas de nutrición durante el año.
With the 3 years alliance established with Nutre a Nino A.C. We conducted 2 Health campaigns days for anemia and malnutrition detection and attention, serving a total of 227 children.
The results obtained from the Food Orientation Program in our 3 days health campaigns we have reaffirmed that our methodology and support model, has a positive impact on responding to this problem. In the Anemia cases, we went from a prevalence of 53.4% to 37% and from 50.7% to 36.6% in children's malnutrition.
La alianza con Amauni A.C., el Fideicomiso Santander, por los Niños de México y donantes particulares algunos participaron en las campañas de GlobalGiving, nos permitió repartir Fumarato Ferroso a todos los niños y niñas que presentaron algun grado de anemia ferropénica, además de repartir desparasitante a las 107 familias inscritas en el programa.
The alliances with Amauni, AC, Santander Trust for the Mexican Children, GlobalGiving and diverse donors, allowed us to distribute ferrous fumarate to all children who suffer from some anemia degree because of iron deficiency. We also distribute deworming treatments to 107 families enrolled in the program.
Con la colaboración de la Dra. Esteva, pediatra del Instituto Nacional de Pediatría, durante el mes de agosto, se llevaron a cabo en las 6 comunidades que participan en el proyecto, consultas pediátricas para identificar y dar atención a enfermedades crónicas, entre los casos que se identificaron con mayor incidencia fueron: asma, criptorquidia y algunos casos de paladar hendido.
In past August, MD. Esteva, a pediatrician of the National Institute of Pediatrics, collaborated with Ixim with pediatric consultations to identify and derive medical attention to chronic diseases, with the highest incidence like: asthma, cryptorchidism and some cases of cleft palate.
Bienestar Ambiental
Environment well being
El cambio ambiental que afecta al mundo esta ocurriendo a una velocidad muchísimo más rápida de lo que antes se pensaba, haciendo imperativo actuar ahora para contribuir en revertir el daño que se le ha hecho al planeta.
La zona Selva en donde se encuentran los colectivos y comunidades que acompañamos, no es ajena a estos problemas, por ello durante el año, incluimos talleres que, al tiempo que hacen reflexión sobre las problemáticas, se concatenan con las acciones que ayudan a mejorar las condiciones de salud de las familias y el entorno de hogar.
Durante los talleres, se logró identificar algunos problemas que se relacionan directamente con las prácticas productivas y de consumo que se llevan a cabo día con día, así tratamos los casos de la calidad y contaminación del aire, la calidad y disponibilidad del agua y la pérdida del habitat y degradación de la tierra.
As we all know, the climate change that affects the world is happening so fast, that is imperative to contribute to reverse the damage done to the planet. Ixim is working with all the collective groups trying to identify, reflect and act towards the environmental problems at the communities and their homes. During the workshops, it was possible to identify some problems that are directly related to the productive and consumption practices that are carried out day by day. We deal with cases of air quality, pollution, availability and quality of water, habitat loss and land degradation.
Desarrollamos un proyecto que contemplo formar y capacitar mediante talleres agroecológicos y visitas de seguimiento, a las 107 familias de comunidades acompañamos, establecer las 6 que logrando 407 camellones en 105 huertos de hortalizas, logrando hasta 3 cosechas durante el año de algunas frutas y verduras que permitieron a las familias disponer de alimentos saludables y algunos ingresos extras por la venta de excedentes.
We developed a project with agroecological workshops and follow-up visits, to the 107 families of the 6 Ixim's communities , managing to establish 407 ridges in 105 vegetable gardens, achieving up to 3 harvests during the year of some fruits and vegetables, that allowed families to have healthy food and some extra income from the sale of surpluses.
Es importante destacar, que iniciamos un trabajo de producción y formación colectiva de huertos en la escuela Ignacio Zaragoza de la comunidad de San Pedro Tulija, en la que participan poco más de 80 niños en la atención, cuidado y manejo de hortalizas, logrando en este primer año 2 cosechas de diversos vegetales.
It is important to highlight that we worked production and collective formation of orchards in the Ignacio Zaragoza school at San Pedro Tulija region, in which more than 80 children participate in the care and management of vegetables, achieving 2 harvest of various vegetables in 2019.
Un aspecto importante, es la disponibilidad de agua purificada, por ello, con la donacion de Spark & Riot y Dayan instalamos 14 filtros de Agua con la tecnología de Cántaro Azul, AC en La Fortuna y El Capulín, de la región Ocosingo, beneficiando directamente a 20 familias que participan en el proyecto.
Cabe señalar que, con esta nueva tecnología, se logró disminuir el consumo de leña que se utilizaba para hervir el agua, indicando que por cada 40 lts que se consumen a la semana, se utilizaban hasta 30 leños, por lo que nuestros cálculos arrojan que anualmente se dejarán de utilizar alrededor de 21,480 leños o lo que es lo mismo que un aproximado de 70 árboles que se usan para este fin.
Regarding the purified water availability, Ixim received an important donation of S & R and Ms. Dayan, which allowed us to install 14 Water filters with the technology of Cantaro Azul, AC. The communities who received them were La Fortuna and El Capulin, in the Ocosingo region, directly benefiting 20 families.
With this new technology, it was possible to reduce the consumption of firewood that was used to boil the water, indicating that for every 40 liters consumed per week, up to 30 logs were used, so our calculations showed that about 21,480 logs will cease to be used annually (70 trees approximately)
También se instalaron 25 fogones que beneficiara a 27 familias de la comunidad de San Pedro Tulija, en la Región T'ulilha', logrando reducir hasta un 50% el consumo de leña para las actividades de la preparación de alimentos.
25 stoves were also installed that will benefit 27 families in the community of San Pedro Tulija, reducing the consumption of firewood by up to 50% for food preparation activities.