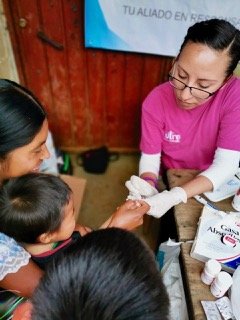 As we first reported in our annual work plan, we address the problem of malnutrition and anemia in rural communities of Ocosingo municipality in Chiapas. Showing up next, are the activities and results held at the health and nutrition campaign carried out in May.
These are the scheduled, performed, results, facilitators and obstacles of all our campaign activities:
Scheduled activities:
1. IXIM`s team trainings in nutrition, hygiene and health, in order to give workshops at the indigenous communities.
2. Detection workshop of signs and symptoms of malnutrition and anemia.
3.Weight and size tracking ofindigenous children, previously enrolled in our nutrition programs.
4.Delivery of preventive and corrective anemia treatment of for the indigenous children's participants in the communities.
5.Deworming medication delivery for all the indigenous children participants.
6.Meetings with six indigenous infants' mothers' groups, in order to define profile and choose health promoters in the communities.
7.Capillary hemoglobin measurement in indigenous children.
8. Anthropometric measurements of indigenous children.
9. Taught hand washing technique to indigenous children.
10. Art -mural.
Results:
1. Trained staff taught mothers of indigenous children, the first Workshop on Detection of Signs and Symptoms of Malnutrition, Anemia and Hygiene Habits. Knowledge replicated with health indigenous promoters.
2. Reflected and taken agreements with concrete projects actions that improve indigenous family nutrition.
3. Baseline initiated in these new indigenous communities, in order to evaluate the results of the project.
4. Diagnosed anemia and identified in all its grades, in each indigenous children.
5. Treatments for all degrees of diagnosed anemia delivered to all the indigenous participants children.
6. Three health promoters chosen in each of the six groups, that will follow nutritionists' indications.
7. Capillary hemoglobin samples were taken for anemia diagnose.
8. Anthropometric measurements made: body weight, height, circumference waist and circumference arm average, in order to evaluate indigenous children's nutritional status.
9. Well learned and awareness of the correct hand washing technique.
10. Diversity of foods is recognized, both, the healthy and those who are a bad choice such as: soft drinks, fried foods and refined flours.
Activities facilitators:
1.Our allied organization, Nutre a un Niño, has the methodology, information and enough experience to train Ixim`s team.
2. The tseltal culture allows group agreements that facilitate the indigenous mothers' participation.
3. Nutre un Niño's (allied) experience and knowledge regarding attention to indigenous children's communities suffering from anemia and malnutrition. Our important allied in these matters.
4. Suitable handling of medicine doses, for the indigenous children, because of well understanding (tseltal translation) of the information.
5. Suitable handling of medicine doses, for the indigenous children, because of well understanding (tseltal translation) of the information.
6. The culture of service and election of community positions, allows an equitable choice of the women as part of a collective work.
7. Indigenous children accepted the sampling of hemoglobin due to all the preparation work done in nutrition workshops.
8. The work in previous workshops allow indigenous children to understand the process and the objective of anthropometric body measurements.
9. Parents acceptance and promotion of this practice to improve better hygiene habits in children.
10. Avidity for cultural and recreational activities related to their environment.
Obstacles:
1.The training was carried out in Mexico City, which required that two members of IXIM`s team had to come from Chiapas.
2. The indigenous habits and their lack or knowledge regarding the relationship between food and health.
3.Long distances between communities where indigenous infants live.
4. Precarious conditions regarding ideal spaces for the realization of our 1st Health day campaign.
5. The ignorance regarding anemia causes, consequences and treatments, as well as physical and mental development implications.
6. The lack of knowledge in nutrition and health issues inside indigenous families.
7. Most women do not speak Spanish.
8. The resistance of some male members of the communities regarding the taking of blood samples.
9. The indigenous habits regarding the knowledge of some aspects of body measurements.
10. Some members indifference in order to promote best access to clean water and soap for indigenous children.
11. The deficient psychomotricity in some infants which had problems handling pencils and paint brushes.
Total indigenous children population attended
Age range (years)
Sex . Less than 6 . From 6 to 10 . From 11 to 14 From 15 to 18 . Total
Female 47 32 20 0 99
Male 58 31 19 0 108
Total 105 63 39 0 207