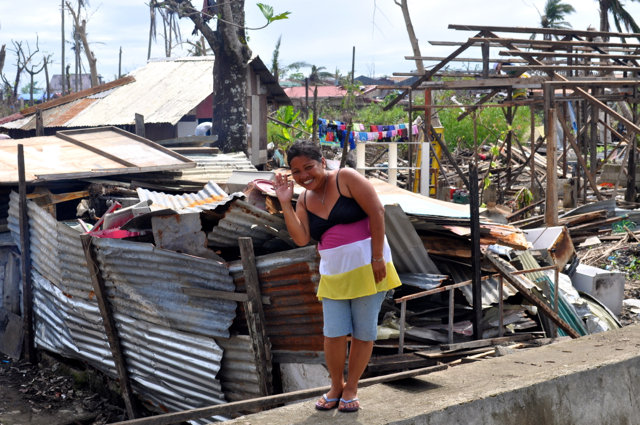 The last update we sent you was on Thanksgiving, and we've been very busy bees since then! Here is some of the work your generosity has made possible since our last update:
We worked with Filipino NGOs, the military, and volunteer doctors to organize a clinic for more than 400 people who had not seen a doctor since Haiyan struck
Aid distribution to local clinics has been uneven, so we've facilitated 'swaps' of medical supplies between clinics to fill gaps in one clinic with surplus from another
We rebuilt the roof on local community centre which also acts as the headquarters for a Filipino NGO called 'Volunteer for the Visayans'. That roof is now allowing this group of local leaders to meet their community's needs.
We safely removed the mangled steel roof of a local centre for rehabilitating youths who have been in trouble with the law. The roof removal has made the centre safe, and the centre can now re-open.
We've begun work to re-open the Aaram Learning Studio – a school for children with developmental disabilities.
All the above has changed lives, but it's one of our smaller projects that has had the biggest impact on our team on the ground.
Virginia is a midwife who works in the town of Santa Fe just outside Tacloban. You might have seen Virginia being interviewed by the international media. Despite this attention, prior to our team's arrival she hadn't received any international relief. Her clinic had a gaping hole in its roof and her home had been completely destroyed. In spite of the damage to her clinic, Virginia has still delivered over thirty babies since typhoon Haiyan struck.
Despite everything she's been through, when our team reached her clinic her requests were simple – she wanted tarpaulin to cover the holes in her roof, so that she could deliver babies without the rain coming in, and some wellington boots to keep her feet dry. On November 28th - Thanksgiving Day - our team provided those items.
While boots and tarpaulin may not sound like much, they're the first international help that Virginia has received. These small gifts are now allowing her to deliver babies without being rained on, and they've made a huge difference to her state of mind – now she knows the world hasn't forgotten her. That someone cared enough to help keep the rain out gives Virginia the strength to carry on.
Our help gave Virginia hope – and this Christmas we're asking you to set up a monthly donation so that we can give hundreds of other survivors that same gift.
If you set up your monthly gift between now and the New Year, Globalgiving will even match your donation – allowing us to help even more survivors like Virginia.
Set up your monthly donation here
Not ready to commit to a recurring donation? No problem. Your one-off gift, whatever its size, will change survivors like Virginia's life.
Thanks so very much - and, if you're celebrating this year, we wish you a very Merry Christmas!