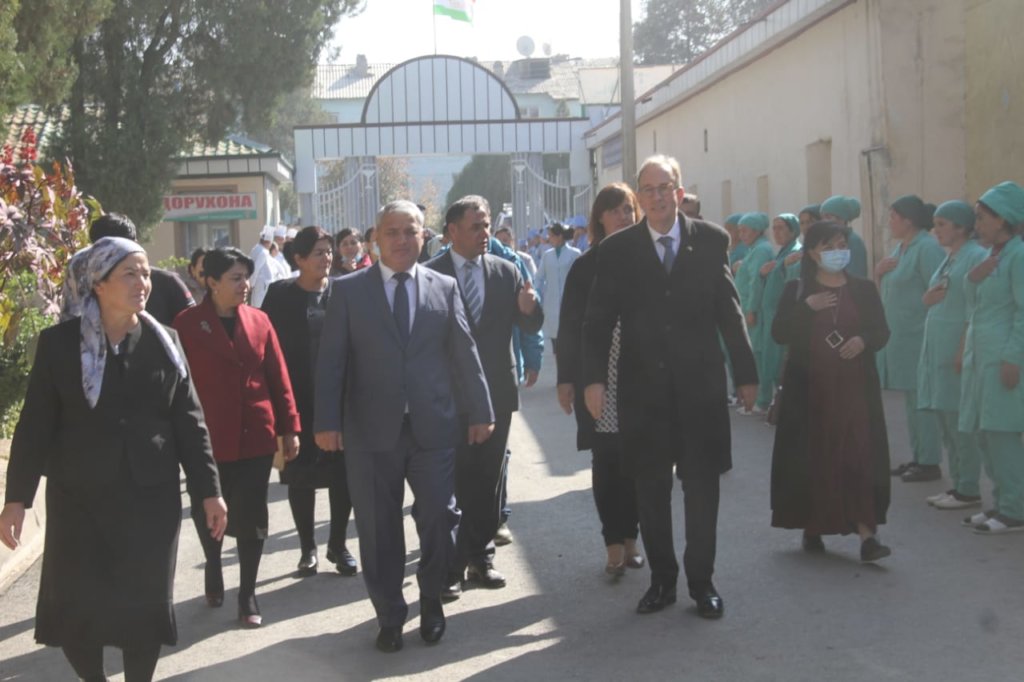 NGO Sadoqat supports Devashtich Hospital with renovation
Devashtich, Tajikistan, October 30, 2021 – Today NGO Sadoqat, jointly with the Ambassador Plenipotentiary and Extraordinary of the Federal Republic of Germany Dr. Andreas Prothmann, and the Governor of Devashtich District Mr. Ashurali Jalilzoda commissioned the newly refurbished operating block in the surgery unit and the intensive care unit of Devashtich District Central Hospital within the Project "Access to Quality Healthcare by Rural Population in Devashtich District". The project was implemented with generous financial support from the German Embassy in Dushanbe amounting to 136,800 Tajik Somoni, crowdfunded donations amounting to 11,000 Tajik Somoni (nearly US$ 1000) mobilized through GlobalGiving platform, and the contribution of the beneficiary hospital staff comprising about TJS 10,000 during June-September 2021.
"We are thrilled to have the opportunity to implement this project in support of the efforts undertaken by the Government of Tajikistan to achieve SDGs in healthcare (Goal 3: Good Health and Well-being) in the country", - Nigora Negmatullaeva, Executive Director of NGO Sadoqat said. - "We would like to take this opportunity to convey our heartfelt gratitude for the generous support to the German Embassy in Dushanbe as well as other donors from across the globe, who made their kind contributions through the GlobalGiving platform. Our appreciation also goes to Devashtich District Executive Authorities and the Administration of Devashtich District Central Hospital for their support and cooperation in implementation of the project".
The project activities included refurbishment of the two operating theaters and the auxiliary facilities in the operating block of the Surgery Unit and two wards, sanitation facilities as well as administrative offices in the intensive care unit of the hospital. The effective and transparent use of funds allocated for the project enabled the team to refurbish the sanitation and administrative facilities, which were not a part of the initial plan.
"Every year, the German Embassy finances small projects throughout the country. The main focus is on improving the quality of life of the population in remote regions of Tajikistan by improving the health conditions in hospitals and schools. This is not the first Embassy project in this area, since Education and Health are the two main pillars that ensure the country's sustainable development" – said Dr Andreas Prothmann, Ambassador Extraordinary and Plenipotentiary of the Federal Republic of Germany to the Republic of Tajikistan.
"We are extremely pleased with our continued cooperation with the NGO Sadoqat. This is the second phase of the project on support of our hospital, which they started in 2019" - added Ms Saidova, Head Physician of Devashtich District Central Hospital – "Thanks to this project, now our people have better access to quality healthcare services. I would like to extend the heartfelt gratitude of the entire staff of our hospital to the distinguished donors, particularly the German Embassy in Dushanbe and those, who contributed via international donation platforms and last but not least to the NGO Sadoqat dedicated team for their tireless efforts to improve our conditions".