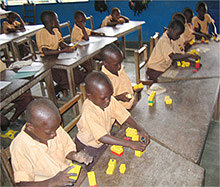 REPORT ON FRIENDS OF THE HANDICAPPED INTERNATIONAL (FHI)
It has not been easy raising funds in these tough economic times to sustain our ongoing Child Sponsorship Programme and to enable us implement our major visionary infrastructural goals. http://www.fhi-ghana.com/how.html See under Grant/Funding for Special Projects. It is sad to note that out of a total US$95,000 Budgetary cost intended for our projects for this year, a little close to US$500 has been received as at June 30. Most of our Proposals sent have not been responded to. Altogether, FHI has over 500 beneficiaries including the deaf and blind children of school going age at Cape Coast School for the Deaf and the Unit School for the Blind, Swedru School for the Deaf, and Mampong Secondary/Technical School for the Deaf. Others are the Physically Challenged (Crippling) youths at Sowutuom in Accra and at Abora, a suburb of Cape Coast, and some of the parents of our sponsored children on Income Generating Activity programmes. Nonetheless, we give thanks to God Almighty who is doing wonderful things for Cape Coast School for the Deaf through the Ghana Government and other local and foreign philanthropists, Organizations, Companies and of course, Friends of the Handicapped International (FHI)
CAPE COAST SCHOOL FOR THE DEAF/BLIND It is a great privilege to us in FHI for playing a pivotal role in helping to put in place the present enviable infrastructure of Cape Deaf. Presently Cape Deaf is proud of Nursery and Primary 1 to 6 Classrooms Block, Junior High School Block, 3 Classroom Block with offices and store and toiletry for the Blind, 8 large dormitory halls for the boys, 2-storey block dormitory (just completed) equipped with all facilities for the girls, very large dinning hall, Headmistress/masters bungalow, 2-4 storey blocks for Teachers and staff, Administration block (under construction), Library block, Assessment Centre, 2 KVIP places of convenient, 1 block boys/girls WC toilet and of course, a very mighty Vocational Complex all situated on the Cape Deaf Campus. With these infrastructures in place, we believe Cape Deaf could be upgraded to a tertiary institution soon.
ACHIEVEMENTS All these achievements had been possible through very few donors' prayers and supports in cash or kind to FHI who in collaboration with the school's management and staff, the members of the PTA and other stake holders, are working around the clock to implement these projects. Some of our achievements include: Provision of educational materials such as school uniforms, school bags, footwear, stationery, beddings, bed nets (mosquito nets) and provisions for needy children in nursery, primary, junior and senior high schools to ensure the continued education of all our beneficiaries, especially the most needy sponsored children. I. Have been traveling extensively to rural areas to educate parents of children to have the right attitude towards such children, to identify other such neglected children, enrolled and supported them in special schools.
II. Provided computers to schools for the deaf, Braille writing machines to the blind and vocational materials and tools to sponsored children in special schools. Students as well as teachers have gained computer skills from the computer library project. 60 teachers and 150 deaf children have been trained so far.
III. Funded income generating activities for parents of sponsored disabled children, to improve their incomes and social and economic lives and those of their children. 50 parents/families benefited from this micro financing project. IV. Facilitated the training of disabled youth to acquire skills, and provided sheltered workshops for them and funded small scale self employed industry to settle them after school. 200 deaf school graduates and 25 cripples have been helped to settle in self employment.
SWEDRU SCHOOL FOR THE DEAF Swedru School for the Deaf still has no hostel facilities. The students/pupils population have increased to 125, but most of them live in about twelve (12) towns/villages around Swedru municipality where the school is located, some as far as Akim Oda, Winneba and Kasoa which stretches far away about 20 miles, who travel in and out daily to school. This and other problems of the school make the plight of the children more unbearable to cope with. It is very difficult for the children to reach school on time for academic work to commence due to lack of school transportation to carry them to and from school daily. Besides, the transportation cost borne by parents and guardians is very huge and out of reach to many parents/guardians. This has brought about rampant absenteeism by most of the pupils which has seriously affected their academic performances. FHI is committed to sponsor most of the needy students/pupils but lack of funding has limited only 5 to be included in the Child Sponsorship Program Several efforts made to procure School Bus to transport them to and from school daily have proved futile. FHI still continues to solicit for funds to procure a School Bus for Swedru School for the Deaf, therefore it is our passionate appeal to all and sundry to help us provide the transportation for the school. Any Bus with a minimum of 20 seats is welcome.
PARTICIPATION OF GLOBALGIVING MARCH 2010 OPEN CHALLENGE FHI was invited to participate in an Open Challenge in March 2010 by GlobalGiving Foundation, a US based Fundraising and Marketing Organization who help NGOs worldwide to link them up to other potential Charities, Foundations and Companies in order to fundraise for their organizations projects. ( GlobalGiving's entry prerequisite for each participant to win an award of US$8,000 to remain on their site so as to be linked to their potential Donor Charity and Foundations, was for each participant to invite their own 50 unique donors to raise a minimum of US$4,000 within the Challenge/Competition period of 1 month. Over 60 countries and more than 500 NGOs and community-based projects worldwide participated ). It was unfortunate that out of over 80 partners, friends, donors and well-wishers of FHI who were invited and urged to help FHI raise the threshold amount of US$4,000 to qualify us win the award, ONLY 2 donated $400 through GlobalGiving to us and later another 1 sent $50 to us directly. Even though FHI could not meet the demand, it was such an amazing trial period and an added rich experience we have had to compete with giant international NGOs and CBOs worldwide.
We take this opportunity to thank all of our sponsors who have been with us and continue to support us to reach out to support the education of the needy, underprivileged, deprived and disadvantaged children with disabilities in Ghana and beyond. Those of you who are new are also most welcome. Together, we can make difference to change the negative attitude the society hold against them and help the disabled to take their place in society with dignity to the glory of God.
KOFI ODUM FOUNDER/PRESIDENT FRIENDS OF THE HANDICAPPED INT.(FHI) P O BOX GP 20275 ACCRA - GHANA
Tel. +233 277 609701 Website http://www.fhi-ghana.com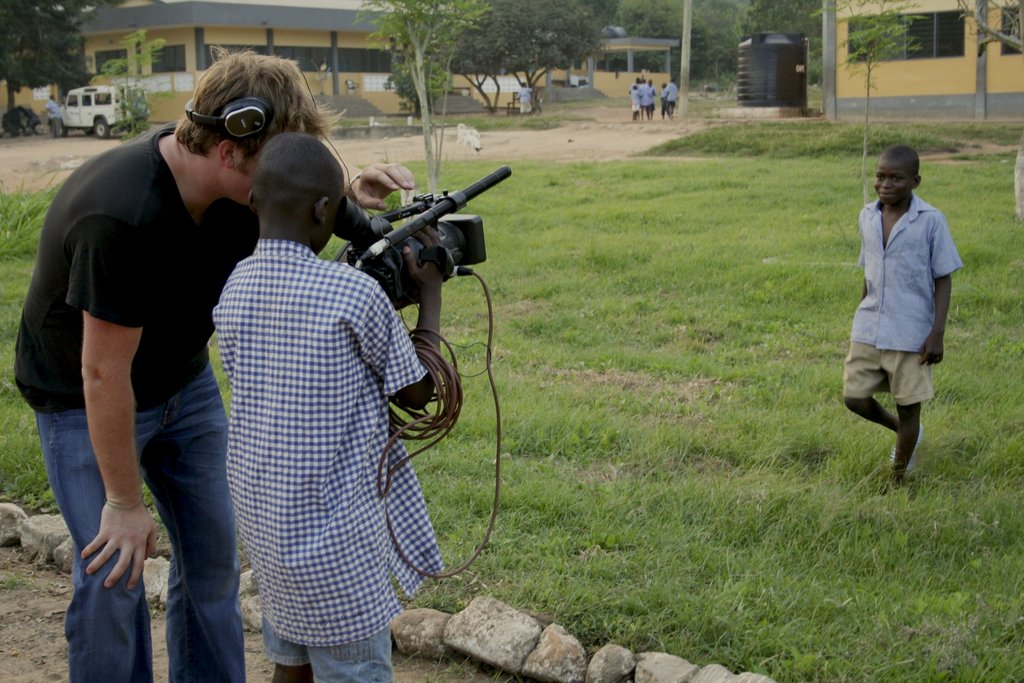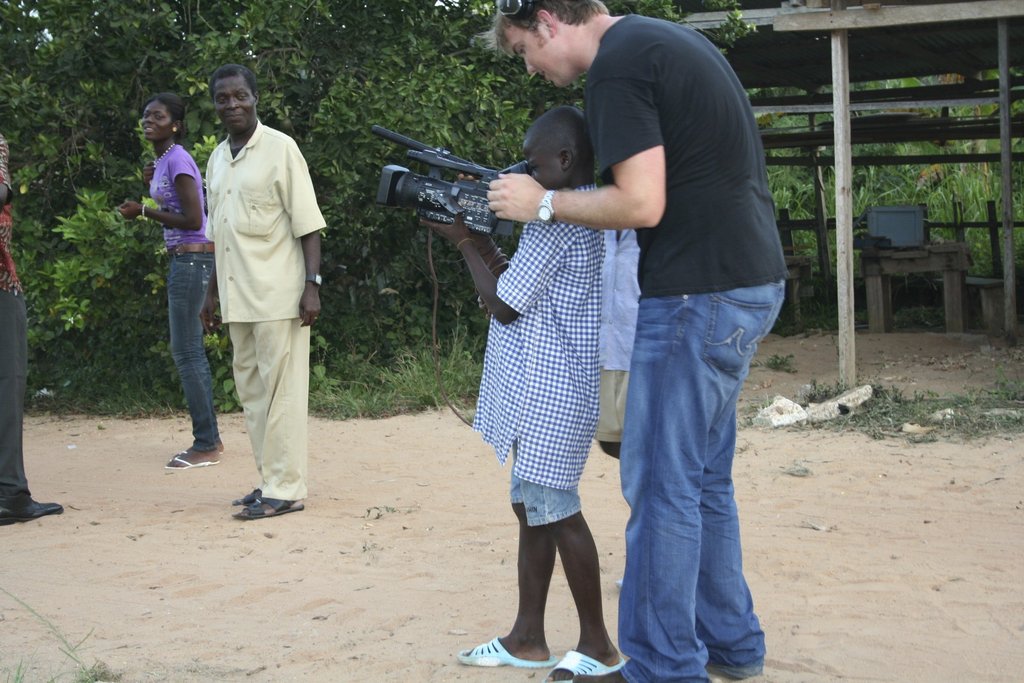 Links: