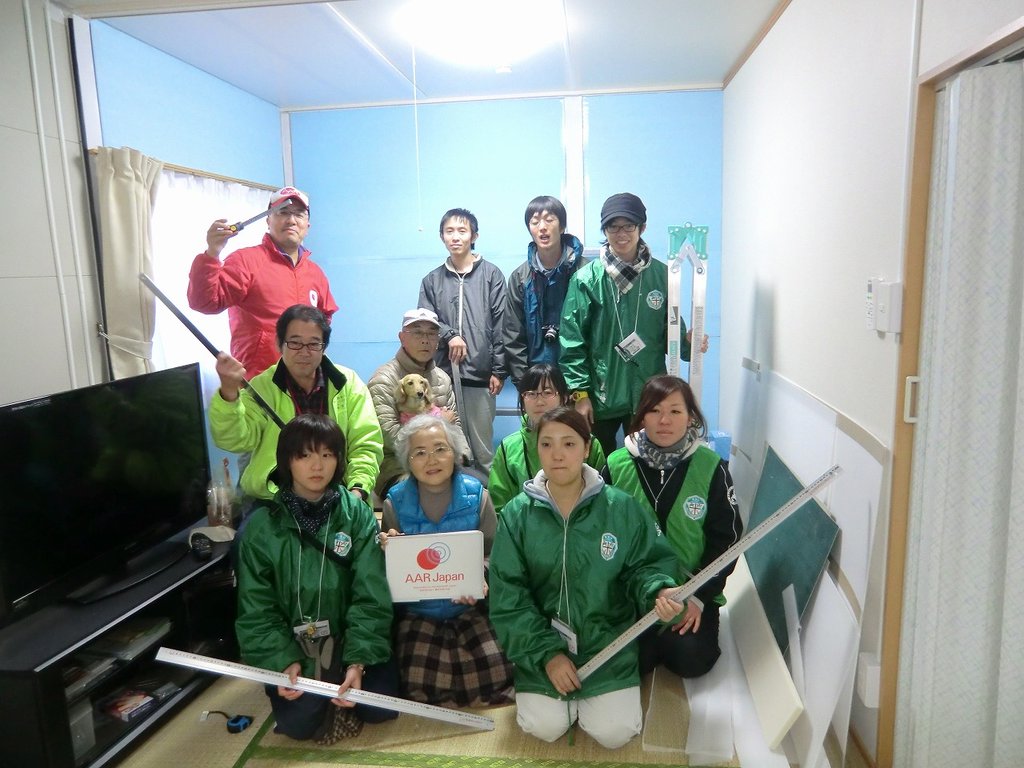 Condensation Becomes a Crucial Problem

In Kesennuma, Miyagi, where the lowest temperature drops as low as -10 degrees Cesium during the winter, condensation has become a very critical issue in emergency temporary
ousing in the Watado district.
Mr. Toshio HATAKEYAMA, President of a Residents' Association remarked that "some work was done to install double sash and heat insulation materials, but that did not solve the condensation problem. With all the windows open and the exhaust fans in the kitchen and in the bath area turned on, it would be too cold to sleep." He explained that "with the windows closed, condensation would occur and water droplets start falling on my futon while I'm asleep. The exhaust fan in the attic is too small and useless when it's freezing cold." Water droplets create mold which trigger critical health issues like pneumonia, which can be a life-threatening disease especially to the elderly. The government has provided no further assistance. Mr. HATAKEYAMA sought help from the Volunteer Station in Kesennuma and came up with the idea to take simple measures using do-it-yourself materials that can be purchased at a home improvement center. AAR Japan, who heard about the situation, decided to provide assistance to cover these expenses and help the residents with construction work.

All United to Manually Install Heat Insulation
After prolonged freezing weather, the construction began on December 5 with the help of the residents in the temporary houses, staff from the Volunteer Station in Kesennuma, staff from NPO APCAS, and volunteers from Rakuno Gakuen University. Using double-sided scotch tape and sealant, heat insulation materials were installed without any gaps on ceilings and walls of living areas, bedrooms, kitchens, and closets. After measuring the dimensions and checking the positions of light bulbs and fire alarms in each room, the heat insulation materials were cut into appropriate sizes and shapes. If the heat insulation materials fit well in the designated place, they were attached with double-sided tape to form a tight seal.
Temporary housing for two occupants is composed of just one or two 4-mat rooms with little to no storage space. In these small rooms with barely enough space for a futon and storage closet, such work can take a considerable amount of time and effort. Some of the work had to be done outside in the chilly weather due to the lack of workspace. All volunteers worked together for an entire week to insulate a total of 10 households and 20 rooms for temporary houses in Watado along with some temporary houses in Goemongahara where the residents had claimed to suffer from the same problem.

"We No Longer Have to Worry About Condensation!"

"The temperature here tends to be 2 to 3 degrees Cesium lower comparing to the adjacent national road and it snows a lot here as well." Mr. Etsurou FUJIKAWA, a resident of temporary housing in Goemongahara shared his experience. "This year, the weather has been colder than the previous one and it started snowing earlier too. The condensation problem was so severe that the futon bedding in our closets were always wet every morning. During the winter season, I had to wipe the condensation off the wall every morning. But, mold would appear on the ceiling since I can't reach high enough to wipe it. Sometimes, I would stand on the chair and try to wipe it, but it's a hard work considering my age." With an expression of relief on his face he said, "but we no longer have to worry about it. Thank you for your help."
Ms. Nobuko MURAKAMI who resides in the same temporary housing commented "the government offered to add a reheating function to our baths but we declined because the condensation problem was more critical to us. It's not worth it to spend taxes on what we can get along without. We're doing alright with our baths for now… We appreciate for all the work you've done today. Please help yourselves to some lunch." She offered some rice with scallops and bamboo shoot she prepared the night before along with some salad, minced soup with saury, and Ganzuki (a well-known snack in Miyagi and Iwate).
Our prayers are with the quake victims who addressed their problems proactively during the toughest of times. We hope that the measures taken against the condensation will help them maintain their health through the winter.
This program is implemented with generous donations received through GlobalGiving and other donors. We appreciate all the support we have received and we will keep continue helping elderly people and persons with disabilities who are still suffering from the aftereffect of March 11th in Tohoku, Japan.