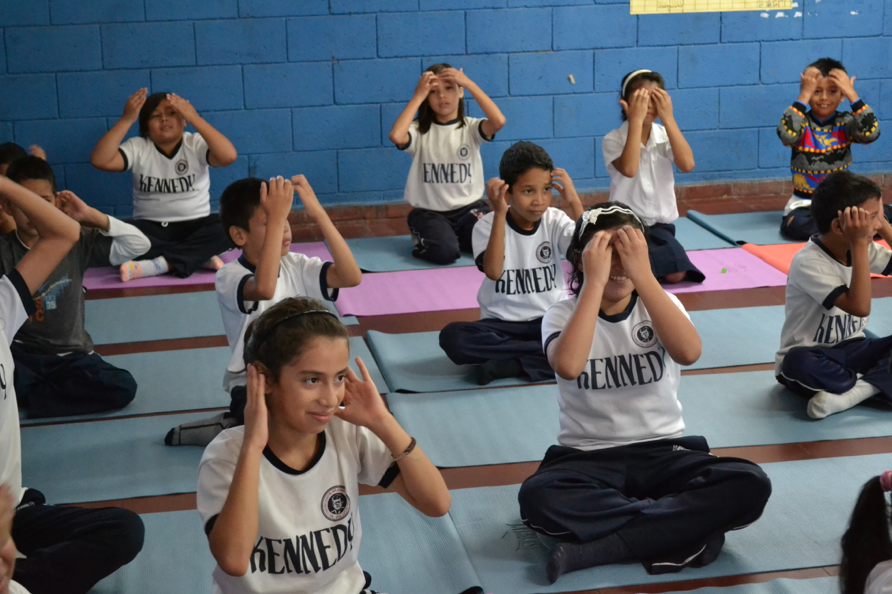 We are back in El Salvador!
The Korean Ministry of Education has provided the funds for IBREA to continue its work in Distrito Italia and start in 3 more schools of San Salvador. Our partner for this second phase is the Korean Global Cyber University, who is carrying out a research on the impact of our education and monitoring the teaches' Brain Education (BE) teaching to their students in their own classroom. They also provided a teachers BE manual and students BE notebooks.
This second phase started at the beginning of September and is having great results already. Many teachers report having better health and some of them stopped taking medicine for issues such as back pain or insomnia. "I can manage my stress better at home and in school. Before, I used to come home and get all tangled up in my children's problems. Now I know how to take a deep breath and deal with the issues in a constrictive way" says one of the teachers in Apopa - one of the new schools.
Two of the teachers in Distrito Italia are being a part of the IBREA team, coming with us Monday through Thursday to teach in Apopa. One of them started providing Brain Education to the teachers in Apopa, the other one to elementary level students. They are doing a great job, and they are so satisfied to see the students and teachers' faces brighten up more and more every day.
Among the new groups of teachers in the 3 new schools, the Global Cyber University has chosen 3 people in each school to carry out case studies about their replication of BE in their classroom (10-15 min before starting each class). They are given instruction every week to keep advancing with the curriculum. So far, they are reporting that the children participate in the BE exercises well, they enjoy and laugh and at the same time they can focus much better in the class after.
In Distrito Italia, last year students are going through a deeper level of BE training, focusing on using their life energy to plan and accomplish their goals and dreams. Also in Distrito Italia, everyone is very excited to jump into the Swimming Pool for Peace soon. The construction develops and we are inaugurating it on October 17th with participation from high level government officials, country representatives, community leaders and the media. All the members of the community are participating in the preparation. The Swimming Pool is beautifully growing as a space for sharing, enjoying and creating harmony.
Please keep being an active part of this process in El Salvador to help them remember their human nature and unleash their power to create their lives!