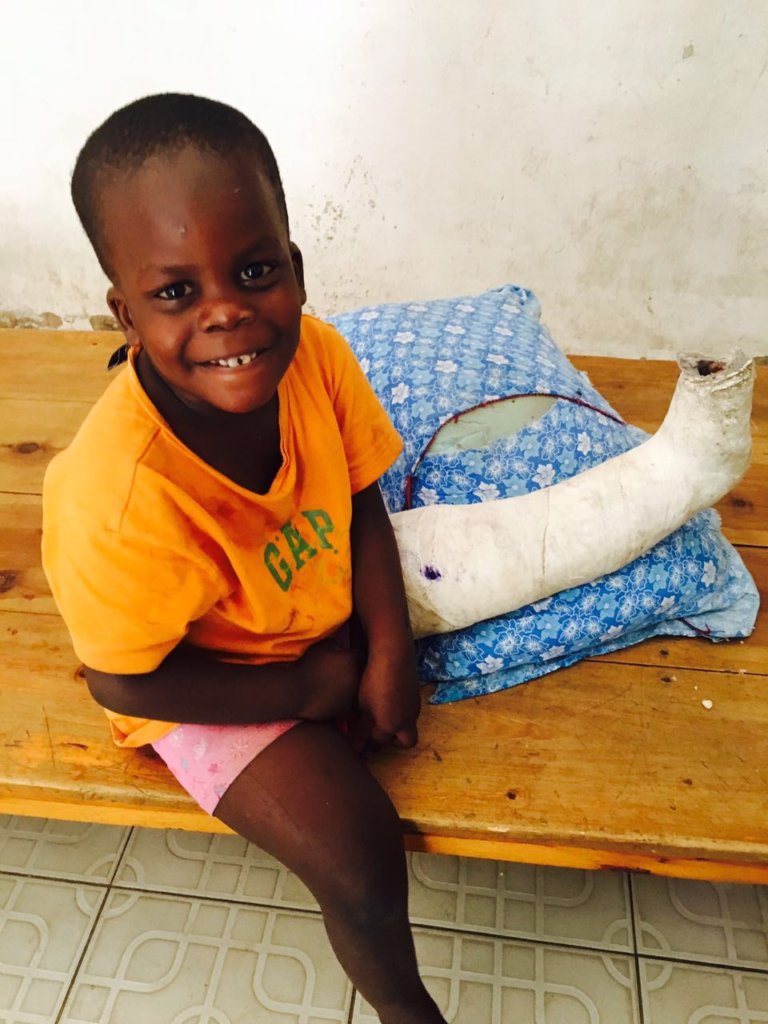 Name of organisation:Foundation Karibu Tanzania
Project location:Kiloleli/Kawekamo, Ilemela District, Mwanza City, Tanzania, East Africa
Project implementation start date:January 1st 2017
# of Direct Beneficiaries (planned) for the whole implementation period (January – December 2017):
Adults Direct: 120 parents/guardians and care taker
Adults Indirect:12,000 People Are Made Aware of Child Domestic Violence through the media
Children Direct:60 Admitted at FKT's Rescue Centre for CDV
Total: 12,180
Reporting Period:March – May 2017
Budget received from Globalgiving:Budget: TSH 20,000,000
Actual spent during this reporting period: TSH 24,019,300/--
PROJECT INTRODUCTION
Violence against children in Tanzania is alarming, serious and complex issue, each year millions of children are exposed to violence in their homes, schools and neighbourhoods. Young children experience domestic violence, abusive behaviour made by parents, guardians or caretaker. As a result the young child prosperity and consistency is threatened. It is a sad fact that children experience domestic violence by the same family members or relatives who are supposed to be taking care of them.
The Tanzanian government has ratified international efforts such as the Universal Declaration of Human Rights (UNDHR), the United Nations Child Rights Convention (CRC), the African Charter on Human and People's Rights, and others. National initiatives have also been implemented. Despite these efforts, the Violence against Children (VAC) Tanzania Report discovered that the prevalence of child abuse has generally increased (VAC Tanzania Report 2011). This is because of inadequate access to early childhood education resulting in poor parenting skills, which allow corporal punishment, rape, neglect, and child domestic violence to perpetuate. A vicious cycle ensues. Furthermore, corruption in the Tanzanian legal system and inadequate capacity and legal education of local government leaders contributes to the gap in implementation of child rights.
Unsatisfactory child participation in governance and human rights discussions stunts the ability of young victims to advocate for them. Victims must rely on family members for advocacy, and there remains a poor reporting culture among family and community members. Organizations that advocate for and protect young victims of violence lack funding from Tanzania's government. Therefore, child rights and the prevention of violence is still a crucial issue in Tanzania.
FKT GOALS AND OBJECTIVES
Foundation Karibu Tanzania (FKT) seeks to address these gaps and help to prevent and eradicate violence against children in Tanzania. FKT currently operates in two districts in the Mwanza region of Tanzania: Ilemela and Nyamagana. FKT's vision is a society where every child is safe at home and can enjoy their rights. By providing medical and psycho-social services to children at the Rescue Centre, children who have been severely abused and tortured can be rehabilitated. By counselling adult perpetrators, FKT can reintegrate the children back into their families of origin for a sustainable, but safe, solution.
Specific goals for FKT are to enhance the effectiveness of child protective rights and laws and governance institutions; to improve rescue services including psycho-social services, education, and quality medical service. To improve the organization's sustainability and develop it for further accountability and effectiveness. This includes improving resource mobilization, HR management, and midterm evaluations.
FKT has four main projects. The first is a Rescue Centre to provide temporary shelter and treatment for domestically abused children. Secondly, FKT counsels the abusers in order to create long-lasting change. Adult perpetrators are required to sign a contract with FKT, the Social Welfare Department, and the Police Department Gender Desk which obligates them to attend weekly counselling. The third programme reintegrates and monitors children when they return to their families, before reintegration home assessment is made in order to ensure that the child is reintegrated to a safe home.
ACHIEVED RESULTS FROM MARCH TO MAY 2017
# 1 RESCUING
FKT was successful rescuing 13 children from March 2017 to May 2017 (total January 2017 to date: 22 children). These children were admitted at the FKT Rescue Centre and provided with shelter, nutritious food, love, medical care and clothes during their stay at the centre.
# 2 REINTEGRATION
During this period, FKT successful reintegrated 9 children (March to May 2017, total this year to date 18). These children were reunited with their respective safe families for school enrolment. A follow up meeting was made and last home assessments was conducted to monitor the progress and condition of the children before reintegration.
It must be noted that when children are reintegrated a number of stakeholders are involved. Ordinarily this would include the village chairman, the Most Vulnerable Child (MVCC) village committee, the social welfare officer and the people nearest the family. FKT believes that to safeguard the rights of the child and to prevent further abuse or torture, the reformed family need to be accountable to the aforementioned stakeholders. It takes a family to raise a child but equally it takes a family to abuse a child.
# 3COUNSELING OF CHILDREN
Counseling was made to all the children admitted at the FKT Rescue Centre and the parents/guardians that perpetuate violence on their children. A total of 18 parents/guardians have been counselled over the last three months. Additionally, all the 13 children admitted at the FKT Rescue Centre received counselling support which made them to cope with the trauma of their physical injuries.
As not only children suffer from physical injuries but internal hurt, pain and trauma occasioned by the abuse they have undergone. Our resident counsellor helps them cope with this pain and initiate them in a healing process. Additionally, the perpetrators of the abuse towards the children are counselled for a period not less than three months on a weekly basis until we are satisfied that they have accepted their abuse, have chosen alternative methods of correcting a child, they have equipped with the parental skills and are committed to respecting the rights of the child.
FROM BAD TO WORSE AND FINALLY TO GOOD
Agriphonia arrived on March 2nd 2017 at the Rescue Centre with severe burnings in the genital area, caused by her mother. Her mother burnt her as punishment, because that night, Agriphonia could not make it to the toilet and urinated in the room, she was sleeping with her 3 older and 1 younger siblings. The children do not have beds or even mattresses to sleep on, not even to think about mosquito nets.
At her arrival, Agriphonia seemed also to be malnourished and was in a general bad health condition. We learned from her parents, that the 7 years old girl suffers of sickle cell anaemia. At the end of April, while staying at the Rescue Centre, Agriphonia's condition went really bad, from a cold to severe problems with breathing. We brought her to the hospital where she did get medical treatment and oxygen. After a two weeks stay at the hospital, we could take her back to the Rescue Centre where Agriphonia actually gets better and better every day.
Every Wednesday, her mother comes to the Rescue Centre and gets counseling and learns, how to control her anger and how to raise her children without doing harm to them. We expect and hope that Agriphonia will live safely at her home again in about half a year.
CHALLENGES
Among other challenges FKT continues to face challenges in its effort to denounce and eradicate child domestic torture. Major among this is the culture of silence embedded in the community. Very too often the abused children are hidden at homes with full knowledge of the neighbours yet they all fear to denounce it. Tanzania being a relationship based society, people and the wider community protect each other against law enforcement instruments for fear of "the community will blame me for reporting my neighbour".
We also face the challenge of inadequate support from the social welfare department and the police. According to the government procedure, social welfare are only ones mandated to rescue a child and give consent for admission at FKT or any other centre. However, the social welfare rarely do this, they seem to have left the entire burden to FKT field officers. The police on the other hand sometimes do not respond fast enough to arrest the abusers and or even carry out thorough investigations. Consequently some abusers go scot free.
In some situations the abusers abscond resulting in FKT delaying the reintegration process until the parents can be located. Also some of the parents are neglecting their children at the FKT Rescue Centre.
Some of the children are abused in Mwanza Region but reintegration is made outside the region and in rare cases outside the country this constitute to higher cost of reintegration compared to the cost of rescuing a children.
Most of the children abused are coming from poor families and it is the poorest thing which constitute the abuse, Hence when reintegrated they are returned to the same family which is still poor. FKT haven't yet obtained a way to help those families strengthened and be able to increase their income to support for their families.
The financial support of the current donors is insufficient to cover all the cost up to December 2017 while we are still rescuing children taking into account that the month of April, June, July, November, December and January is the abusive season, currently we have 28 children at the FKT Rescue Centre. We are still looking for donors who can support the prevention and eradication of child domestic Violence (CDV), through street community awareness and media campaign.
CONCLUSION
We give you a cordially thanks for the support we received in the beginning of the year 2017 which has enabled the Rescuing abused children and for the support to make follow up and home assessment before reintegration as well as counseling of the admitted children. We would appreciate it and would be grateful for ongoing support in the prevention and eradication of child domestic violence (CDV) in Mwanza. "Together we can make a difference in the lives of the abused children."
Asanteni sana!