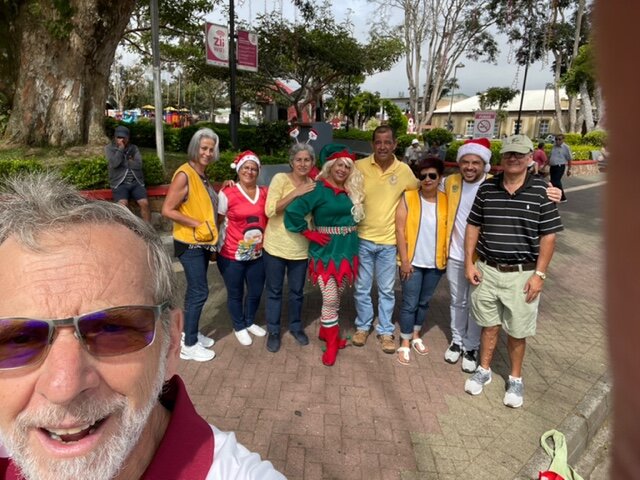 Christmas is a special time for gifts and celebrations for families and children around the world. And it is no different for families and children in San Ramon, Costa Rica. If you are living in poverty, however, and/or have a child who is sick or differently abled, it is not always the easiest time of year. Because Community Action Alliance (CAA) is committed to brightening the lives of children and families in our area, we stepped in to help.
For several months prior to December, through our GlobalGiving project and other fundraising activities, CAA members and friends generously provided funds to purchase toys and gifts for children in need. Over 270,000 colones or approximately $500 was collected. This year, in order to increase the impact of our efforts, CAA partnered with the San Ramon Lions Club Association who also raised funds to purchase toys and who worked with the San Ramon area Mitigation Commission on Hunger and Childhood Cancer to identify children and families who needed help. Through our collaborative effort, we were able to make Christmas happen for many children and families who would have otherwise gone without.
In early December, CAA board members and a Lions Club team met to organize the delivery of gifts. Over a five-day period, an industrious team of elves visited local families and distributed over 65 toys and gifts to excited boys and girls and appreciative family members. Smiles and hugs all around were additional highlights of the visits.
While members of CAA and the San Ramon Lions Club invested a significant amount of time and energy into making the event successful, it would have not been possible without the generosity and commitment of CAA members and friends who made donations to cover the cost of the toys. While the purpose of the event was to provide the gift of Christmas to others, we actually received a significant gift of the season for ourselves –the knowledge that with our goodwill and effort we were able to make a difference in the lives of others. We thank you for your part and are most grateful for your help.
May your 2023 bring you many opportunities for joy, gratitude, and service.