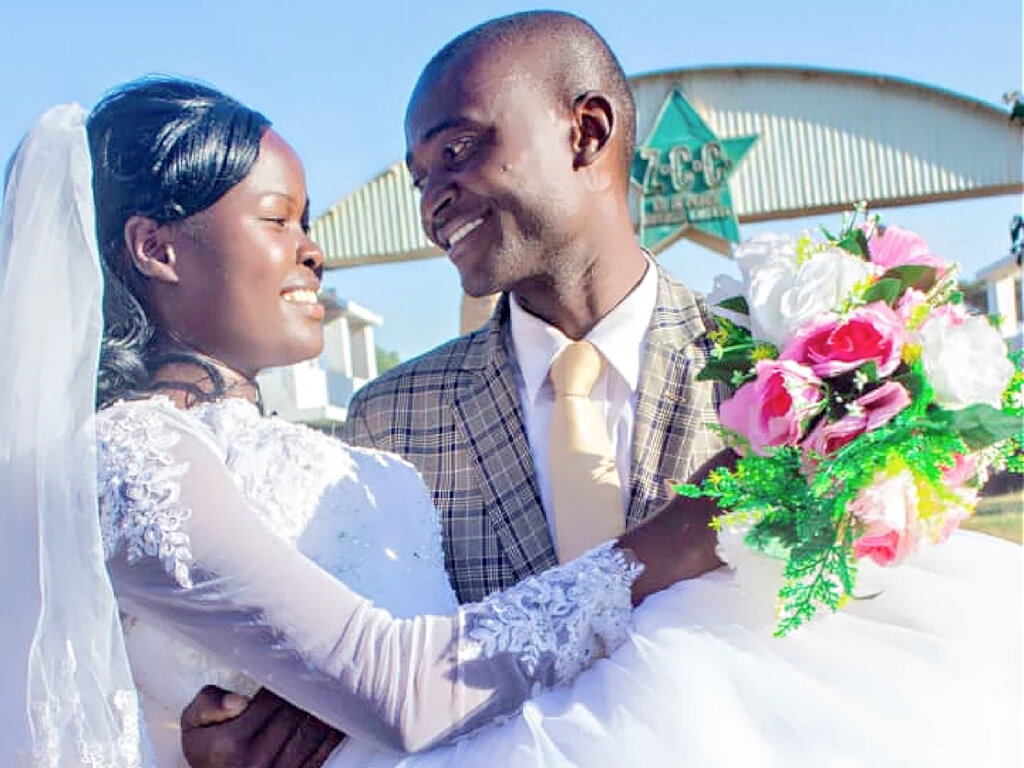 This report is being sent to 63 friends who have donated $6,612 to our GlobalGiving appeals on behalf of the Women Advocacy Project (WAP) in Zimbabwe since 2018. We are very grateful!
This is report #23 and I wrote it recently during my first visit to Zimbabwe in four years. The WAP program has gone through some momentous changes during this time and I want to share them with you through the eyes of Trish, 23, pictured above. Trish was one of the first girls to sign up for the program. I hope you find her story as inspiring as I do.
*
WAP was established in 2012 by Constance, a leading advocate for girls in Zimbabwe, to combat child marriage. One in every three Zimbabwean girls is married under the age of 18, often with disastrous consequences. Pregnancy is extremely dangerous for girls at an early age and marriage ends their chances of completing education.
Constance began by establishing two clubs for girls in the under-served neighborhoods of Epworth and Chitungwiza. The clubs would meet every weekend and discuss the challenge of early marriage. If anyone felt threatened, Constance would intervene with her parents.
In 2018 The Advocacy Project recruited Alex, a Peace Fellow at Columbia University, to help Constance assess the extent and causes of early marriage. They found that the practice was exacerbated inter alia by a religious sect known as the White Garment Church, which rewarded its elders by giving them young wives. But the biggest driver by far was poverty. Some families in Chitungwiza and Epworth earned as little as $3 a day. Under this sort of pressure, many had no option but to sell their daughters off to wealthier, older men.
Constance decided to appoint two girls to serve as "girl ambassadors" and lead the two clubs. Evelyn took the lead in Chitungwiza and Trish was elected to head the Epworth club. I visited them both at home in 2019. Evelyn was bubbly and talkative. Trish – who had recently lost her mother – was reserved and shy. Both were much respected by the other girls in their groups.
Having identified poverty as the main driver of early marriage, Constance and her manager Dickson looked for a practical response. They hit on soap, which is easy to make and assured of a market. Helped by our 2019 Peace Fellow McLane, WAP hired a soap trainer, developed their own brand (named Clean Girl) and started selling bottles to local stores, known as "tuck shops." By the end of 2019 they had sold over 3,000 bottles.
I remember visiting Harare in November 2019, when soap-making was in full swing. It was joyous and slightly chaotic. The girls made and bottled their soap in a vacant house before heading out in teams to the stores and tuck shops. I filmed Trish as she cornered the owner of one shop and persuaded him to make a purchase. The exchange helped to persuade one American donor to invest in the program, further boosting Trish's confidence.
Parallel to the soap-making, WAP also undertook new activities to build team spirit among the girls. McLane introduced them to story-telling through embroidery and they stitched a series of powerful stories about child marriage based on their own experiences. Trish's block showed girls from poor families being lured away from school into prostitution and eventually marriage. (It was, she told me, a very real problem in Epworth.) We assembled the stories into a quilt which Constance exhibited at the UN Global Summit on Women and Girls (ICPD25) in Nairobi.
The soap-making was suspended during the pandemic but Trish and Evelyn kept busy by delivering care packages (cooking oil, soap and masks) to poor families. They also returned to story-telling and produced powerful embroidered blocks about the harsh impact of lockdown on their neighborhoods. We assembled the blocks into a quilt and included their profiles in a 200-page catalogue which I recently shared with Trish and the others, much to their delight.
*
WAP resumed soap production as the pandemic waned and the program now bears little resemblance to the trial and error days of 2019. This is entirely due to the determination of the girls, Constance's visionary leadership, and enlightened donors who include yourselves.
The soap is produced at a factory built with a grant from Rockflower. Other donors have installed a bore hole and funded solar panels that protect WAP against power cuts. Dawa, our 2022 Peace Fellow, helped WAP to further improve productivity by securing a vehicle from the Swiss Embassy, improving accounts and using Google Drive as an online office.
All soap is now produced at the factory by three of the original girls from Epworth – Trish, Lynes and Rosemary. They mix the soap by hand, let it settle in large tubs, and then pour it into 750 ml green bottles. The bottles are then shrink-wrapped in batches of six and readied for distribution. Trish, Lynes and Rosemary have produced over 25,000 bottles so far this year and are on track to exceed 50,000 by the end of the year.
If the production of soap has become more centralized, the reverse is true of sales. Ninety-eight girls from four neighborhood clubs (Chitungwiza, Epworth, Eyre Court and Waterfalls) are selling on a regular basis. Each girl receives 13 cases (78 bottles) with each production cycle to sell locally at $1 a bottle. The girls keep $54 and returning the remaining $24 to WAP to be reinvested in the business. As well as earning a salary for producing the soap, Trish, Lynes and Rosemary also receive soap to sell.
Is this a viable income? I think so. I visited the four clubs and from speaking with the girls it is clear that $54, on a regular basis, goes a long way in these neighborhoods. It also provides the girls with some financial independence although many give the money to their parents (some of whom earn less than they do.) Some families are so poor that parents are reluctant to return the $24 to WAP as agreed. Aware of the financial pressure on families, Constance and Dickson are wondering how they can persuade the defaulters to honor their commitment.
*
As the program has grown, Trish has blossomed into a confident, accomplished young woman who is clearly adored by her peers. She has also been at the forefront of every new WAP initiative since 2018. After leading the effort to distribute emergency rations during the early days of the pandemic, Trish helped to mobilize friends and neighbors to visit health centers and demand COVID vaccinations. Around 200 individuals responded.
Trish was also one of the first WAP girls to reach out to high school students in the US when girls in both countries were locked down and scared by the pandemic, as we have described in earlier reports. This produced some memorable Saturday morning Zooms and inspired the American students to start making their own Clean Girl soap on behalf of the WAP girls. Two high schools in the US have generated over $1,200 for WAP so far.
Trish has also persevered with embroidery. She helped to organize embroidery training for girls in the summer of 2022, given by a visiting team from The Advocacy Project. Late last year we opened an online store, Southern Stitchers, for embroiderers from the Global South. Trish is one of seven soap-makers in Harare who have sold pieces through the store so far.
As Trish has matured, Constance and Dickson have come to rely on her more and more. She coordinates the four girls' clubs and continues to be a role model in her own neighborhood of Epworth. This was clear when we visited the Epworth club as Trish moved among the girls, gently inquiring about their problems and collecting soap payments.
*
Looking ahead, the future looks bright for Clean Girl soap. WAP will come to the end of this year with more than $15,000 in the bank and while this will not begin to cover current production costs it shows the business is on a path to sustainability. The main challenge comes from other local soap-makers who sell at cut-throat prices. Things would improve if WAP could sell through supermarkets, but that would require a new certificate from the government that is currently out of reach.
If new funding can be found, Constance hopes to offer professional training to her three soap producers. Lynes has a knack for accounts. Trish is an excellent manager. Rosemary is coordinating a new education initiative launched by The Advocacy Project to help the soap-sellers complete secondary school. We have pledged $3,000 this year to help pay fees and will steer all future donations through GlobalGiving into this modest but essential fund.
Finally back to Trish, whose personal story has mirrored the evolution of WAP itself. Two months ago Trish married her sweetheart Alvin – out of choice. Once again she is leading the way. It is a source of pride to Constance and Dickson that not one of the 200 girls who have passed through their program has married under the legal age of 18. Constance's original vision has – so far – been realized.
As for Trish, her own circle of friends and admirers have seen to it that she will start married life in style. As she showed me around her kitchen bright with wedding presents she confessed that she now earns more than her husband. It was said with a twinkle in her eye, of course.
Thank you for reading, and for your generosity!
Iain and the AP team