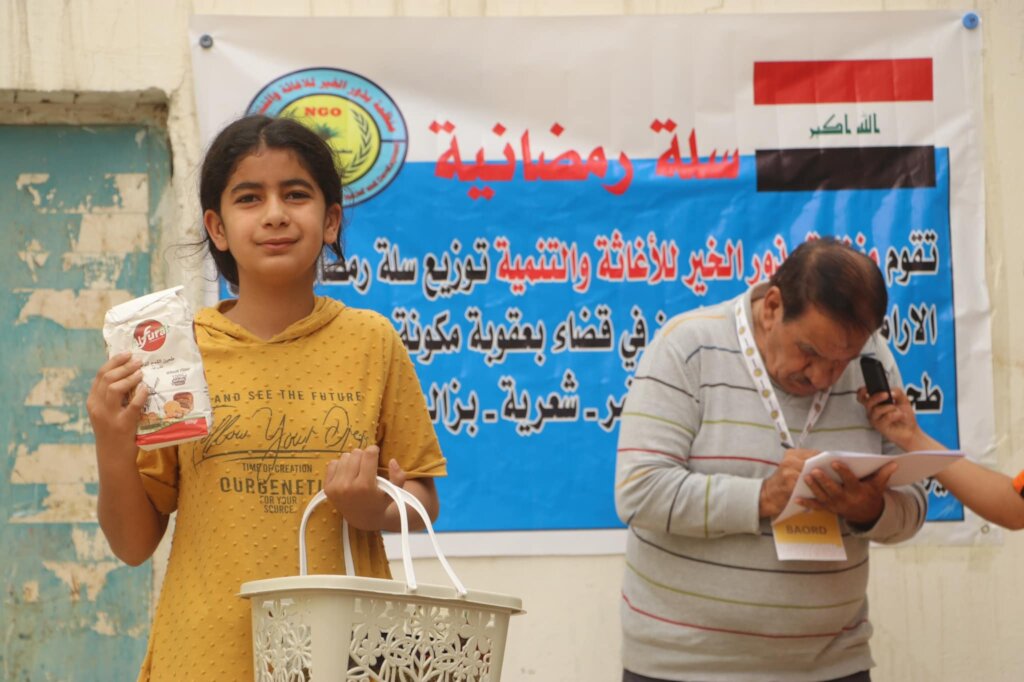 Thank you for making a difference in the lives of our children in Iraq.
We have achieved great joy by supporting children in the harsh environments in which they live due to wars and sectarian violence, away from the pressures of crime, exploitation, poverty, hunger and responsibility and giving children a chance to be successful children again. Providing all they need, including clothes, food, stationery, and psychological and health courses. They are happy and happy with the help they have seen thanks to your support. Thank you.
In addition to all this fun, they provided them with food baskets in this blessed month of (rice - oil - sugar - tomato paste - flour - peas - noodles - tea -) for them and their families to support them in this blessed month of Ramadan, where the number reached 150 baskets
The Eid clothes were also presented to orphaned children, who were happy to wear new clothes. The number of children reached 150
With your support, you can make it happen! It is not only the sites where we implement our projects that we facilitate. This means that we have a greater impact over a larger geographic area, we are reaching more children and changing more lives in a way that makes them more responsible, and this is a powerful influence at a time when selfishness, crime and child exploitation are on the rise.
I cannot thank you enough for your support! You can hear I'm excited about what I'm doing, all of us. I hope you're also excited about the impact your precious resources have on the lives of the children we serve.
Together we literally save lives.
The Eid clothing that made the hearts of hundreds of orphans in Iraq happy
One of the orphans says, "I did not imagine that I would wear new clothes in light of the death of a mother due to Corona. Thank you from the heart to everyone who contributed to this project. Another child said he had not received a gift like it since his father passed away. These are just the impressions of a small sample of hundreds of orphans who were surprised by the Eid clothing while living in difficult conditions due to the epidemic.
Orphan Omar (4 years): I am happy that I will wear my new clothes on Eid!
In words that pulsate with innocence and reflect the happiness he felt, the 4-year-old child Omar spoke after receiving the clothing, saying: "I am looking forward to Eid. I will put on my new clothes that you gave me. I will wear it to celebrate the holiday.
This is not the case only for those who are sponsored by Bothoor Alkhaer from orphaned children in Iraq. Rather, it is the case of hundreds of her dependents in Iraq who were on a date with joy who were handed over the clothing or are waiting to receive it before the Eid. The Seeds of Goodness, with the support of charitable people in Iraq, aims to provide Eid clothing for 3,355 orphans in Iraq.
It seizes this opportunity to urge the honorable donors to continue donating to the project so that it can put a smile on the faces of the orphans.
Thanks a lot