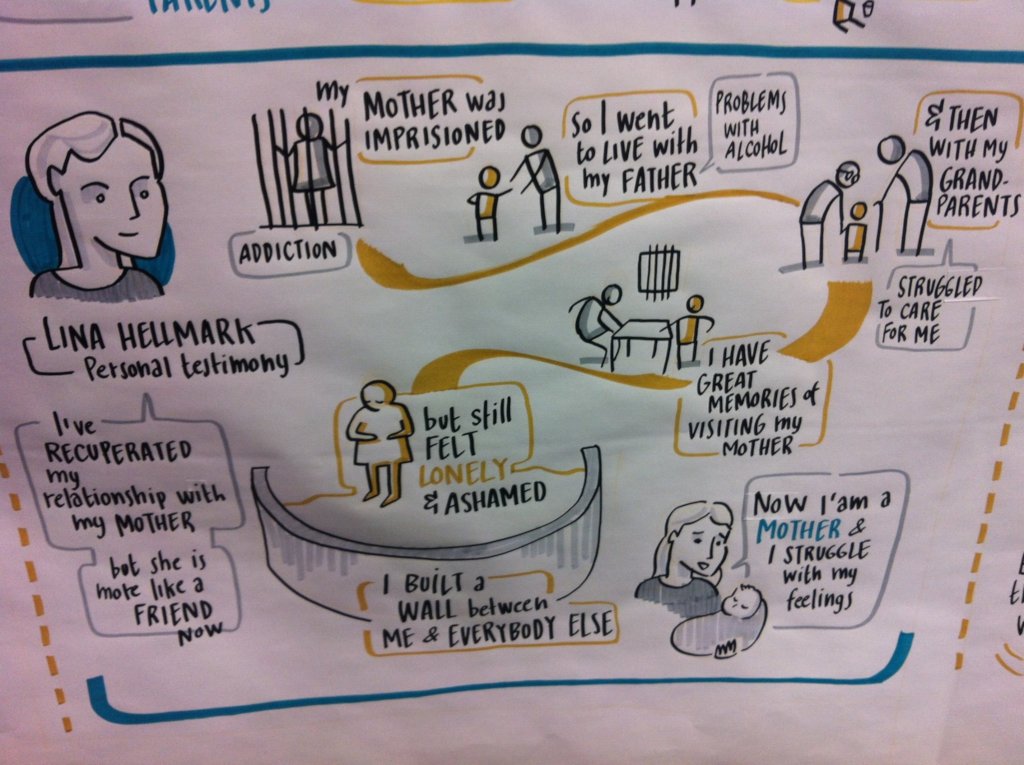 Thanks to your generous support of Children of Prisoners Europe (COPE), momentum has been building on the European level to obtain recognition for children with imprisoned parents.
With our partners across the EU and in countries such as Norway and Switzerland, we've been making strides at the Council of Europe level. Having presented at two major Council of Europe conferences in 2015 and 2016, we were approached by the Council for Penological Co-operation (PC-CP) to develop a draft Recommendation on children with imprisoned parents, due to be published early next year. Over the past year, we've been working closely with the PC-CP to develop and refine this extensive document. Once adopted, the Recommendation along with its accompanying report will be distributed to all 47 Member State prison services, with a view to improving visiting practices for children of parents in prison.
European Forum on the Rights of the Child: Personal testimonies from young people
Earlier this month, we helped organise the 11th European Forum on the Rights of the Child at the EU, entitled "Children deprived of liberty and alternatives to detention", which brought together over 350 participants from UN agencies and bodies, global, European and national organisations and individuals working to protect and promote the rights of children deprived of their liberty and those with parents in prison.
Key to the event's lasting impact on participants were three powerful personal testimonies by young people affected by parental imprisonment. Lina from Sweden talked about her mother's imprisonment and her own isolation and loneliness, in a side session dedicated specifically to the topic. Linnéa, also from Sweden, spoke to the plenary about her experience having a father in prison, recalling how happy she was when her father was able to return to the family home through the use of electronic monitoring. Dylan from Scotland spoke about his experience after his father was imprisoned when Dylan was 12, touching on the importance of peer and school support:
"When my mum told me that my dad was in prison, I was 12 years old and just about to start high school. I think that people can assume parental imprisonment only affects the child's relationship with that parent, but it can have an effect on almost every other aspect of their life. As a child, I felt completely disconnected from everyone.
School becomes something of a mine trap — gossip and rumours spread fast: […] the last thing you want is for someone to find out. […] There's so much stigma attached to parental imprisonment — […] it forces you to become a really good liar. […] When you're so concerned with not slipping up all the time, and you're carrying around this huge burden it makes it almost impossible to truly establish an emotional connection with anyone.
[…] I retreated into myself, I spent a lot of time alone, had very poor social skills and was generally very unhappy for a number of years. In hindsight, the only reason I felt like I had to hide it is because I'd never heard anyone talk about it before. We had never discussed the legal system in school. There was no information on how to deal with this at all, and I truly felt like I was the only person in the world with this experience."
Dylan later started working with KIN (http://www.voxliminis.co.uk/kin/), an arts collective for young people experiencing or having experienced the imprisonment of a family member. He and a group of other young people created First Words (https://www.youtube.com/watch?v=6iyn8gc5Lxs), a video conveying their reflections and feelings, how they have navigated the issue and found ways other than their experience with prison to define themselves.
Beyond Europe: Children with imprisoned parents and the UN
On Day Two of the Forum, keynote speaker Judge Renate Winter, Chair of the United Nations Committee on the Rights of the Child (CRC) emphasised the need for children separated from a parent in prison to be higher up on agendas in general. An important call to action from the UN level.
We couldn't do any of this without the help of people like you. Thank you for your ongoing support!
Children of Prisoners Europe