Dear all,
Greetings from BEAM Education Foundation!
We hope you are staying safe and well in this season, even as we all face the immediate impacts of COVID-19. The final semester of the GED Program at BEAM was successfully finished in late March 2020. Most of our students planned to take the GED exams starting early May depending on the reopenings of the GED testing centers due to the outbreak. Some of the alumni students are already in universities and have gotten scholarships. During the final semester, we focused on GED exam preparation and university preparation; we had some extra-curricular activities. We would like to share updates about our students and program here.
Please feel free to reach out if you have any questions, comments, suggestions, etc. Thank you so much for your time, interest, and support. We wish everyone continued good health and well-being. We would like to express our deepest gratitude.
1. CYLD/GED Program for Higher Education
BEAM has implemented the GED Program as part of the Higher Education Preparation and Community Youth Leader Development (CYLD) Program. This program is designed to provide migrants and border youth with a classroom for pursuing accredited education, professional development training, research training, internship and community impact projects, and an ASEAN youth network. BEAM has ten years of experience in training youth for pursuing higher education, professional development, building professional networks, and empowering them to engage in community service.
The GED (General Education Development) program, an American-based and internationally recognized non-formal high school diploma course, allows students without a formal education background to receive an official high school diploma which is required for accessing tertiary education. All courses are taught by native English speakers to effectively prepare students for their exams. There are four test subjects: Reasoning through Language Arts, Social Studies, Math, and Science.
2. Teaching Activities
The final semester at BEAM's GED program ran from January 6th to March 22nd. BEAM's curriculum has been using a student-centered teaching approach with connected topics covered in class to real-world situations, as this is important for the students' overall comprehension and retention. This also gives students not just a theoretical understanding of each lesson, but also knowledge of its practical application. All teachers give homework assignments and assign projects to encourage independent study.
BEAM's GED students demonstrate the basis of a democratic environment where participants co-operate, respect each other, work together, look for and provide support in the learning process, establish rules of behavior, and continuously work to improve themselves and their learning community. Teachers and students are encouraged to try out strategies that promote democratic behavior in safe spaces.
During the last semester, the biggest impacts of the COVID-19 outbreak are on GED classes, GED exams, and program cancellations. All BEAM classes had to end earlier, and we weren't able to have graduation commencement for the GED students. GED testing centers have been closed until further notice. This tremendously influences our students' exam schedule as well as university & scholarship applications. Our recruitment of the new GED cohort was delayed for a week, but thankfully, we finished it during the week of March 16. We had the entrance exam in Mae Sot, Yangon, and Chiang Mai. Many students from refugee camps couldn't travel to Mae Sot for our entrance interviews due to increased restrictions.
The Thai cabinet approved to postpone the reopening of all schools (including learning centers such as BEAM) for the new semester from until July. Also, many of our migrant students have returned to Myanmar from Thailand after losing their jobs due to the shutdowns. These migrant workers don't have savings and they live day-to-day on their minimum wages. Considering the major effects of this pandemic, we are still not sure how our students would be coming back to Thailand, getting back their previous jobs, and processing their legal visa paperwork. We are adapting to the challenges of COVID19, which makes education access even more difficult. Because in-person classes and travels are postponed due to COVID19, BEAM will provide online classes first.
3. GED Test Taking Progress
The final semester exam was conducted in the week of 16 – 22 March 2020. Students are prepared for the official computer-based GED tests starting in May 2020. Academic advisors require an additional two or three GED tests (per subject) to be taken online, as well as a one-on-one meeting online with an advisor before official recommendations are made. Based primarily on exam scores and teacher recommendations, students will be divided into three tiers. Tier 1 includes students who scored sufficiently high enough on their final semester exams and additional tests to secure exam referrals quickly. There are 16 students in the recommendation list for Science, 12 students in the recommendation list for Social studies, and 22 students in the list of Math. Exams for this group have started in May 2020.
The rest of the students were placed in Tier 2 and 3 and require additional extensive tutoring from teachers before exam referrals can be made. Advisors and students aim for this group to finish their exams in the end of June 2020. Many students in this group will take 1 or 2 exams earlier, according to their capacity. Each student in Tier 2 and Tier 3 is required to take two or three sets of practice exams online, and meet with an advisor online before official exams are set.
In the 2018-19 academic year, 33 students have successfully passed the GED, and among them, 14 students got into the Universities in Thailand include Chiang Mai University, Mae Fah Luang, Rangsit, ABAC, APIU and Thammasat University. All our recent graduates now join the 176 BEAM alumni since 2010 who have successfully earned their GED diplomas. According to our students' achievement database, 86 of them are studying at Universities while the rest are working back in their communities as teachers and health care assistants, or in other service sectors. So far in 2020, 41 of BEAM's Higher Education Program students graduated from different universities in Thailand.
4. Extracurricular Activities of Students
CYLD Students participating in BEAM's 10-Year Anniversary Celebration
2020 is a special year for BEAM--we just celebrated our 10-year anniversary on February 29th. We would like to express our deepest gratitude to all of our partner organizations, donors, students, alumni, staff, and community members for supporting BEAM's work in empowering communities for the past ten years.
CYLD students helped tremendously with organizing the celebration, preparing food, performing dances, and cleaning. Students performed dances from diverse cultures such as Thai, Karen, and Shan. A group of CYLD (GED) students performed the ASEAN Song of Unity, in which they dressed up to represent and celebrate the diversity of ASEAN. Moreover, BEAM teachers and alumni shared their experiences with BEAM. The common thread in their stories is the power of community--they are grateful for BEAM's support and honored to contribute to BEAM. All of these diverse talents contribute to BEAM's supportive network. We are thankful to our staff, teachers, students, and alumni for their contributions to the celebration.
International Women's Day 2020
On 8th March 2018, BEAM students, teachers, and staff participated in the International Women's Day event at Tha Pae Gate, Chiang Mai. MAP Foundation organized the Women's Day March, where more than 150 people gathered to walk the perimeter of Chiang Mai's Old City in a demonstration for women's rights. It was a powerful sight. The crowd that gathered comprised of women from all walks of life and allies who came to support the movement.
Many carried signs with messages for the people in cars, songtaews, and motorbikes passing by. One sign read "Equal Work for Equal Pay." One of the women leading chants at the head of the march explained the symbolism of a broom: "The broom is symbolic of women working, but we keep the broom today; we strike today, and we're not working. We're making our demands."
Every year, women, especially migrant women, gather from all different areas to come and share their experiences and to plan out what they are going to do next. Women are here and ready to fight for land reform, representation, equal pay, paid family leave and, as always, equality.
Little Communities Campaign for Fighting Against COVID19
CYLD students are currently assisting with the production of COVID-19 protection materials.
COIVD19 is a global pandemic spreading at a wild speed and scale. If the infection reaches to underprivileged communities, we can only imagine the crisis as wildfire.
The underprivileged communities include migrant communities, grassroots communities and communities along with the border areas. Since the businesses locked down in the cities of Thailand due to the growing infections, thousands of migrants and grassroots workers returned home across provinces and along the border. In the villages, there is a limitation of awareness, limitation of protection and prevention materials while thousands of returnees are flowing back in. If the pandemic reaches to these communities, the effect will not only be in these communities, the effects will spread to the central areas because of the food supply chain and interdependency.
Regarding this emergency situation, BEAM is taking the leading role and launching the Little Communities Campaign for Fighting Against COVID19.
The campaign will include 5 sessions:
Production and distribution of masks in the communities by following the prevention standards
Production and distribution of hand sanitizer to underprivileged communities.
Promotion of prevention awareness in the communities
Supporting community-based quarantine centers
Supporting healthcare workers in border areas.
Recent Geographical areas of the campaign
Thailand: Chiang Mai province, Tak province (Maesot), Ranong province
Myanmar: Shan state, Karen state, Kayah state, Mon state, Taninthayi division, Ayeyarwaddy divisions.
Beneficiaries include migrants, people from grassroots communities, healthcare workers. BEAM's CYLD/GED students are currently assisting the operations of the campaign.
For more details about the Campaign, please check out our post on our Facebook page.
We have another GlobalGiving page for this fundraising campaign if you are interested in supporting it.
Lastly, thank you so much for reading this report and for your support of BEAM communities. Please stay safe and take care!
In solidarity,
BEAM Education Foundation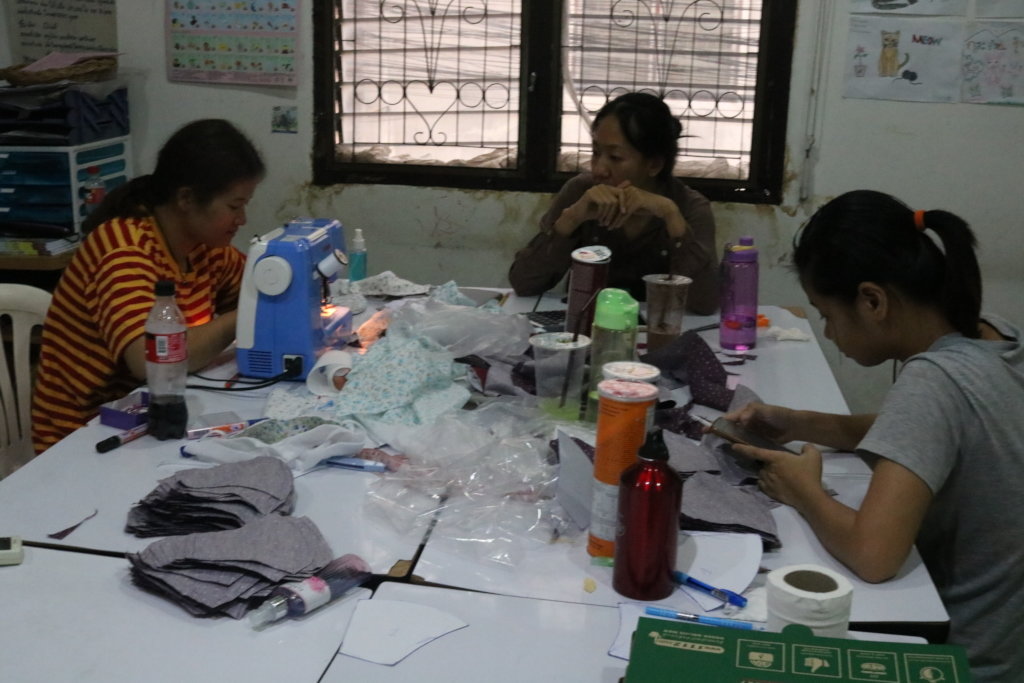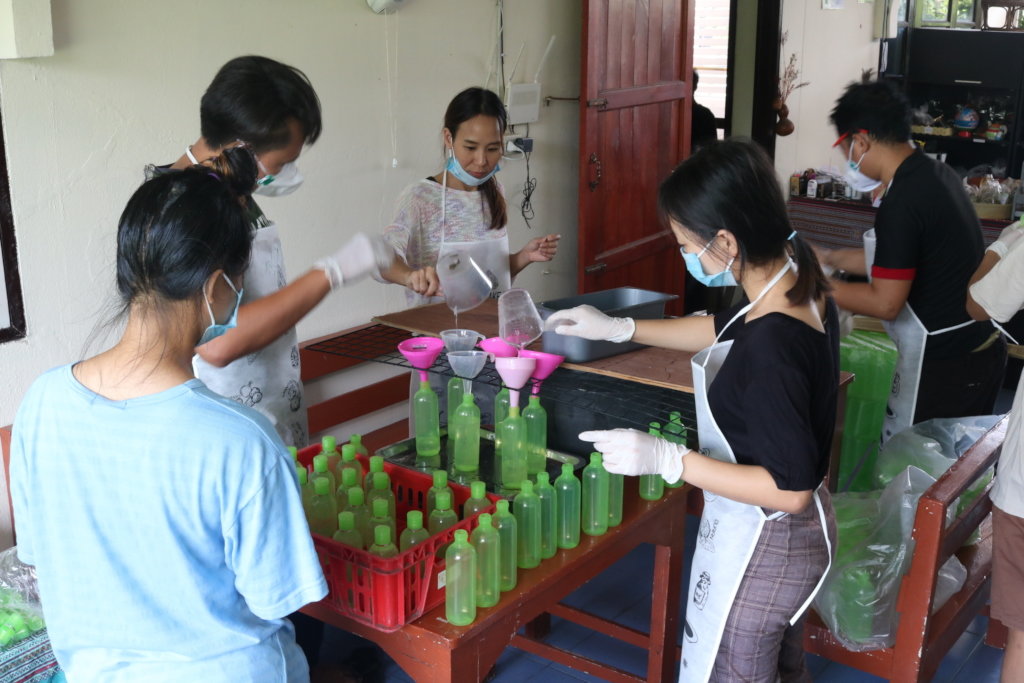 Links: