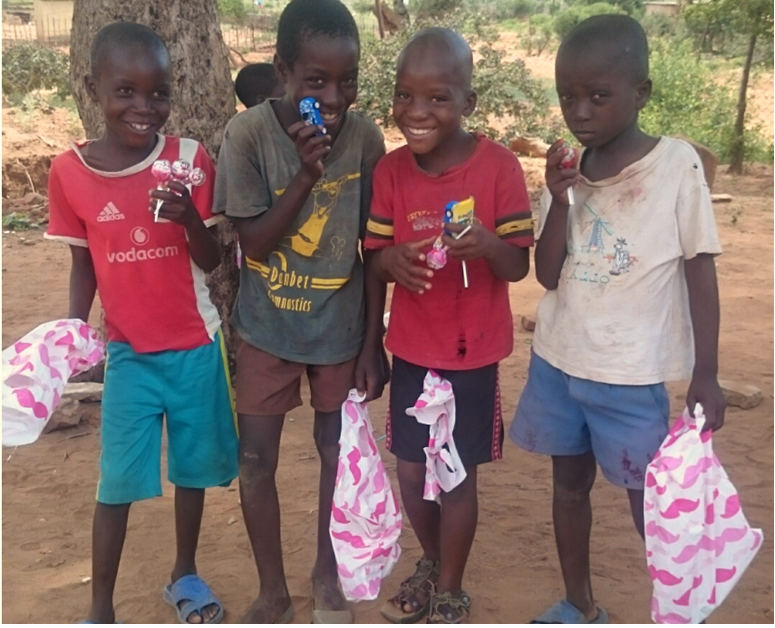 Thank you for your continued support of this project. It is at the heart of our organization and is our strategy for empowering disadvantaged rural youth. Here are some of the highlights of what we accomplished together in 2016. We couldnt have done it without your support!
Bringing Joy To Kids At Christmas Time
In addition to providing school fees, school uniforms and school supplies we also bring joy to kids at Christmas time. We give them toys, candy and cookies. Due to poverty the majority of kids in the rural areas do not receive toys for Christmas. This year we gave toys, candy, baloons and pencils to over 300 children in Rimbi village. As you can see from the kids' faces in the pictures Christmas 2016 was a happy time indeed for them. They had a wonderful time!. Here is what one of the kids had to say:
"Thank you for giving me a doll and sweets. I stayed awake as I waited for the sun to come up so that I could come and receive toys from the Tekeshe Foundation. I really like the doll. I cannot wait to braid her hair. "
Update on The Youth Program
Our youth program is based upon the principle that young people need more than just academics, they also need to be taught life's lessons which are not taught at a desk in the classroom. The objective of our Youth Program is to empower young people to grow up to be successful, well-balanced and self-sufficient citizens. It emphasizes the importance of young people's personal development and their contributions to their communities. Our approach is as follows:
• Engage youth as resources, not simply recipients of services
• Recognize that preventing problems does not by itself promote development
• Ensures that youth are included as a part of planning and decision-making processes
In keeping with this approach we are pleased to announce that we are now offering two new programs, a Sewing program and a Cultural Music and Poetry program.
1. Sewing Program
Our vision for the Sewing program is to teach the youth sewing skills. Giving sewing skills to the youth ensures that those who are unable to continue with their education will be able to earn an income through sewing. The youth will be taught how to make school uniforms, skirts and shirts. We are ecstastic to bring Robert (the instructor) on board to lead this program. We are very proud of him as he has a great passion to empower youth with sewing skills. We stoped by at Manzvire village to see what Robert had accomplished so far. Even though he doesnt have a building, he teaches sewing from a store front. We were impressed by his creativity! He doesnt have any sewing patterns, instead he uses a blackboard on the store front wall to show the different parts of a garment to the students. Once they understand the structure of a garment he shows them how to cut the material. In one of the pictures, you can see one of the students at the black board explaining to us the different parts of a skirt. I was awe-stricken by such creativity. As you can see in these pictures the youth are eager to learn. The Tekeshe Foundation donated $65 to the project. This money will be used to buy material to make school uniforms. In addition, we will provide 4 sewing machines, currently they only have one sewing machine. The total cost of the sewing machines is $200.00.
2. Cultural Music and Poetry Program
The vision of our Cultural Music and Poetry program is to engage the youth in their cultural heritage and to encourage them to study and perfom music. We are please to bring Mr Mhlable on board as the instructor. In these pictures you can see Mr Mahlabe and some of the kids who will participate in the program. As you can see the kids are really excited to learn how to play the instruments. Here is a breakdown of the money used to purchase the instruments:
2 drums - $40
2 mbira - $40.00
1 marimba - $100.00
material for costumes - $72.00
Through your donations you are playing a major role in shaping the lives of young people in these rural areas. Thank you so much!.
Best wishes,
Thelma