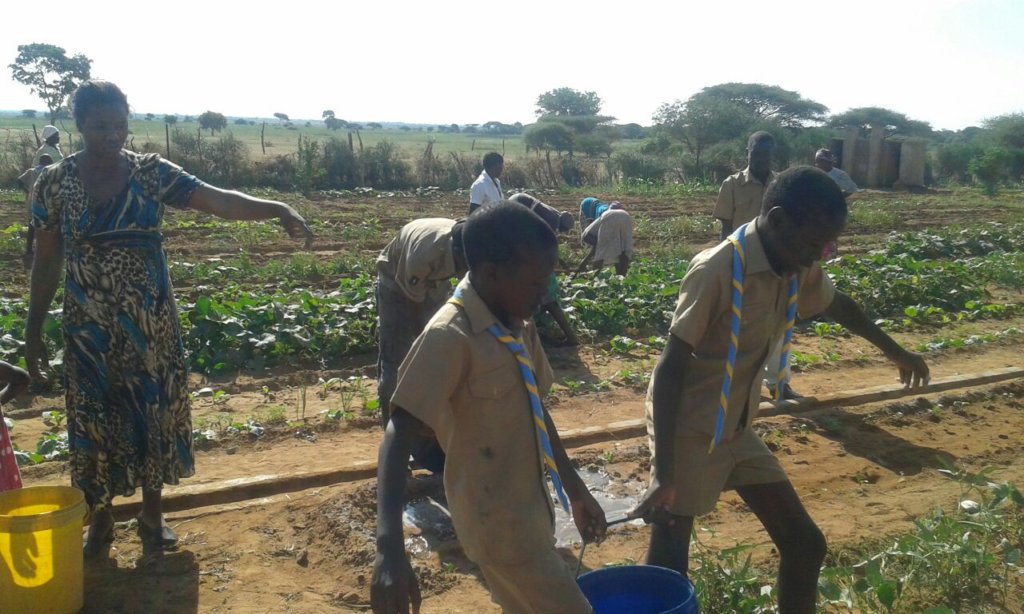 Thank you for your continued support of this project. This project is our strategy for empowering disadvantaged rural youth.
Update on The Youth Program
Through our Youth Program we empower young people to grow up to be successful, well-balanced and self- sufficient citizens. This program focuses on the importance of young people's personal development and their contributions to their communities. Our approach is as follows:
Engage youth as resources, not simply recipients of services
Recognize that preventing problems does not by itself promote development
Young people should be included as a part of planning and decision-making processes
In keeping with this approach we provide opportunities for the youth to get involved in community service in the village. We are pleased to announce that in early May the youth in our youth program helped women who participate in a nutrition garden project to grow vegetables.You can see in these pictures, some of the kids from our youth program wearing their scout uniforms. We are very proud of our scouts for lending a hand. The Scout program is having a positive impact in the lives of rural kids. Here is what one of the scouts had to say:
In His Own Words By One Of The Scouts
"I would like to thank the donors for buying us uniforms. I feel very happy when I put on my uniform. I enjoy the camping events and learning the scout laws. We are taught to be trustworthy, loyal, helpful, friendly, courteous, kind, obedient, thrifty, brave and clean. I kindly ask you to help us with more uniforms and camping tents."
Update on Pre-school Program
Our pre-school program provides a free playtime program which promotes early childhood development and learning through play. The ultimate goal of the program is to prepare the children to successfully enter grade one and to become successful and lifelong learners. A typical day at the pre-school includes singing and playing with all kinds of toys including educational toys, structured playtime, story time and games.
The pre-school is doing very well. This year we have 30 kids enrolled in our school. As I mentioned in one of my previous progress reports, the children sit on the floor because we dont have chairs. Also, our school needs to be in compliance with the Ministry of Education requirements. In order to be in compliance with these requirements we need playground equipement. Once the pre-school is compliant, it can be registered with the Ministry of Education. This helps us tremendously as we will no longer be responsible for paying the pre-school teacher's salary.
I am pleased to announce that we purchased 2 sets of playground equipement, 10 chairs and a desk. These items will be included as part of the next shipment going to Zimbabwe on September 10. Here is the cost breakdown:
10 chairs @ $15 a chair - $150.00
1 table - $75.00
2 swings - $430.91
May your hearts be filled with joy as you take a look at these pictures and see the major role you are playing in shaping the lives of these young people who are the leaders of tomorrow. Without your love and support this would not be possible.

Thank you so much for bringing hope in the lives of young people in these rural areas!
Best wishes,
Thelma