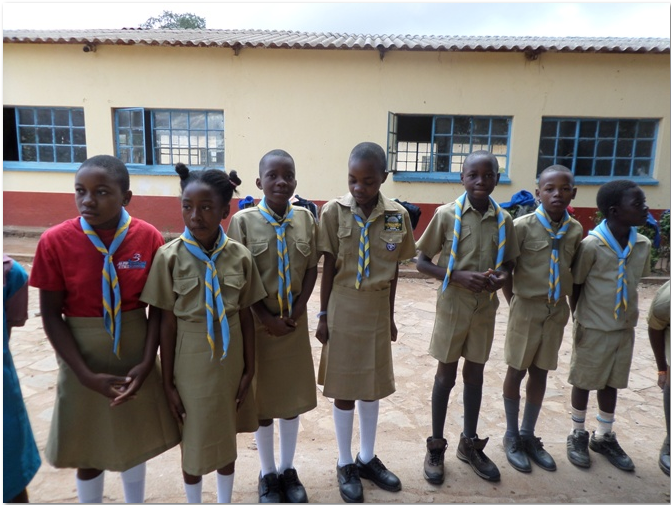 Dear Friends,
I would like to express my sincere gratitude to you for your continued support of our Education program. Your donations make it possible for the Tekeshe Foundation to continue to provide access to education to underpriviledged rural youth in Chipinge district in Zimbabwe. The goal of this project is to break the cycle of poverty among underpriviledged rural youth by opening doors of opportunity for them through education.
The project is a big success. The beneficiaries of this project range from kindergatern children to university level students. To date over 100 students have received school fees, school uniforms and school supplies. Two students have completed their teacher-training course and one of them is now working as a primary school teacher. Another student obtained her Bachelor's Degree in Social Science and she is working for a company in Chipinge.
Bringing Joy To Kids At Christmas Time
In addition to providing school fees, school uniforms and school supplies we also bring joy to these kids at Christmas time. We give them toys, candy and cookies. As you can see from the kids' faces in the pictures Christmas 2013 was happy time indeed for them. They had a wonderful time!. Most of these kids have never had a toy, they dont even get any presents during Chritmas time. This year we gave toys, candy and cookies to over 120 children.

The Project is Having an Impact On Girls As Well
Sadly many girls in these rural areas are still being denied access to education. Due to the financial difficulties that poor families are faced with they are making a choice based on economics as to which child to send to school. The preference is to send boys to school and marrying off the girls as this brings money into the family. People in the rural areas perceive girls as a source of wealth for their families, and would rather marry off the girls to raise funds for educating the boys. According to research, educating girls is the most effective way of breaking the cycle of poverty in these rurals areas. When girls get an education, not only do their families benefit, but communities and societies benefit as well. The following are some of the positive outcomes that are linked with educating girls:
* The likelihood of educating the next generation increases
* Decrease in infant mortality rates
* Improved family health
* Reduction in the spread of HIV/AIDS
* Improved general economic development
This past December during my annual visit to Zimbabwe, one of the beneficiaries of this project stopped by to give us the great news that she had completed her teacher training course. Here is what she had to say:

In her Own Words by Maidei : Special Thanks to The Donors
I would like to thank the Tekeshe Foundation and the donors for helping me get an education. I am pleased to announce that I have now completed my Teacher Training Course at Mutare Teacher's College. I could not have done this without your help. Growing up life was very difficult as my father has more than one wife. My mother and I struggled a lot. My father was not able to provide for my educational needs. My desire was to get an education because I knew this would give me a better future. I was so happy when the Tekeshe foundation started helping me with uniforms, school fees and school supplies. Without your help together with the Tekeshe Foundation I dont know what I would have done. Thank you very much. May God bless you.
--Maidei
As you are can see you are playing a major role in giving a bright future to the youth in Chipinge.
Best wishes for 2014.
Thanks again for your support!
Sincerely,
Thelma