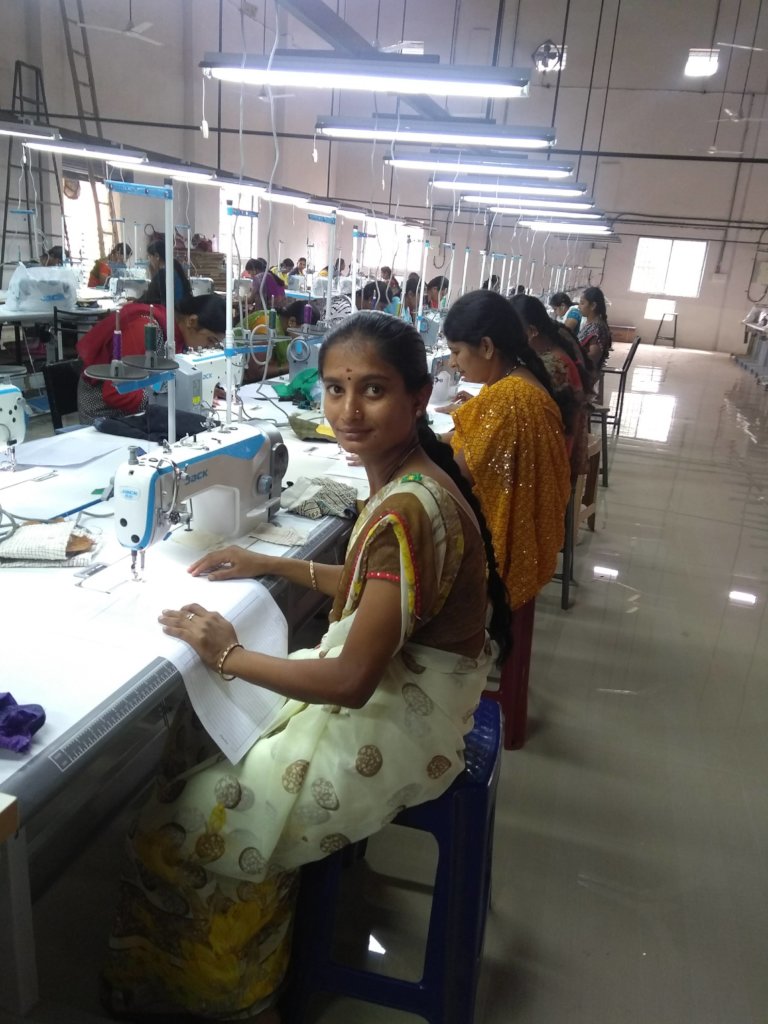 Dear Industree Foundation Supporters, Mission Creative Million is an initiative by Industree Foundation to move one million creative producers into the formal global supply chain to achieve both economic impact (including regular work, increased wages and financial stability) and social impact (compliant, child labour free value chains, improved agency for adolescents, youth and women at home and in their communities, and better standards of living for the next generation).
In Karnataka, Industree is working with producers in the apparel value chain where it is setting up disaggregated producer-owned enterprises in rural parts of the state, which shall culminate in a cluster producing embroidery and apparel for contemporary markets. Organisations that have extended support to the project include UNDP, British Asian Trust, Social Venture Partners, National Skill Development Corporation and Sundaram Finance.
As part of its Karnataka project, Industree set up a small tailoring unit in Kyathumgere, Mandya district, which provides employment to about 25 women. Within the span of one year, producers at this unit are supplying finished apparel to organisations such as Fabindia, Eco Femme, as well as a host of other local buyers. Once we saw that there was scope for expanding operations in the area, Industree decided to set up a larger unit which could impact around 200 women in a village called Hulivana in Mandya district. Setting up these disaggregated production units in rural areas allows women to work close to their homes in workplaces that are safe and fair, while seamlessly allowing for them to maintain a healthy work life balance and also contribute to their family income.
With the support of a few stakeholders, Industree identified the building, and procured the required infrastructure for the set up of the Hulivana unit. Following this, it mobilised women from surrounding areas, and is currently training them in tailoring. At present, the unit has around 80 sewing machines, for which women are being trained to take up garment production. Once fully operational, the unit would have around 150 sewing machines, providing employment to around 200 women.
A key element of Industree's intervention also includes imparting business skills and social empowerment training to the women, so that they are eventually able to manage the enterprises on their own. To this end, Industree leveraged the Global Giving Accelerator to raise funds to carry out the training for 100 women. The funds raised were utilised to meet training expenses such as Curriculum Development, Hiring of Trainers, Training Collateral and more.
Consider Suma, a young mother of 2, who lives close Hulivana. Her family owns a two acre plot of farm land that her husband works on. Suma manages the household chores and when required, helps tend to the farm. She is presently one of the many women who attends the tailoring training at the Hulivana unit. In addition to the technical training, she is also receiving training Social Empowerment and Business Skills. While the Social Empowerment module covers concepts such as Personal Development, Financial Literacy, Gender Equity, Women's Rights and more, the Business Skills module addresses concepts such as Entrepreneurship, Productivity, Market Linkage, Value Addition, and more. Deployed in tandem, the training will not only allow for women like Suma to take up tailoring as a profession and earn a regular income but also empower them to become successful micro entrepreneurs, take on leadership roles at work and in their communities, and move up the value chain.
The training is slated to end by 20th September, following which Suma and other women like her would start production. Industree would handhold this group of producers to be able to cater to orders from the market by applying the skills that have been imparted to them through the training, and eventually see a increase in revenues for the enterprise, as well as their own personal earning.
With gratitude,
Industree Foundation