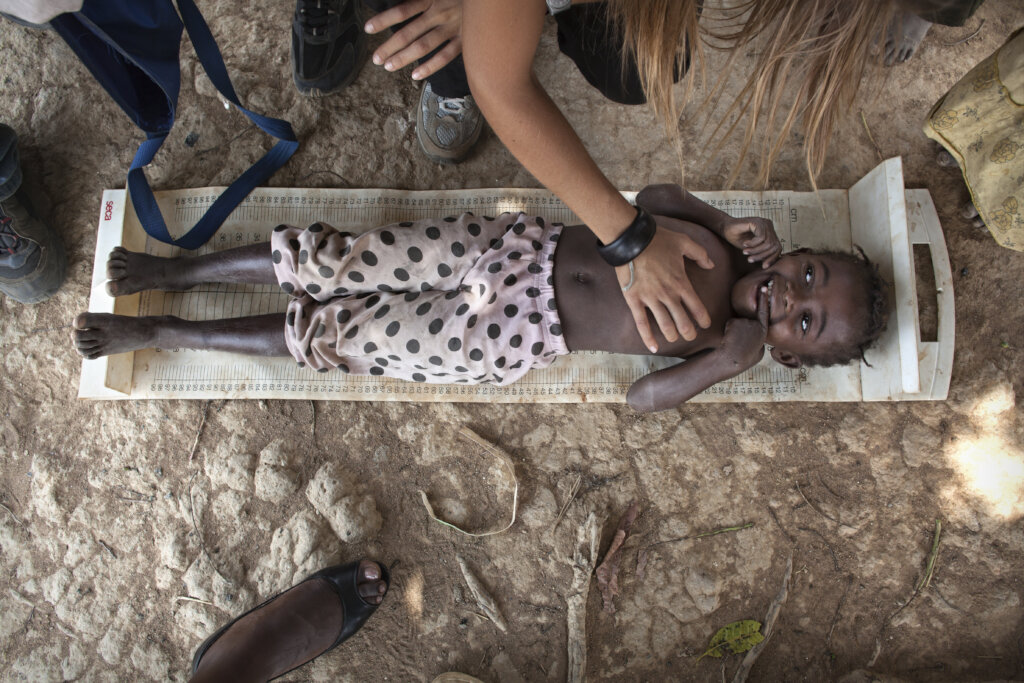 In Democratic Republic of Congo, the nutritional situation continues to be very critical. The Humanitarian Needs Overview establishes that 27 million people will need humanitarian assistance in 2022, 7.4 million more than the previous year. This increase is explained by the deterioration of the humanitarian situation in some areas and above all by the increase in the number of people in serious food insecurity, as a result of the socio-economic crisis caused by the pandemic. Among those in need of more assistance, there are children.
Faced with this scenario, Aleimar and Amka are stepping up their efforts to promote the right to food of children at risk or suffering from malnutrition and to make mothers aware of good nutrition practices in the area of Mabaya and Sambwa.
Our staff has never interrupted the screening activity in the area to promptly detect children with nutritional deficiencies and include them in programs for the prevention and treatment of acute malnutrition.
The Therapeutic Nutritional Unit of Kanyaka, where the most serious cases are hospitalized, is providing specialized treatment to 20 children each month, providing adequate food support and health care to resolve medical complications.
Further 60 children, with moderate acute malnutrition, are included in the PCIMA (Prise en Charge intégrée de la Malnutrition Aigue) program which provides a community care of malnutrition, involving all local actors in awareness raising, prevention and management of child malnutrition, and ensures monthly nutritional support and monitoring of anthropometric parameters and health conditions for malnourished children.
The synergy of intervention in the two areas of Sambwa and Mabaya is promoting a greater impact of the initiative, as it allows a useful exchange and sharing of knowledge, experiences and resources between the two parties involved.
The involvement and participation of mothers in all interventions to fight malnutrition remains fundamental. Both within the prenatal consultation and in the framework of the new ANJE program (Alimentation du Nourrisson et du Jeune Enfant), the nutritionist and the local social workers are engaged in training women on the many issues closely related to the multifactorial phenomenon of malnutrition: breastfeeding, nutritional principles and food diversification, hygiene, water potabilization, infective diseases.
Also with the help of specialized volunteers from Italy, we will continue to intensify our efforts to respond to this urgent need, collaborating with the competent local authorities and carrying out an accurate collection of data for monitoring of activities, evaluation of their impact and a more precise detection of the phenomenon in the area.
Once again we would remind you the importance of our work. We hope you will continue to support us in order to save many children from malnutrition.