By Jill van Leeuwen | Project Leader.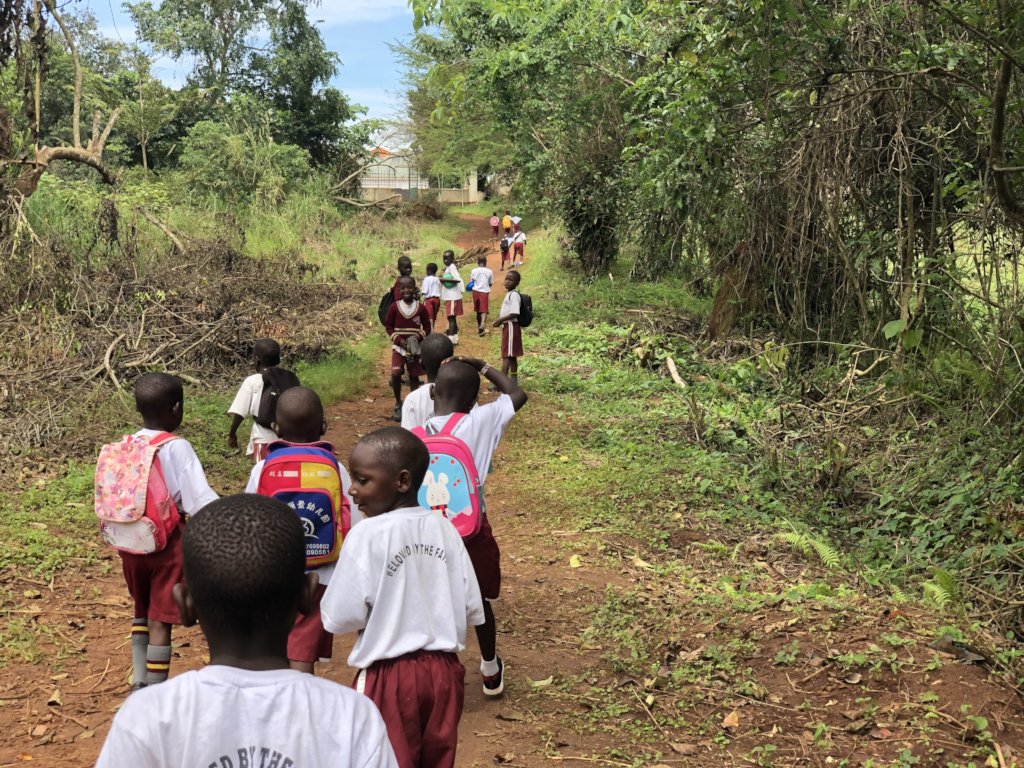 In all the years since our charity opened her doors in 1993 there has never been such a long time without children on the campus. SAM is empty, no patter of toddlers feet in the corridors, no singing in the class rooms, nor happy children playing in the garden. Equally the two schools on the campus are also closed. Normally the longest school holiday is from the end of November to the end of January. During this time the maintenance team swings into action, checking each (class)room repairing things were necessary and applying a lick of paint here and there, so that everything is shipshape after the holidays. SAM's staff have been checking SAM's buildings and garden regularly and keeping the grass under control, so that no snakes or other dangerous insects or animals can access causing possible disease or danger to the children when they finally return.
However, since lockdown started in March, we have utilised this extra time very well. The staff have been able to make renovations to the campus, erect new water tanks, improve and extend dormitories, complete the new house for the headmaster of SAM and the primary school, Joshua and his wife Mirjam and their daughter. See photographs.
Making SAM and the schools Corona Proof
In August the government set up a Corona inspectorate that has identified our organisation as one of the few educational institutes that will be able to reopen its doors when President Museveni finally gives the green light.
The staff have been working extremely hard to make sure that all the demands are implemented so that we are ready for opening. These are substantial demands and include.
Hand washing facilities at

the

entrance to the SAM

and

to

each

(

class)room.

The

water

used

must

be

drained

away

properly.

A

health

committee

should

be

set

up and a sick bay should

be

set

up

with

a

qualified

nurse.

There

must

be

social

distancing in

the

classrooms.

Visitors must undergo health checks, non-contact

thermometers,

masks

and

face

protectors

must

be

used.
At the end of this report you can see photographs of the various improvements that have been made and one of the guards checking the temperature of a visitor. Realistically speaking, we are not expecting that SAM, nor the two schools on the campus, will resume normality and be able to fully open until next year, but we have to be ready just in case. These really are tense and unprecedented times for everyone!
SAM, closed for children but open for long lasting improvements!
We have also been taking advantage of the empty campus to do jobs that are very difficult and unsafe to do when so many children are around. One of the improvements we would very much like to carry out, now the lockdown looks likely to carry on for a while, is to make a paved path from the athletics field up to SAM. This very steep path is not only used by the children and staff of SAM but is also the back entrance to the compound and used daily by staff, students and patients attending the clinic. At the moment this path is just grassed over and it can get slippery when it rains and also when its extremely dry! The children's shoes not only get ruined but it can be very dangerous indeed. It is so steep that in a heavy downpour the path quickly becomes impassable for pedestrians and vehicles, and the buildings therfeore inaccessible for several hours or even the whole day! Our aim is to make a path 210 meters long and 2 meters wide, so that in an emergency a vehicle could get up. Like the path photographed below, we plan to use paving stones that are made by hand on site and then set in a concrete base. This is one of the best and most effective ways to construct paths in the tropical climate.
Would you help us to make the path? It has been budgeted at £4,500.
Next week GlobalGiving is hosting a week long "Little x little" campaign whereby each donation up to $50, (or the first $50 of a larger amount) will receive a 50% match. This will help make your contribution go much further!
The campaign begins at 2pm GMT, (3 pm CET) on Monday 14th September and runs until midnight on Friday 18th September.
Donate within the above times at : www.globalgiving.org/42553
We will post a reminder on our Facebook page: www.facebook.com/kinderhulp-afrika
Your contribution helps! As we said earlier, "we are closed for children but open for long lasting improvements!" Your donation will help enable us to make long lasting improvements to the safely and wellbeing of our needy, vulnerable young children and their incredible staff at SAM and also benefit the rest of the campus students, staff and at the clinic.
For more information visit our website for regularly updates: https://www.kinderhulp-afrika.nl/en/
If you have any questions please do not hesitate to contact the office via the website or myself personally, jill@kinderhulp-afrika.nl, I would love to hear from you.
Last but no least – Thank You
In the last report we mentioned a "Relief Fund" that was set up at the end of June. With your help we were able to help 100 families, where one or more of our sponsor children are housed, by means of a food package which had supplies for up to 2 months. We received such an incredible response that we are delighted to announce that we will be able to give each family a second package as the lockdown continues. This should keep them going till the end of the year. Here are three links to thank you videos from two of our primary school children who received emergency Food Aid packages, Paul and Precious and from Joshua and Mirjam
https://www.youtube.com/watch?v=HuREfyG-1CQ
https://www.youtube.com/watch?v=xF_0vATcdFQ&feature=youtu.be
https://www.kinderhulp-afrika.nl/nl/crowdfunding/woonhuis-hoofd-basisschool
I'll keep you posted!
I will post an update on the SAM project page as soon as the schools return or before Christmas!
Thanks again for your interest and invaluable support.
In the meantime stay safe and keep well.