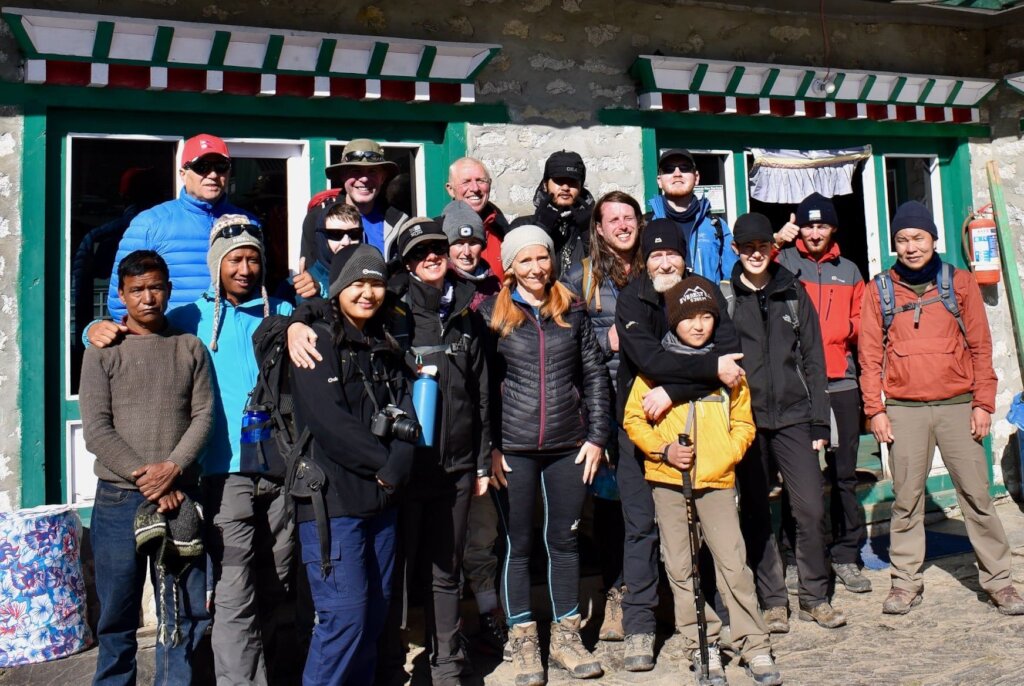 Dear friends and supporters of the Rajbash Hospital.
Yes, Everest Base Camp! At an altitude of 17,598 feet!
Since the Spring of 2019, our friend Gary and Manju from 'Love Nepal' in England had planned this challenging DCWC charity trek only to be thwarted again and again by the Covid pandemic. Finally, in May of this year, their plans came to fruition. A group of 14 English hikers and 4 Nepali guides and porters, met at Tribuvan airport for the flight from Kathmandu to Lukla to begin their trek. The youngest participant was Rian, Akka's son, at 10 yrs, and the oldest an English gentleman ofat 68 yrs, an intrepid soul and good friend of Gary's. From Lukla 5 yaks and their tender carried most of the luggage for the group allowing everyone to concentrate unburdened on the strenuous hike up the mountain. The group was purposeful and cohesive. Stronger trekkers held back a little and encouraged those not as fit. Elation and pride for having accomplished a difficult challenge was clearly visible on people's faces in the pictures from Base Camp!
As is customary after the DCWC treks, a transition day was spent in Kathmandu to prepare for a three day visit to Rajbash hospital. There even was time for a visit to one of the local schools where students were gifted with new backpacks, school supplies and sports equipment. The pictures below speak more eloquently than my words to the joy this trekking group brought to the local school children.
In the meantime, back at the hospital, a young family, the woman highly pregnant, had walked from a neighboring district, arriving at midnight to deliver her baby at the hospital. Everyone was delighted to learn that a baby girl had been successfully delivered just before they arrived.
Over the years, trekking in the Himalayan mountains has been one way to raise money for the hospital. Trekking with a group and bonding around a common effort is also a very rich experience. We have made lifelong friends through these journeys. If you are interested in one of our treks, be it with a group or a solo experience with knowledgeable guides, please contact us for further information.
We continue to be most grateful to you, our supporters, for your commitment to this vital Hospital in rural Nepal.
Patrick and Karin and the entire DCWC Community