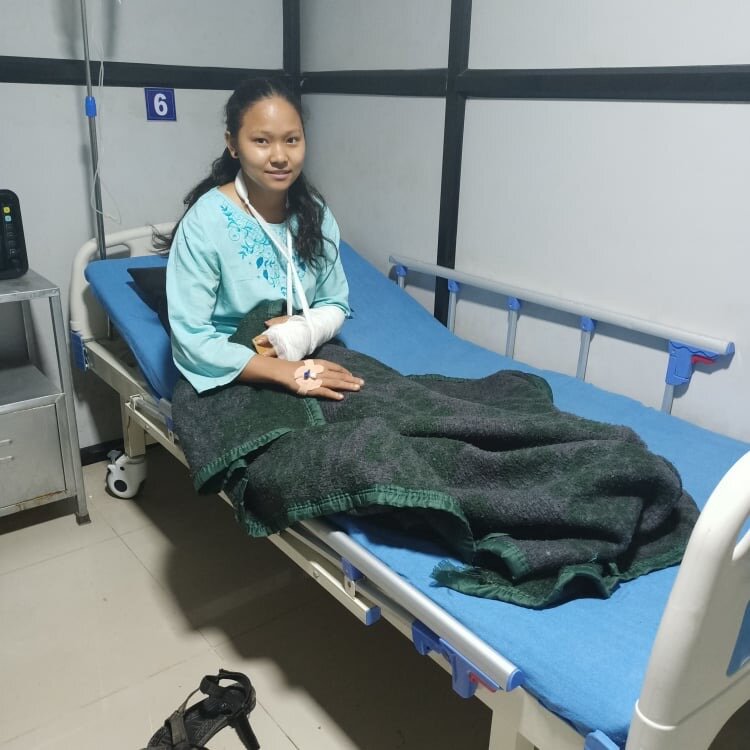 Snake bites, Birth dollars, Covid and a washed out trail
Health care in Nepal presents with many unknown challenges, most of them not experienced in the U.S.
For instance, convincing rural Nepalese that a hospital birth is safer than a home birth. Of course rural women traditionally have given birth in their homes. Sadly conditions were often unsanitary and endangered mother and child. Infant mortality was high. It has taken Rajbash hospital many years (11 now to be precise) of outreach education to build the trust for villagers to consider prenatal care and birthing in the safe and sterile environment of our hospital. The government currently provides a "SAFE MOTHER" program of incentives: A small stipend for each prenatal visit and another for the hospital delivery. Even the transport from the village and back (often on a litter) is being reimbursed. Each new mom is also given a set of traditional bed ware and a set of warm and worn (but cleaned) baby clothes, a donation from our friends in the Czech Republic. Now more and more women are opting for a safe hospital birth and sometimes keep our birthing center downright busy.
Snake bites, another challenge, are also common in rural areas of Nepal. Unfortunately, each of the bites requires a separate treatment. The solution: To be safe usually a generic treatment is administered on arrival and followed with observation overnight to make sure there is no increased swelling. If the reaction has not been contained, patients must be sent by ambulance to Kathmandu for further treatment.
Other challenges come with the Monsoon season: Roads get washed out, vehicles remain stuck in the mud and foot traffic between villages becomes an obstacle course over unrecognizable pathways. Our hospital is located at the confluence of 4 mountainous districts and draws patients from all four. The trail from the Ramechap district alone is used by at least 15 persons per day that come to the hospital for treatment or are passing through. This year heavy late monsoon rains damaged this trail and made it impassable (see the photos). A group of 10 - 15 volunteers from surrounding villages came together to restore this important pathway. With hard work they were able to rebuild it in 3 days. Akka Lama, the founder and director of the DCWC, walked that trail recently to check its condition and to visit the outlying villages. If you look closely at the trail photos, you may be astounded to see how this trail of several kilometers was reconstructed in this very steep terrain.
Though trails were finished just in time for the recent 'back to the village' festivities of Dashain, an important holiday in India and Nepal, the good cheer in anticipation of the celebration was paired with worry about renewed Covid transmissions. Small accomodations, many extra people and insufficient sanitation are a bad combination. Fortunately only one man in the village contracted Covid. He was hospitalized in the Hospital's new isolation unit, built through grants from GlobalGiving (see picture below). After 10 days of treatment he was fully recovered and able to return home.
We hope that you enjoyed this little peek into our life and work in the mountains of Nepal.
It is your continued support that makes it possible for our hospital to meet the ongoing health needs in the rural villages surrounding the Rajbash Community Hospital. We are deeply grateful for your support!