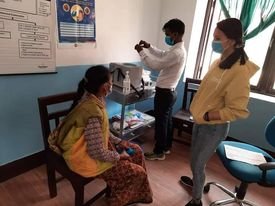 Our report of May 27 must have left you with a sense of worry about our hospital and Nepal. We were in great need of oxygen and hospital beds to treat Covid patients and a sizable number of our staff was in quarantine.
Rescue came with a call from GlobalGiving UK advising that our project had been selected by the National Lottery Community Fund to receive a grant of 4,800 pounds for stemming the tide of Covid in Nepal. We were super excited about this totally unexpected help. The funds came just a we prepared for another wave of Covid infections. We were able to purchase additional hospital beds, oxygen cylinders, oxygen concentrators, a deep refrigeration unit for vaccines and patient monitors.
An additional emergency grant from GlobalGiving US together with donations from our sister organizations Love Nepal in the UK and Namaste Nepal in the Czech Republic enabled us to create a proper isolation ward for our Covid patients.
While our regular hospital activities went on as usual, caring for our infectious patients required us to hire extra staff as well.
To provide meals for Covid patients we had to increase our kitchen staff and in order to transport sick patients an extra ambulance driver came on board. The government of Nepal delivered on its promise and supplied an additional nurse and 2 extra medical personnel to assist in the hospital. Occupancy rate in the isolation ward at times has been as high as 16 patients whose treatment runs from basic care to oxygen to antibiotics to steroids. The Rajbash staff is proud to report they have only had one Covid fatality at the hospital.
One of our recent patients had sought Covid treatment at a private hospital in Kathmandu. Three weeks of treatment produced no sign of improvement. He returned to his village expecting to die. Yet his family brought him to our hospital where, after another three weeks of care, he recovered and was sent home. To celebrate the man's recovery the family butchered a goat and sent a large portion of the meat to the hospital for staff and patients.
To close we have another piece of good news: The US and Japan have each donated 1.5 million doses of vaccine to Nepal. Covid vaccinations are now being administered by government health posts. This allows the hospital to keep its focus on isolation and treatment of patients.
We are deeply grateful for all the support we received and for the progress this support has allowed us to make in caring for the victims of this horrible pandemic.