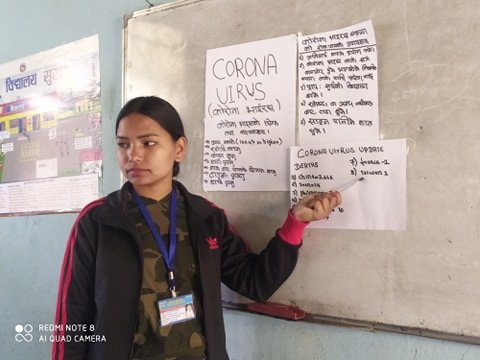 Rajbash Community Hospital - Covid Update
Our May update about the Covid pandemic in Nepal reported 75 cases in the entire country. No deaths had been reported. As of the beginning of August 13000 cases of Covid have been treated (out of a population of 29 million). 45 of those ended in death.
The country has been under a well observed lockdown until very recently. Our office in Kathmandu reopened just last week. When Covid began many city dwellers returned to their mountain villages to rejoin their families hoping to evade the reach of the virus. As there were suddenly more mouths to feed this 'migration' has lead to food shortages in the villages.
We are grateful to report no confirmed Covid cases in the Rajbash area; however the hospital staff joined the Covid prevention fight with numerous awareness programs and 'fever clinics' offering Covid testing. Our ambulance was outfitted with a plastic shield separation between the driver and patients who have to be transferred to Kathmandu hospitals.
Our regular patient load has remained steady throughout the pandemic. Only our outreach activities were limited by Covid contact restrictions.
By now we had hoped to report to the results of a study to be undertaken by two young interns, graduates from the UC Berkeley School of Public Health. We had planned to have them spend the summer at the hospital to look for ways to improve our record keeping ability and, as a result, better our patient care performance. Unfortunately our plans were dashed when it became clear we could not guarantee these very motivated volunteers safe travel and safe stay in Nepal at this time. Both though are hoping they will be able to go to Rajbash next summer to execute their planned research.
Also postponed was the hospital's Ten Year Anniversary Celebration planned for October of this year. Many of Rajbash's most faithful and longterm supporters were looking forward to a reunion in Nepal for this momentous and joyful occasion. Covid travel restrictions and the uncertainty about the pandemic have made this quite impossible to happen. We now look forward to October 2021 to celebrate 11 years of successfully bringing basic medical care to Nepal's rural villages.
As always, we extend our deep gratitude for your continued interest in our hospital. It is your financial support that makes this important work possible. We hope to see you in Rajbash in October 2021.