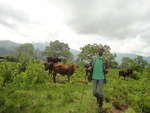 GlobalGiving RECEADIT Provide Health Care Services to Fulani Community Project

Second Report of February 15th, 2016

On behalf of our RECEADIT Humanitarian Team, I take this opportunity to thank you so much for your generosity and willingness to join us and to partnership with us in our journey of serving humanity through the Guidance, the Blessings, the Love and the Grace of God Almighty.
We are glad to provide you with the following progress report and updates for our "Provide Health Care Services to Fulani Community Project" thanks to your generosity:
1) Our female student of the Fulani Community, whom we reported we had identified for medical training in our First Report, has successfully completed the first semester of training which ended on December 19th, 2015. She has just returned from her first and very successful Clinical Internship, which started on Monday, January 4th, 2016 and ended on Saturday, February 6th, 2016;
2) With respect to our small pharmacy or more accurately, small drug store which we indicated in our First Report that we were going to open and have it operated under our supervision by one of our Pharmacy Assistants from the Bafmen Community, who graduated from our School of Health, Biomedical and Computer Sciences (SHBCS) in 2013, we have had a serious setback and disappointment. This setback and disappointment resulted from the Pharmacy Assistant who abandoned the small drug store when she found a job in the city. This, we must point out and emphasize, is one of the main challenges we do face in our endeavors to bring health care services to our fellow human beings in these remote, rural communities. Even our own students who come from these remote, rural communities that we identify, recruit and train purposely to go back to these their remote, rural communities to provide health care services to their remote, rural communities do not always want to do so;
3) To ensure that the initial drugs/medication which we purchased and stocked for a total of $500.00 for the small drug store at Bafmen did not expire and be wasted, we decided to used them to serve our patients at our other remote, rural communities of Aboh, Muteff and Ngemsebo. This generated additional revenue of $50.00; and
4) We are working hard to identify and employ a reliable, dependable Pharmacy Assistant from the remote, rural community of Bafmen to operate the small drug store while we make plans to build the small health facility in this community during the Dry Season.

We will continue to provide you with monthly reports and updates of our other projects, activities, accomplishments and challenges.
We hope that you will continue with us on this our journey of serving humanity through the Guidance, the Blessings, the Love and the Grace of God Almighty, a journey which has now taken us to this Fulani Community in Bafmen through our new link: https://goto.gg/21490.
Again, on behalf of our RECEADIT Humanitarian Team, I thank you immensely for your generosity, continuous assistance, support and partnership. We wish you God's abundant blessings in all your endeavors.
Jilly M. Ngwainmbi RECEADIT Project Leader