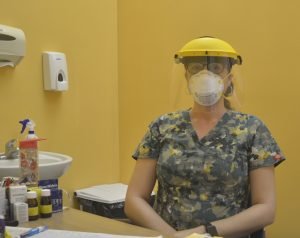 In Nicaragua, the government continues to deny the magnitude of the pandemic, informing public health care facilities not to use PPE. They consider that personal protection such as masks may promote fear in the population during a time when they want to communicate that everything is "normal."
Clinica Verde has always been a place of quality and good health services for the poor. Now more than ever, Clinica Verde continues to be that special place for our users.
It's people like Dr. Huete who make Clinica Verde so special.
Since the beginning of the pandemic, Dr. Huete has asserted that her mission in life is to provide health care to those who need it, and now more than ever her mission is needed. Dr. Huete has a genuine concern for seniors and patients with chronic disease who are afraid of the risk of Covid-19 knowing that they are especially vulnerable. She has kept a backup cache of medication to provide complete treatment to patients who cannot afford it.
Dr. Huete is also concerned with taking care of each member of the CV team, giving advice, training, and correcting their use of PPE. She provides the team with a first look at their illnesses. She also has helped to develop and practice the COVID guide created for Clinica Verde, an essential step during the pandemic.
Each possible COVID-19 case has been served by Dr. Huete with the compassion and professionalism that are central to her character. It is a blessing for our patients who feel orphaned by the Nicaraguan health system.
Dr. Huete's attitude during the pandemic has been one of exemplary leadership. She is a strong person with determination, wise, and compassionate not only with her patients but also with her workmates.
As executive director of CV, I thank Dr. Huete for this extraordinary service provided in the time of the pandemic.

Thank YOU for helping us improve lives – and stay well.
As always, we have the permission to include names of any subjects included in our stories.