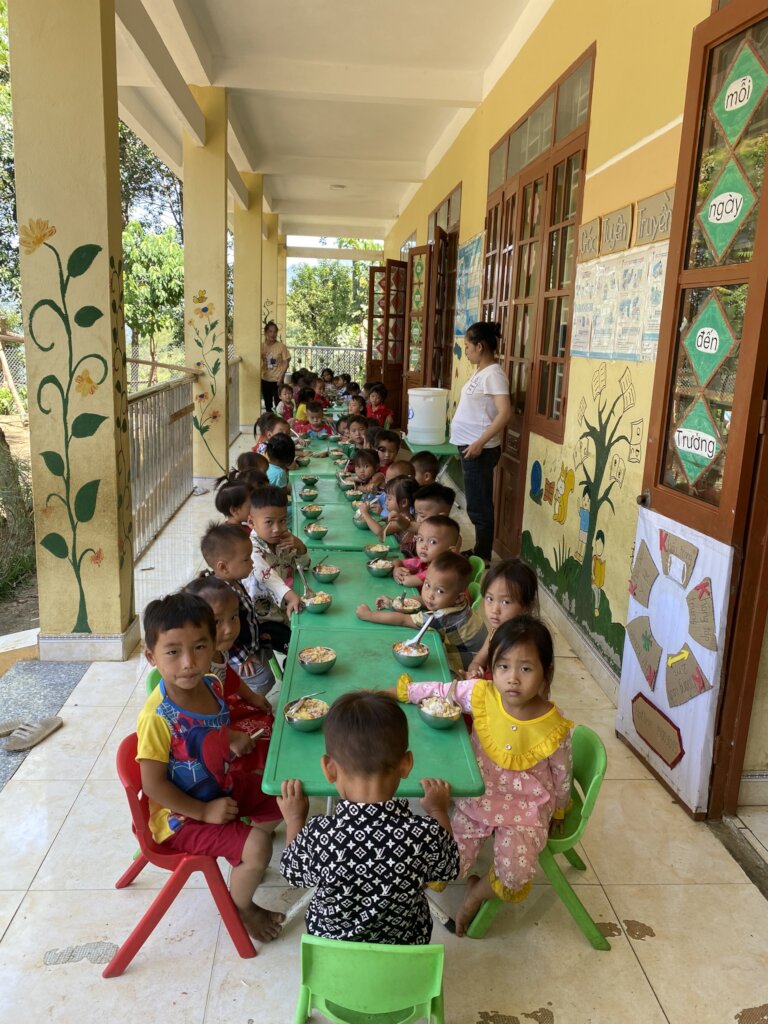 Dear our valued Donors,
As the new school year has started, 202 students at 5 school sites Na O, Khau Noong (Thach Lam preschool), Ban La, Sang Xoay, Khau De (Thai Son preschool) are now cheerfully going to school everyday. The joy of school attendance comes not only from the new knowledge but also from the warm meals from the project "Growing up with mountainous preschool students", which has been implemented by For Vietnamese Stature Foundation (VSF) for the third consecutive year in Bao Lam district, Cao Bang province.
Thanks to the generosity of sponsors, nutritious meals will be provided to students in the school year 2022-2023. With VND 1.7 million/student/school year (Equivalent to USD 75/student/school year), all students will have hearty lunches with minced pork, eggs, vegetables, etc., and afternoon snacks with a variety of dishes (like porridge, noodles) on a daily basis. All food and the cooking process for the children ensure food safety and hygiene.
Seeing the bright smiles of the children, teachers and parents at the school sites also feel the happiness. The bright smiles are not only the promise of a meaningful new school year, but also the hope for the "Growing up with mountainous preschool students" project of VSF.
We would like to express our sincere thanks to the sponsors and look forward to receiving your interest and contributions in the future.
Please stay updated with the latest news on our website at: http://vitamvocviet.vn/project-growing-up-with-mountainous-preschool-students
Sincerely yours,
For Vietnamese Stature Foundation.
Tel: (84) 383479040
Website: http://vitamvocviet.vn/
Facebook: https://www.facebook.com/quyvitamvocviet
Youtube: https://www.youtube.com/c/quyvitamvocviet
Instagram: http://www.instagram.com/quyvitamvocviet/