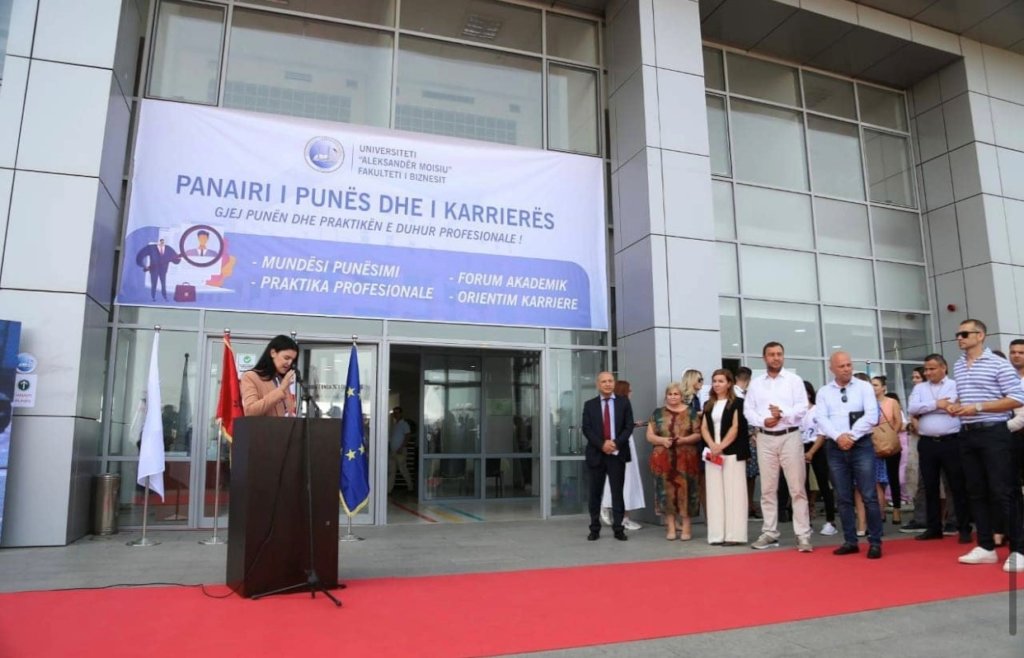 The GDC initiative undertaken by ABSL Albania was welcomed by many companies opening their doors to offer internships for students in various fields giving students the opportunity to grow professionally but also to be employed:
5-day courses and trainings on "Data collection and data processing" were offered to young people, specifically 15 students from universities of economics and natural sciences have developed at the company City stats, enabled by the initiative of GDC. The company has employed 60% of trainees with part time contracts in the position of field interviewers. Also, at the company Giant SMI we have provided 2 months internship for 5 students during the period April-September in the fields of web development, marketing strategy, etc. The company has employed 40% of its interns.
During the months of May-June, trainings were organized which aim to increase the capacities and skills of young people: "Make the Best out of Yourself" in which 30 young people participated, and training on "Learn Proven Sales Techniques and Grow Sales Skills" with a participation of 27 young people who show their interest to be channeled in the field of sales. With a very wide participation of young people, 1-day trainings were offered on various topics: on "How to be a successful Social Media Manager", "Skilling Youth for Success Post COVID-19" "What are the steps for a Marketing Strategy" 70 students participated in these trainings.
Also, webinars have been developed in collaboration with the Alexander Moisiu University for "Towards a path that has just begun ..., practice and research, their role in professional growth". The goal is to orient in the labor market, increase the chances of success through practical training and scientific research. Another webinar "The importance of cooperation between the University and Business in order to increase the professional preparation of students" was also developed.
In the framework of the GDC initiative, ABSL in the events that will take place in other cities part of the GDC program aims to expand the activities and provide training sessions and capacity building in order to equip individuals with the necessary skills to perform and employed, even to disadvantaged groups in society or those who have less opportunity to take advantage of these opportunities. This goal in the Global Given campaign aims to include young people belonging to marginalized groups such as: youth of the Egyptian Roma community and minorities, young people without parental support and care included in social and youth centers, people with disabilities limited or disabled and with a focus on gender and their incentive.
Meetings will be held with the target group and the representative of the institutions to identify the problems of the groups.
Training sessions and mentoring activities will be established with the target groups.
In the coming days we will give more details about this initiative.
Job and Career Fair
Albanian Business Service Association assisted in the engagement of its members in the Job Fair organized by University "Aleksander Moisiu", Durres with which we have a cooperation agreement signed. These Fair aims to serve as a meeting point for establishing relationships concrete communication and cooperation between supply and demand in labor market, as well as to present the opportunities that this market offers in Durrës and beyond.
________________________________________
Ne Shqip :
Iniciativa e GDC e ndermarre nga ABSL Albania u mireprite nga shume kompani duke hapur dyert e tyre per te ofruar praktika per studente ne fusha te ndryshme duke I dhene studenteve mundesi per tu rritur profesionalisht por dhe per tu punesuar:
Jane ofruar per te rinjte kurse dhe trajnime 5 ditore mbi "Data collection dhe data processing" konkretisht 15 studente te universiteteve te ekonomise dhe shkencave te natyres kane zhvilluar prane kompanise Citystats te mundesuar nga nisma e GDC. Kompania ka punesuar prane saj 60% te kursanteve me kontate part time ne pozicionin e anketuesve ne terren. Po keshtu prane kompanise Giant SMI kemi mundesuar intership 2 mujore per 5 studente gjate periudhes Prill-Shtator ne fushat e web development, marketing strategy etj. Kompania ka punesuar 40% te praktikanteve prane saj.
Gjate muajve Maj qershor jane organizuar trajnime te cilet kane qellim rritjen e kapaciteteve dhe aftesive te te rinjeve: "Make the Best out of Yourself" ne te cilen moren pjese 30 te rinje, dhe trajnimi mbi "Learn Proven Sales Techniques and Grow Sales Skills" me nje pjesemarrje prej 27 te rinje qe shafqen interesin e tyre per tu kanalizuar ne fushen e shitjeve.
Me nje pjesemarrje shume te gjere te te rinjeve jane ofruar trajnime 1 ditore me tematika te ndryshme: mbi "Si te jesh nje Social Media Manager" i sukseshem, "Skilling Youth for Success Post COVID-19" "Cilat jane hapat per nje Strategji Marketingu". Ne keto trajnime kane marre pjese 70 studente.
Po keshtu jane zhvilluar webinare ne bashkepunim me Universitetin Aleksander Moisiu per "Drejt një rruge që sa ka nisur..., praktika dhe kërkimi, roli tyre në rritjen profesionale".Qëllimi është orientimi në tregun e punës, rritja e shanseve të suksesit përmes formimit praktik dhe hulumtimit shkencor. Po keshtu eshte zhilluar nje tjeter webinar 'Rëndësia e bashkëpunimit midis Universitetit dhe Biznesit me qëllim rritjen e përgatitjes profesionale të studentëve''
Ne kuader te inciatives te GDC, ABSL ne eventet qe do te zhvillohen ne qytete e tjera pjese e programit te GDC synohet shrirja e aktiviteteve dhe ofrimi i seancave te trajnimit dhe rritjes se kapaciteve me qellim pajisjen e individeve me aftesite e nevojshme per te performuar dhe punesuar, edhe tek grupet e disavantazhuara te shoqerise apo ato qe kane me pak mundesi per te perfituar nga keto opurtinitete. Me kete synim ne vijm te fushates se ndermarre ne Global Given synohet perfshirja e te rinjeve qe I perkasin grupeve te marxhinalizuara si: te rinjte e komunitet rome egjyptjan dhe minoritetet, te rinjte pa perkrahjen dhe kujdesin prinderor te perfshire ne qendrat sociale dhe rinore, personat me aftesi te kufizuara ose me paftesi dhe me fokus me baze gjinore dhe me incentivimin e tyre.
Do realizohen takime me grupin e synuar dhe përfaqësuesin e institucioneve per te indentifikuar problematikat e grupeve.
Do te krijohen seanca trajnimi dhe aktivitete mentoruese me grupet e synuara.
Ne ditet ne vazhdim do te jepe me shume detaje per kete iniciativ.
Panairi i Punës dhe Karrierës
Shoqata Shqiptare e Shërbimit të Biznesit asistoi në angazhimin e anëtarëve të saj në Panairin e Punës të organizuar nga Universiteti "Aleksander Moisiu", Durrës me të cilin kemi nënshkruar një marrëveshje bashkëpunimi. Ky Panair synon të shërbejë si një pikë takimi për krijimin e marrëdhënieve komunikim konkret dhe bashkëpunim midis ofertës dhe kërkesës në tregun e punës, si dhe për të paraqitur mundësitë që ofron ky treg në Durrës dhe më gjerë.