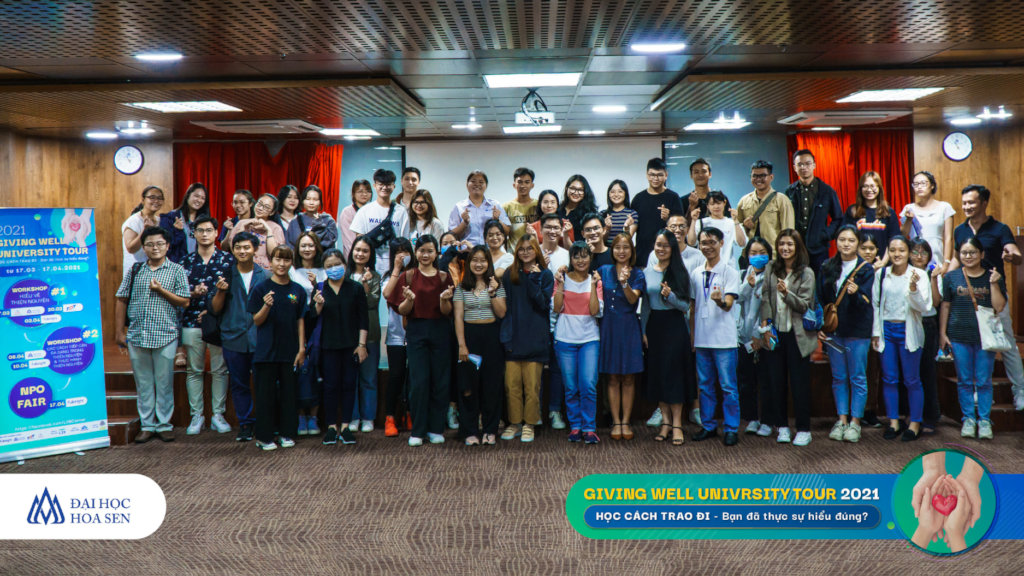 Dear friends and supporters,
I hope this report finds you well.
We are excited to update you about the progress we have made together with "Giving Well University Tour 2021 - Invest in the Future". Early this year, we felt quite nervous with the Covid-19 community outbreak happened before Tet holidays, we thought the program would have been cancelled until further notice. Thanks to the prompt responses and good management by the government, the outbreak was again well contained. Therefore, we finally were able to kick off the Tour which take places from 17th March to 17th April. For the detailed program timeline, you can see it here published on our Facebook page.
As of last week, we successfully organized the first workshop with more than 300 participating students from three universities including University of Economic & Finance, Hoa Sen University and Ton Duc Thang University. We feel overwhelmed with the great interests of the students in philanthropy and nonprofit sector, with 90% the students answered our survey said that they will continue their journey in practicing Philanthropy, this really made our heart filled with hope and happiness.
The students were very engaged with many meaningful sharing of their own exprience and great questions about how they can make their journey more impactful, they truly shared what in their heart and mind, their concerns, challenges and hope.
There is one question I personally liked it so much as it touched in a deep level of why philanthropy exist: "What would happen if we don't practice philanthropy?". I always use this special question to emphasize the meaning of this Giving Well University Tour program by posing back a question to the participating students "Do we all here want to live in a society where we care about one and another or a society where every of us only put our self interests and group interests first?". I believe this question will ignite more questions and thinking from the students, hopefully can help them make the right decisions later for themselves.
We obviously could haven't done this without your support and generousity. Please stay tuned with many more exciting updates from us in the next report when we complete the Tour, in the meantime, if you want to see frequent updates about the Tour, you can check out our fanpage here https://www.facebook.com/LINCenter
If you think this program is meaningful and should be known by many more people, please help us spread a word by sharing our GlobalGiving fundraising campaign here https://www.globalgiving.org/projects/giving-well-university-tour-vietnam/ with your friends and family. Once again, we really appreciate for everything you have done to support us with this program!
Please take care and stay safe!
With gratitude,
Vo Ngoc Tuyen (Kelly)
Head of Philanthropy Services