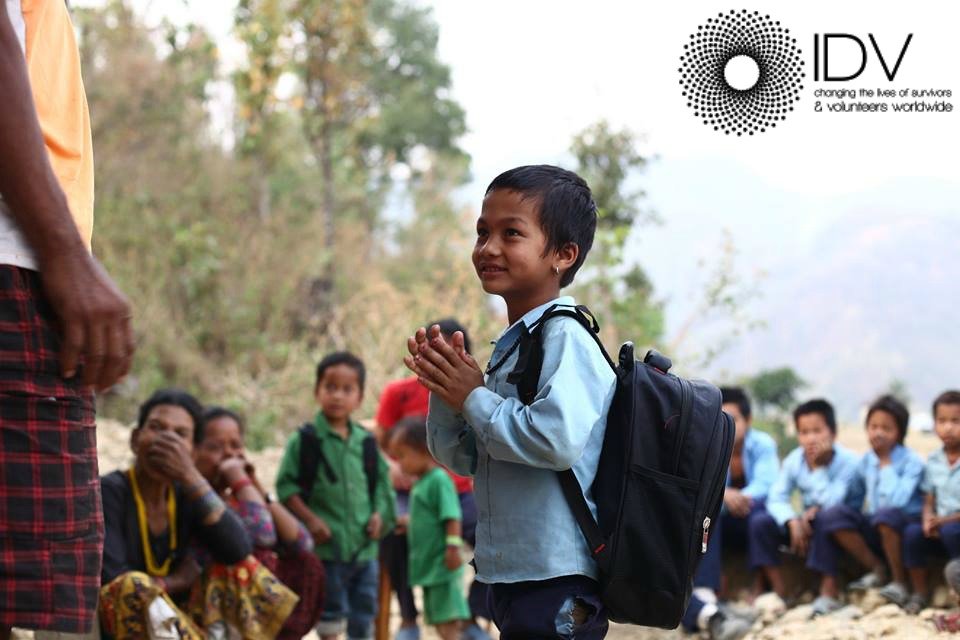 Thanks so much for helping to Give the Gift of Education in Nepal.
In our previous report we announced the end of our international volunteer operations, and described how we were starting to handover work to local partners and actors. That local handover has progressed, but soon after sending our last report we decided to undertake one final mini-project involving international volunteers as well.
Prior to completing our sanitation work at Shree Bal Shiksha we also provided toilets and handwashing stations at the Santa Krishna school just outside Kathmandu. Their originally dire sanitary conditions placed 54 children at risk of serious illness.
We successfully tackled many of the issues last October but, having learnt from our subsequent work at Bal Shiksha, we realised we could easily make some further improvements back at Santa Krishna too.
Monitoring and evaluation visits had revealed that the Santa Krisha handwashing stations were functioning well, but that children were now drinking from the non-potable water supply. Also, some children were only giving their hands a quick splash with water when washing. To address these new challenges we took some simple but effective actions.
Sarah, our Water Sanitation and Hygiene (WASH) Project Coordinator, first worked with the teachers to install a new drinking water tank with a natural filtration system made from layers of rock, gravel and sand. While these layers do a good job of filtering out big particles and pollutants, they don't fully clean the water, but Sarah also had another trick up her sleeve.
Sarah's next task was to provide the teachers and kids with the tools and knowledge needed to use the Solar Water Disinfection (SODIS) method. Pioneered by the Swiss Federal Institute of Aquatic Sciences and Technology this process requires only a clear bottle and sunshine to work.
We gave plastic PET bottles to all the children, and Sarah also provided training and resources to the teachers to help with the ongoing purification. As a final job Sarah also improved our previously built handwashing stations by adding pictures to show effective handwashing techniques.
We're delighted to have been able to make these further improvements at Santa Krishna, and we're very grateful to Sarah for volunteering to stay on and undertake this work.
Yet, this isn't the only way we've been using your generous donations in Nepal recently
In starting our handover to local actors we first looked to our amazing local Operations Manager, Anamica. Over the last few months we've worked with Anamica to provide vital school supplies and learning materials at a number of earthquake affected schools.
Our first distributions provided library books for over 250 children at three schools in the districts of Kavre, Mustang and Makawanpur. The kids at these schools have struggled to learn since the earthquakes, and providing library books is another simple and effective step we can take to improve their overall situation.
We also supported the Lal Kiran primary school in Makawanpur before. Last May we provided the children with new desks and benches, and our more recent distribution revealed that more support was still needed.
So, we made a plan and Anamica recently returned to the school again, this time to provide uniforms, school bags and stationery for the school's 62 children. As always the children were delighted to see Anamica and receive the badly needed supplies.
Thank you so much for making this continued work possible. While these projects might not seem as glamorous as building new classrooms, they're making a vital impact to children's education nonetheless.
As always if you ever have any questions about our work or how we use your donations please don't hesitate to email Andy@IDVolunteers.org. We would be delighted to hear from you.
For more updates about our work please like us on Facebook or follow IDVMedia on Twitter. You can also email Andy is you would like to be added to our direct mailing list.